Theme Park Bits: 'Tron' Coaster Update, Space Mountain Tests Single Rider, Christmastime Park Videos Galore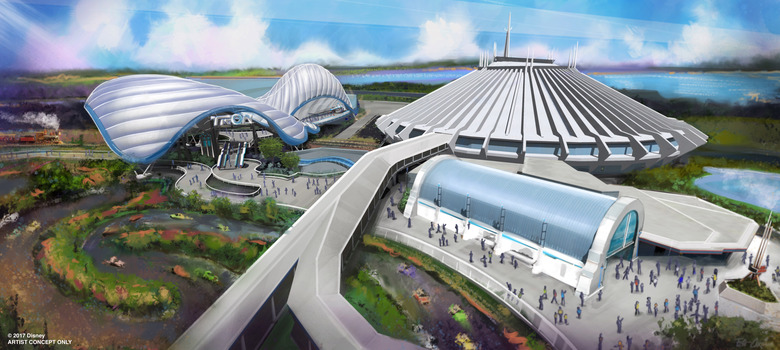 In this edition of Theme Park Bits:
The Magic Kingdom's Tron coaster is now one step closer to becoming a reality.
Disneyland's Space Mountain has been testing out a Single Rider option for its queue.
Get a first look at the action-packed Marvel Day at Sea on the Disney Magic Cruise ship.
Details about a future in-park character greeting with Marvel's Black Panther at DCA.
See videos of what's happening this Christmas at Disneyland, WDW, Universal Orlando, and Knott's Berry Farm.
And more!
Get ready to saddle up for a lightcycle power run at Walt Disney World. The resort has filed permits for its Tron coaster with the state of Florida. At Shanghai Disneyland, this attraction has already made great waves (or light trails, as the case may be), and now it is expected to open next to Space Mountain at the Magic Kingdom in time for the park's 50th anniversary in 2021.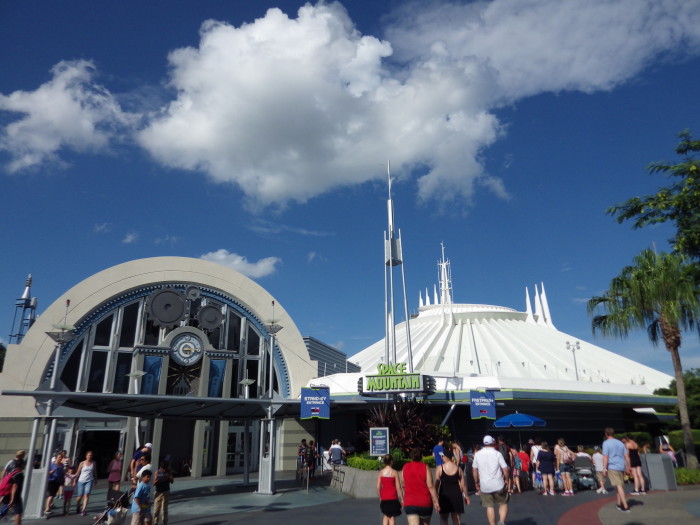 If you're ready to fly solo through space, Inside the Magic reports that the Space Mountain at California's Disneyland has recently been testing out a Single Rider line. Possibly as a further measure of regulating crowds, the park has suspended sales of its Southern California Passport to new customers, though this is not the first time they have done that and the popular annual pass may be available again at some indeterminate future date.
Encounter #BlackPanther in early 2018 at Disney California Adventure park: https://t.co/NbT7kBhHx5 pic.twitter.com/EnPKfjpX2S

— Disney Parks (@DisneyParks) November 22, 2017
In other news, Marvel's Black Panther is coming to Disney California Adventure in 2018. The character is expected to take the place of Thor and Loki, whose new meet-and-greet we reported on a couple weeks back. If you see a pattern developing here, these limited-time meet-and-greets are clearly aimed at promoting new Marvel Studios films and/or taking advantage of the surge of interest those films bring to their characters.
Marvel itself has also now given a first look at the Marvel Day at Sea on the Disney Magic cruise ship, where you can meet many more Marvel characters. Doctor Strange will be hosting his own brand-new interactive show, "Journey Into the Mystic Arts," and Iron Man will be leading a stage show whose "epic finale culminates in the largest collection of Marvel Super Heroes and Super Villains ever assembled on a cruise ship."

If you do not know the name Harper Goff, by now you are surely familiar with seeing some of his imaginative concepts brought to life at Disney parks. As The Walt Disney Museum explains, Goff was an artist who has been termed "The Second Imagineer" (with Walt Disney himself being the first). Among other things, he helped design the original Main Street, U.S.A. and Jungle Cruise at Disneyland.
Goff's influence can also be felt at Tokyo DisneySea, where early concepts for a 20,000 Leagues Under the Sea Vulcania attraction and an unbuilt land called Discovery Bay would eventually find their way into the creation of Mysterious Island and Port Discovery, two of the sea-themed park's "ports of call." For reference, here is a look at the original concept for Vulcania, versus the current map segment and real-life steampunk cove of Mysterious Island at DisneySea.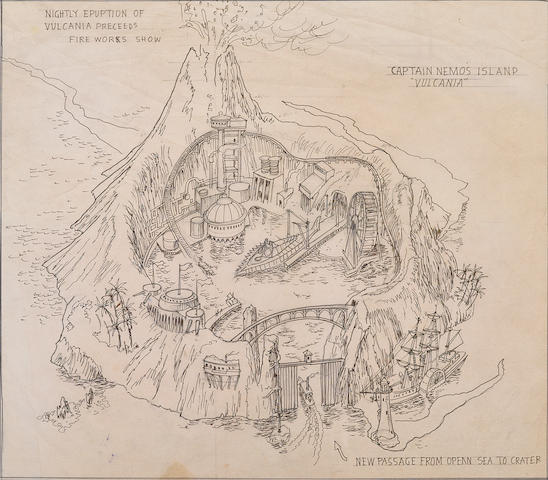 Goff's Vulcania design and others fetched high prices in a New York auction this week.
Last week, I solicited comments from any and all Avatar fans as part of a general discussion of the obscure subculture of people who speak Na'vi (the fictional language of James Cameron's blue aliens species of the same name). Big surprise: no one commented. Yet as if to prove the continued cultural relevance of Avatar, at least as a theme park property, the Flight of Passage ride at Disney's Animal Kingdom posted a staggering wait time of 305 minutes this week. Well-played, Avatar. "I see you," indeed.
Who wants more Tim Tracker? The ornately mustachioed YouTuber is back on the theme park frontline this season with a look at some of the Christmas goings-on at Disney World and Universal Orlando. If you could not make it to the IAAPA (International Association of Amusement Parks and Attractions) Expo 2017, you can vicariously experience the theme park and roller coaster tech there through his videos.
Not to be outdone, "Jolly Junior Reporter" Lindalee Rose has her own look at the Top 10 things to see and do at Disneyland Resort for the holiday this year.
Similar to how it becomes "Knott's Scary Farm" for Halloween, Christmas is the time when Knott's Berry Farm becomes "Knott's Merry Farm." Since this park is the province of Peanuts characters like Snoopy and Charlie Brown, guests can expect to experience plenty of holiday fun with those characters. Inside the Magic has more details on the event, as well as a nice stream of photos showing the fun in action.
A few last bits, related to Universal...
The Universal Orlando blog has revealed new panels and other experiences for the Celebration of Harry Potter event in January, including an appearance by Bonnie Wright, the actress who played Ginny Weasley in the film series. If you collect the wizard cards that come with Chocolate Frogs on sale at the Wizarding World, a new card will soon be entering the mix for completists to snatch up.
Finally, Universal Studios Hollywood is bringing back its New Year's Eve fireworks. The last time these fireworks lit up the night sky was back in 2014.