Seth Rogen Comedy 'Flarsky' Casts Andy Serkis As A Human Male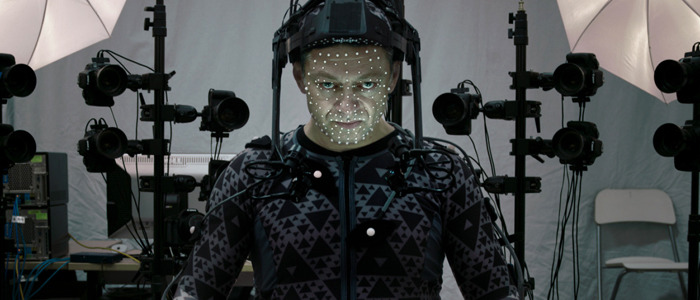 Andy Serkis has built his career on stellar performance-capture work in memorable movies like The Lord of the Rings trilogy and the new Planet of the Apes movies, and now he's been cast in one of his most challenging roles yet: a human male.
Serkis, who has obviously played humans before in movies like The Prestige and Avengers: Age of Ultron, has been added to the cast of a major Hollywood comedy: a Seth Rogen-starrer for Lionsgate called Flarsky. Read on for more about who he'll play.
Flarsky, which was on The Black List of Hollywood's best unproduced screenplays all the way back in 2011, is finally coming to the big screen. Described as a "dark comedy," the film stars Rogen as Fred Flarsky, a down-and-out political journalist who decides to pursue his childhood crush on his then-babysitter, who is now the Secretary of State. Charlize Theron, who headlined a comedy of her own with Young Adult a few years back, will play the object of Rogen's affection. The Hollywood Reporter says Serkis will play "an international media mogul who employs Rogen's character."
Jokes aside, as happy as I am to see Serkis disappear under pixels in his often-epic performance-capture work, I'm always thrilled to see the "real" version of him show up in a live-action movie. It's clear he enjoys losing himself in characters and challenges that are completely alien to "normal" behavior, and it's clear we need people like him on the front lines of that evolving technology, but I regularly find myself thinking that he holds a reservoir of untapped potential that directors could utilize if he were cast in more projects. It sounds like Flarsky director Jonathan Levine and I are on the same page, and the concept of seeing Serkis in a mainstream comedy is especially enticing.
June Diane Raphael (Grace and Frankie) and Ravi Patel (Master of None) were also just cast as staffers who work for Theron's character, and O'Shea Jackson Jr. (Straight Outta Compton) is also on board as an unknown character. St the very least, the cast here is pretty solid. Now we just have to see if this is closer to Levine movies like 50/50 and The Night Before, or if it leans more toward his most recent comedy, Snatched. Hopefully Flarsky will provide a nice opportunity to bounce back.
Meanwhile, Serkis will appear as Supreme Leader Snoke in Star Wars: The Last Jedi, and he's still in post-production on his directorial effort The Jungle Book: Origins, which was originally set to be released in 2016.
Flarsky hits theaters on February 8, 2019.