Watch: Mark Hamill Surprises 'Star Tours' Riders On The New 'Last Jedi' Experience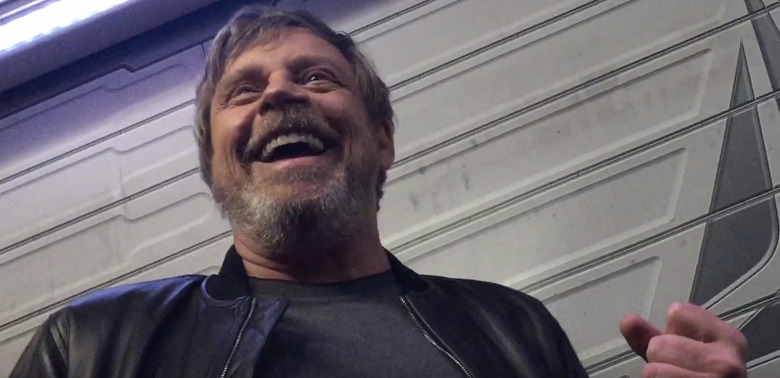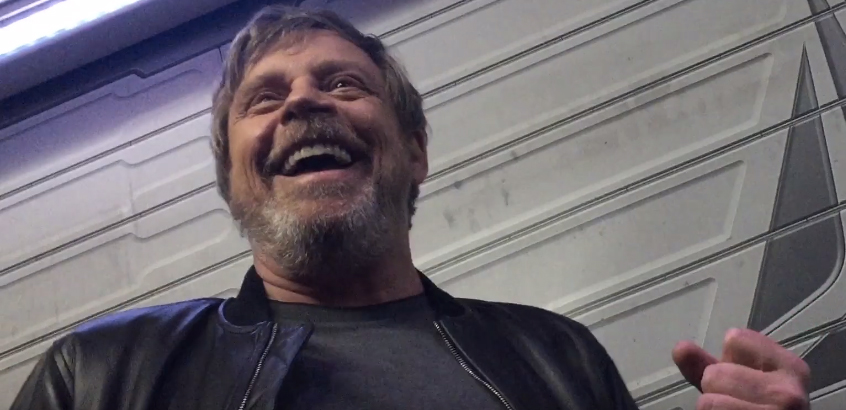 With Star Wars: The Last Jedi under a month away, Disney is starting to pull out all the stops when it comes to all the cross-promotions for the movie, especially at their theme parks.
Disneyland's signature Star Tours ride has just received a special update to coincide with the release of The Last Jedi. Not only does the ride now take fans to the new planet of Crait, which plays a big part in the sequel, but it also makes a stop at Batuu, the planet where the Star Wars: Galaxy's Edge expansion of the theme park will be set.
To help celebrate the new ride addition (which you can preview below), Luke Skywalker himself, Mark Hamill, made a surprise appearance and shocked the hell out of some excited fans. Watch the surprise appearance before the Star Tours The Last Jedi ride experience below!
For a Star Wars fan, this has to be one of the coolest experiences ever. I've been fortunate enough to meet Mark Hamill, and even before I had the opportunity to talk to him, just his presence in the room was exciting enough. One of my colleagues who was next to me even went out of their way to comment on this very fact. All he could muster was, "Fucking Luke Skywalker is here." It really is quite the surreal experience.
What's great about Mark Hamill is that he's eternally grateful to his fans. He's always enthusiastic about Star Wars and happy to make a fan's day. He's incredibly charismatic, and one of the nicest guys in the business. It'll be interesting to see what he brings to Luke Skywalker, who has clearly taken a bit of a dark turn when we finally spend some time with him in The Last Jedi.
Watch The Last Jedi Star Tours Experience
For those of you who won't be making it into Disneyland anytime soon, this video from Blog Mickey will have to suffice for the time being. It's a video from inside the Star Tours ride showing off the new segments that take place on Crait and Batuu. The only problem is that Star Tours gives riders 3D glasses to heighten the experience, but the camera isn't showing the ride while looking through them. That means there are a lot of blurry bits, but we'll take what we can get for the time being.
You can experience The Last Jedi update to Star Tours at Disney's Hollywood Studios in Disneyland right now, and it will head to Disneyland Paris on November 22 and Tokyo Disneyland on December 15.