All 368 Songs From Disney Animated Films Ranked [Part Two]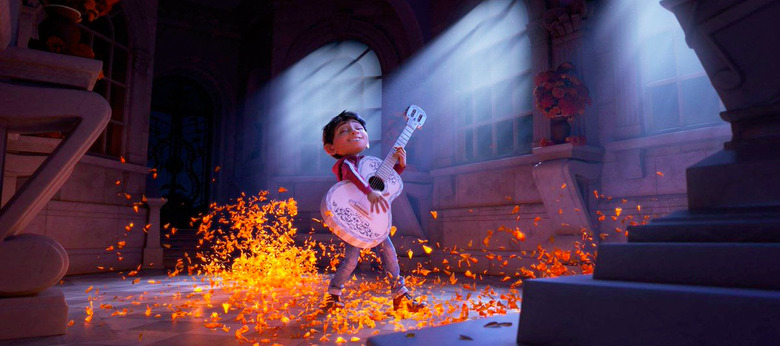 (Welcome to The Disney Discourse, a recurring feature where Josh Spiegel discusses the latest in Disney news. He goes deep on everything from the animated classics to the theme parks to live-action franchises. In this edition: the second part in a series ranking all 368 songs featured in Disney animated films.)
Yesterday, I began ranking all 368 songs from Disney animated movies. Today, the mission continues with part two of this enormous (insane?) mission. You can catch up with part one oat the link above. Part three will arrive tomorrow, coinciding with the release of the music-centric Coco.
A reminder that this list contains songs from every Walt Disney Animation Studios film, every Pixar Animation Studios film, and every live-action/animation hybrid.
234. Real Gone
There are four original songs in Cars, with "Real Gone" playing over the opening montage. Sheryl Crow is appropriately gritty in singing the film's best number.
233. An Innocent Warrior
This short song, played during Moana's prologue, is beautiful backing to the image of the spirit of the ocean playing with a toddler-sized version of our heroine.
232. Two Silhouettes
The animation to this segment of Make Mine Music is more impressive than the song, depicting two dancers in silhouette.
231. Look Out for Mr. Stork
The earliest depiction of childbirth in a Disney feature is as sanitized as it gets: a stork delivers babies to circus animals in Dumbo in the cutesy "Look Out for Mr. Stork."
230. Learn Me Right
It was smart of Pixar to work with Mumford and Sons as the band built steam. "Learn Me Right," which they sing with Birdy, isn't their best song, but fits in well with Brave.
229. You Belong to My Heart
"You Belong to My Heart" is a fine ballad, but not a big standout within the various sections of The Three Caballeros.
228. Not in Nottingham
The 1973 Robin Hood is a laid-back affair, so "Not in Nottingham," its grimmest song, has an uphill, failing battle.
227. The Tummy Song
There's nothing wrong with this song, where Pooh explains his operating ethos. But compared with the other songs in Winnie the Pooh, it's a letdown.
226. Good News
Like a number of Pixar films, James and the Giant Peach ends with a rousing Randy Newman song. "Good News" is an upbeat piece of music, but is tonally off with the film.
225. My Favorite Dream
This song, meant to placate the nasty Giant, is more sleepy than dreamy. It's...okay.
224. Everything is Honey
This number features Winnie the Pooh in his version of Heaven: honey, honey everywhere. Zooey Deschanel's echo-y backing vocals add to the song's dreamy tone.
223. Reindeer(s) are Better than People
Odd how, in Frozen, Broadway star Jonathan Groff plays a character who barely sings. Groff has a great voice, which makes this slim number enjoyable. But give him more to do!
222. Ever Ever After
Carrie Underwood singing at the end of Enchanted makes perfect sense. But "Ever Ever After" is hollow when compared with the sharper songs in the film's first half.
221. Looking for Romance (I Bring You A Song)
Bambi, like his friends, gets twitterpated. When he sees his true love, Faline, this song plays over the soundtrack. Like most of the film's songs, it's haunting, but too slight.
220. My, What A Happy Day
This song, performed by the anthropomorphized harp trapped by the Giant in Disney's take on "Jack and the Beanstalk," is as joyful as the title suggests.
219. All The Cats Join In
Getting Benny Goodman's crew for Make Mine Music is one of the film's smartest moves. "All the Cats Join In" is jazzy and matched by a fourth-wall-breaking sequence.
218. Into the Open Air
Sung by Julie Fowlis, "Into the Open Air" is a fine, if plodding number that doesn't have the same pop as her other song in Brave.
217. With a Flair
This overly expository song serves as an introduction to and mission statement for David Tomlinson's fun fraud of a character in Bedknobs and Broomsticks.
216. True to Your Heart
Remember when 98 Degrees sang over the closing credits of Mulan with Stevie Wonder? Wonder's great, because of course, but he can only pick up so much slack.
215. Blue Bayou
The animation for this song was originally going to be in Fantasia, scored to Claude Debussy's "Clair de Lune." "Blue Bayou" isn't as good, but it's still dreamy.
214. Casey at the Bat
This is probably the best sequence in Make Mine Music, thanks to Jerry Colonna's over-the-top performance as the narrator of the story about an over-confident baseball player.
213. I'm Late
This is arguably the most famous song from Alice in Wonderland, but still short. Like...shorter than it will take you to read this capsule. So it can only rank so high.
212. Little Wonders
This pop hit originated from Meet the Robinsons, and is the film's best, least wacky song. Rob Thomas' vocals are bland, but the song is a balm after the manic story.
211. Kidnap the Sandy Claws
The humor in The Nightmare Before Christmas is very dark, exemplified by the overlong "Kidnap the Sandy Claws," where three trick-or-treaters decide how to abduct the beloved icon.
210. Little Toot
The Andrews Sisters provide the singing narrative for this segment in Melody Time. They'll show up again, but "Little Toot" is enlivened by their performance.
209. Mind Over Matter
None of the songs in The Many Adventures of Winnie the Pooh are bad, per se, but a couple are slightly unmemorable. "Mind Over Matter" is fine without sticking out.
208. I'm A Happy-Go-Lucky Fellow
Jiminy Cricket shows up as an emcee for Fun and Fancy Free, starting with this mission statement. It's nowhere near as good as Jiminy's other recognizable Disney song.
207. Sister Suffragette
Glynis Johns is an immensely talented singer. So it's a shame that all she gets musically in Mary Poppins is the simpering "Sister Suffragette."
206. We Belong Together
The first two Toy Story films have a solid track record with Randy Newman songs. "We Belong Together" from Toy Story 3 is fine, but it's also the film's weakest element.
205. La La Lu
"La La Lu" is another brief song in Lady and the Tramp, a sweet lullaby sung to the "starsweeper" baby of Jim Dear and Darling.
204. My Own Home
Darleen Carr has a very nice voice, which is why this number works, if it works at all. Its retrograde gender roles look even worse 50 years later.
203. The Whale Who Wanted to Sing at the Met
The operatic, inherently ridiculous "The Whale Who Wanted to Sing at the Met," a tragic story sung through by Nelson Eddy, is the best part of Make Mine Music.
202. True Love's Kiss
This Alan Menken/Stephen Schwartz number sets the stage for the playful satire of Enchanted, sounding like a twinkly princess song and a mockery of the same.
201. The Perfect Nanny
Funny how Mary Poppins is about a family in need of mending, but the kids in that family only get a couple forgettable, sweet songs, such as "The Perfect Nanny."
200. Painting The Roses Red
The music to this song is among the best of Alice in Wonderland. The song is...well, let's focus on the score.
199. The Work Song
The mice get a lot of screen time in Cinderella. Yet they get just one song, the chirpy, regressive "The Work Song."
198. Making Christmas
Like most of The Nightmare Before Christmas, "Making Christmas" is melancholic, but the balance of bleakness and black humor is weirdly charming.
197. Eglantine
In Bedknobs and Broomsticks, David Tomlinson plays a charming con artist, and his gift is on display in the otherwise mediocre "Eglantine."
196. On My Way
This is the most pleasant song in Brother Bear. It's Phil Collins' easy-listening style of songwriting, but a bit better.
195. So Close
Like the princess movies of old, Enchanted features a romance and has a love song as the lovers dance. "So Close" is sweet enough, but its sincerity is off-putting after the tongue-in-cheek songs.
194. Town Meeting Song
This mildly witty, monotonous song functions as exposition, in which Jack Skellington fails to explain to Halloween Town's citizens how Christmas works.
193. Hip Hip Pooh-Ray
"Hip Hip Pooh-Ray" is a fun march, as slight as the other songs in The Many Adventures of Winnie the Pooh, but filled with wordy lyrics like other Sherman Brothers numbers.
192. Lavender Blue (Dilly, Dilly)
Burl Ives' performance of this soothing old folk song in So Dear to My Heart is the film's most enduring legacy.
191. Fidelity Fiduciary Bank
Here, Dick Van Dyke appears as a bank's CEO, trying to encourage George Banks' kids to give their money to him. This song is creepy, but ridiculous.
190. The Unbirthday Song
The music here is better than the lyrics, in part because there's so few of the latter. But there's no better song in Alice in Wonderland to encapsulate its out-there personality.
189. The Dwarfs' Yodel Song (The Silly Song)
This song takes place as Snow White and Dopey, standing on another dwarf's shoulders to approximate a man of normal height, dance. The number is very cute, but can't hold a candle to the dwarfs' introductory song.
188. If I Never Knew You
This sweet song was moved to Pocahontas' end credits due to flagging audience interest. However, the romance is so weakly developed that the song wouldn't have made an impact on the story.
187. Brazzle Dazzle Day
"Brazzle Dazzle Day" is, like its title, annoyingly memorable. Helen Reddy and Mickey Rooney make it palatable, but it's still obnoxious.
186. Honor to Us All
"Honor to Us All" establishes Mulan's challenge in forging a unique path in feudal China. But aside from that conflict, the song doesn't linger.
185. Jack's Lament
The Nightmare Before Christmas is a story about a guy who's unfulfilled despite his great life. That fuels this early dirge, where Jack Skellington says he wants more, without knowing what "more" entails.
184. The Virginia Company
Pocahontas' solid opening song portends the conflict between English settlers and the Native American tribes of the New World.
183. Uncle Remus Said
The music to Song of the South is exceptionally catchy, down to the tune for "Uncle Remus Said." But it's impossible to separate the music's quality from the stereotypical lyrics.
182. Pavement Artist
This energetic prelude to "Chim Chim Cher-ee" depicts Dick Van Dyke's Bert in artist mode, drawing with chalk on the sidewalk.
181. I'm Wishing
Snow White is very sweet, but simple. Her primary desire in the first Disney animated feature, as evidenced in "I'm Wishing," is to be whisked away by a dashing prince.
180. I Love to Laugh
Nothing against Ed Wynn, who gets one scene in Mary Poppins, but the charm of this song wears off as the melody grows monotonous.
179. Cinderella
This pleasing song doesn't get as much love as it should, relative to the film's other musical numbers.
178. Arabian Nights
Howard Ashman's lyrics are usually wonderful, but this deadpan song indulged in such casual stereotyping that the resultant outcry led to it being revised post-release.
177. Daughters of Triton
Can you name Ariel's six sisters? They don't get much time to shine except for this slight yet catchy number.
176. Up, Down, and Touch the Ground
Winnie the Pooh is not the fittest bear, as the charming and slight "Up Down, and Touch the Ground" suggests.
175. The World's Greatest Criminal Mind
Vincent Price makes an excellent villain in The Great Mouse Detective. "The World's Greatest Criminal Mind" is a fine number that emphasizes his character's villainy.
174. Strange Things
This upbeat song plays as Sheriff Woody realizes how displaced he is in Andy's bedroom now that Buzz Lightyear is around.
173. Fathoms Below
This song is barely better than "Daughters of Triton," because it's driven by a solid seafaring tune courtesy of Alan Menken.
172. A British Bank
George Banks has the same leitmotif throughout Mary Poppins. When the melody kicks in here, David Tomlinson and Julie Andrews sing briefly, as Mary manipulates George into taking his kids to his workplace.
171. The Mob Song
"The Mob Song" features harrowing lyrics, like when Gaston snaps at Belle, "If you're not with us, you're against us." Still, it's hard to compare to the film's other songs.
170. Skumps (Drinking Song)
This drinking song's fine, but goodness, "Skumps" is a weird word. Why not "Cheers"?
169. Higitus Figitus
Of the songs in The Sword in the Stone, "Higitus Figitus" is as good as it gets. Merlin's nonsense spell to pack up his lair is goofy, but builds in intensity.
168. Family
No songs in James and the Giant Peach are world-beaters, but the dark yet charming "Family" comes closest.
167. The Court of Miracles
Paul Kandel, as the gypsy Clopin, is The Hunchback of Notre Dame's secret weapon; his voice propels numbers like this one.
166. Best of Friends
Of the five songs in The Fox and the Hound, the twinkly "Best of Friends," performed by Pearl Bailey, is the standout.
165. The Gift of Beauty and Song/Maleficent Appears/True Love Conquers All
Like another of the film's songs higher on the list, this hazy piece has the tone of a half-remembered dream.
164. Johnny Fedora and Alice Bluebonnet
The Andrews Sisters' voices are what make this song, about a pair of hats in love with each other, work.
163. It's Not Easy
Sean Marshall sings his heart out on "It's Not Easy," but even if he wasn't duetting with Helen Reddy, who saves the song, it'd be rough to hear.
162. When Can I See You Again?
Wreck-It Ralph takes its thematic cues from Toy Story, so of course the film only has a couple of songs, including this bouncy Owl City number that plays over the credits.
161. Poor Aurora/Sleeping Beauty
Though each choral number in Sleeping Beauty has a different theme, they feel interchangeable. "Poor Aurora/Sleeping Beauty" is one such number.
160. Strangers Like Me
The songs in Tarzan, with one exception, are solid, this ballad less so than the others.
159. The Backson Song
Winnie the Pooh and company get easily scared at not-at-all-terrifying things. Thus, we have the charming "The Backson Song," where the characters presume a monster has eaten Christopher Robin.
158. Hail to the Princess Aurora
This upbeat march is repetitive, but the most memorably quick song in the early part of Sleeping Beauty.
157. Son of Man
"Son of Man" is most like a Phil Collins song in Tarzan as opposed to a Disney song. However, this works because of the propulsive percussion.
156. A Very Important Thing To Do
Winnie the Pooh is a short Disney feature, so its songs are brief. "A Very Important Thing To Do" is appropriately staccato, fueled by Zooey Deschanel's soothing tones.
155. I See the Light
This sweet duet occurs at a moment of deep connection for Rapunzel and Flynn Rider. It looks great! But this doesn't stand up that well to other Disney duets.
154. Gonna Take You There
It makes sense for The Princess and the Frog to feature a zydeco-tinged song, considering its setting. Jim Cummings, as chatty lightning bug Ray, gets the Cajun accent, but this one's pretty slight.
153. Love
This isn't the best Disney romantic number played over images of Robin Hood and Maid Marian frolicking, but it has a hazy sweetness.
152. Baia
The charm of The Three Caballeros comes from how it captures the spirit of Latin America. "Baia," a swooning ballad with a thrilling vamp that shifts to an upbeat rhythm, evokes this spirit at its best.
151. The Three Caballeros
The title song to the 1944 package film is as bouncy and Latin-tinged as promised.
150. Perfect World
"Perfect World," a slyly narcissistic song for the title character of The Emperor's New Groove, is the film's best, performed with brio by Tom Jones.
149. Heaven's Light
You may be more familiar with the song after "Heaven's Light," which Quasimodo sings tenderly after falling for the gypsy Esmeralda. But Tom Hulce's delicate voice provides it a welcome grace.
148. Two Worlds
Phil Collins' work on Tarzan vastly outshines what he did with Brother Bear. This isn't the film's best song, but encapsulates its themes well.
147. Ma Belle Evangeline
As goofy as this love song is — a lighting bug sings to his true love, a shining star in the night sky — Jim Cummings and trumpeter Terence Blanchard make it work.
146. All I Want
This song's sorrowful tones are arresting, without being a slog. Within the context of Song of the South, it comes at a high point of melodrama, but works on its own.
145. Know Who You Are
The haunting, brief "Know Who You Are" occurs in a vital moment within Moana, as our heroine confronts Te Fiti.
144. Hawaiian Roller Coaster Ride
"Hawaiian Roller Coaster Ride" is as charming as the watercolor designs of the tropical setting.
143. I Am Moana (Song of the Ancestors)
This solid song utilizes some earlier motifs within Moana, serving as a way for the title character to pick herself up after a low point.
142. The Time of Your Life
"The Time of Your Life," which plays over this underrated film's end credits, isn't Randy Newman's best, but it is recognizably clever.
141. Substitutiary Locomotion
The title of this charming song refers to the magical words Eglantine Price needs to perform the right spell in Bedknobs and Broomsticks.
140. Whistle Stop
The way that the opening credits of Robin Hood play out over Roger Miller's dry, deadpan "Whistle Stop" makes this works so well.
139. Rumbly in My Tumbly
"Rumbly in My Tumbly" is one of the slight, charming, but not tossed-off songs in The Many Adventures of Winnie the Pooh.
138. Happy Working Song
This spiky, snappily funny number is as close to self-parody as you'll get within the Disney canon.
137. Ichabod
The Adventures of Ichabod and Mr. Toad is slim, but having Bing Crosby narrate the Sleepy Hollow section and sing jazzy numbers like "Ichabod" was exceedingly smart.
136. When Will My Life Begin?
You can't get much simpler with an "I Want" number than this playful song.
135. Reflection
"Reflection" came at the tail end of great "I Want" numbers in the Disney Renaissance. If it was released earlier in the studio's history, it might have been more remarkable.
134. Steady as the Beating Drum
This approximation of Native American music, sung first by Pocahontas' tribe, then by her father, is fairly decent seeing as it was written by two White guys.
133. The World Es Mi Familia
As with a couple other songs in Coco, "The World Es Mi Familia" is over too soon, although the lyrics speak to the lead character's artistic conflicts.
132. A Rather Blustery Day
The best sequence of The Many Adventures of Winnie the Pooh is foreshadowed in "A Rather Blustery Day," with its clever lyricism and Sterling Holloway's singing style.
131. When We're Human
The themes of The Princess and the Frog are spelled out in the bouncy "When We're Human," sung by amphibian versions of the leads, as well as a jazz-loving crocodile.
130. Le Festin
"Le Festin" is a pleasant little number sung by Camille, a swooning, modern waltz that spells out the film's conflict in French.
129. The Headless Horseman
In this creepy song, Bing Crosby embodies the beefy Brom Bones, as he scares local schoolmaster Ichabod Crane about "The Headless Horseman."
128. Ev'rybody's Got a Laughing Place
"Ev'rybody's Got a Laughing Place" speaks to a general notion in Disney's animated films. It's toe-tapping enough to excuse the brevity.
127. Merrily On Our Way (To Nowhere in Particular)
Any Disneyland fan knows this song as part of Mr. Toad's Wild Ride. The song is brief, but as jaunty as the title would suggest.
126. For the First Time in Forever
The lyrics of this perky number make no sense — What does "Don't know if I'm elated or gassy, but I'm somewhere in that zone" mean? — but it manages to still be fun.
125. Oo-de-Lally
The snappy "Oo-de-Lally," sung by Roger Miller as we watch Robin and Little John go about their rascally business, is Robin Hood's best song.
124. The Gospel Truth
Hercules starts with this pleasant musical fakeout: Charlton Heston's stentorian tones are replaced by the vibrant Muses, inspired by gospel singers.
123. Never Knew I Needed
This soulful song, from the closing credits of The Princess and the Frog, is more in the pop/R&B vein than the songs that precede it, yet it's charming all the same.
122. Portobello Road
This jaunty, if cynical, musical sequence runs very long in the 1971 film. But it still kind of works.
121. What's This?
The staccato rhythm and Danny Elfman vocals make this upbeat song, where Jack Skellington discovers Christmas Town, stand out.
120. Mine, Mine, Mine
In this goofy number, John Smith explores the natural wonder of the New World while the odious Governor Ratcliffe drools over gold in them thar hills.
119. Colonel Hathi's March
This distracting song is upbeat and suitably militaristic.
118. Go the Distance
"Go the Distance" is a standard-issue, earnest "I Want" number boosted by Roger Bart's singing voice for Hercules.
117. Touch the Sky
Brave is creatively conflicted, but its songs are solid. "Touch the Sky" is the standout, as singer Julie Fowlis stands in aurally for the feisty Princess Merida.
116. Un Poco Loco
This rousing duet between Anthony Gonzalez and Gael Garcia Bernal is perhaps a bit too brief, but fits the colorful and dynamic milieu of Coco very well.
115. So Long
Once again: a smart touch of the underrated Winnie the Pooh revival was getting Zooey Deschanel to provide singing vocals.
114. That's What Friends Are For
The Beatles nearly played the vultures in The Jungle Book. Maybe their song would be better with the Beatles singing it. Mercifully, this song doesn't ape their sound.
113. Little Black Rain Cloud
This lullaby plays as we watch Pooh try to dress himself up as a rain cloud so he can find a honey-filled beehive. Suffice to say, the song works out better than Pooh's plan.
112. How Do You Do?
There's a reason why this shows up almost entirely in the Splash Mountain theme park ride: it's one of Disney's snappiest songs.
111. Dig a Little Deeper
This gospel number performed by Jenifer Lewis comes late in The Princess and the Frog, but it's rousing thanks to her voice work.
110. Love is an Open Door
Come for the romantic duet between new lovers, a relationship that eventually goes south; stay for the random "Arrested Development" reference!
109. A Star is Born
This joyful song shows up a couple times in Hercules, emphasizing how the half-human, half-god Hercules fully embraces his status as a mythically powered man.
108. Oh, Sing Sweet Nightingale
When this song begins, it sounds awful. Cinderella's stepsisters, aside from being mean, have rough voices. When we transition to hearing Cinderella singing, the song becomes effervescent.
107. I Wonder
It's a shame that Mary Costa doesn't get to sing more in Sleeping Beauty, because she's got a lovely singing voice. No wonder Prince Philip falls for Aurora at first sight.
106. Let the Rain Pour Down
This is one of the stronger numbers in Song of the South. Again, it's impossible to remove the context, but the gospel-tinged song does work.
105. That's How You Know
Amy Adams is at her best in Enchanted and "That's How You Know," a calypso-tinged song paying homage to past Disney animated films, is the film's vibrant show-stopper.
104. The Life I Lead
David Tomlinson, singing this blustery number with a recurring melody, establishes through the Sherman Brothers' lyrics the true conflict at the core of this film.
103. Saludos Amigos
Just as Saludos Amigos is barely a feature film (at 42 minutes long), the song bearing its name isn't complex. However, it's got a soaring melody and solid vocals to match.
102. Sooner or Later
While it's the only song given to Oscar-winner Hattie McDaniel, "Sooner or Later" is as close to a seductive number (really!) as you get in Song of the South.
101. Down to Earth
WALL-E, like many Pixar films, has a solid piece of original music playing over the colorful, story-extending end credits, this time courtesy of British rocker Peter Gabriel.
***
The third and final part of this list, covering the top 100 songs, runs tomorrow.