Former 'Solo: A Star Wars Story' Directors Address Their "Break-Up" With Lucasfilm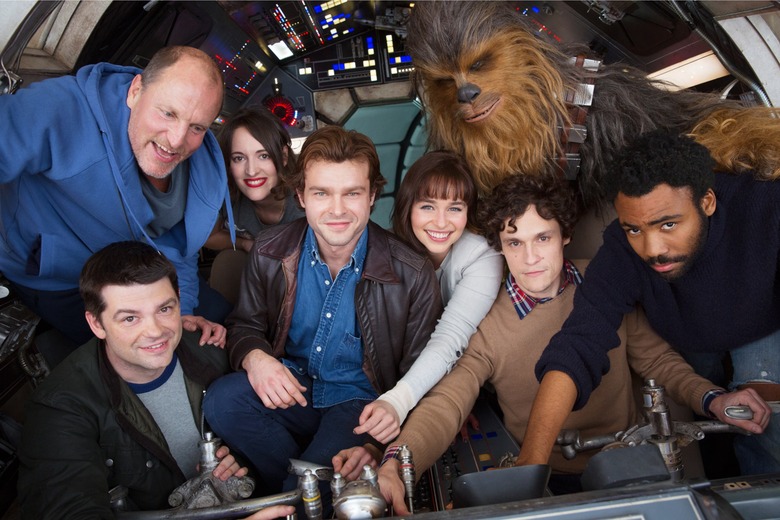 It's still the biggest geek news item of the year: original directors Chris Miller and Phil Lord were fired from Solo: A Star Wars Story and replaced with Ron Howard. The news that Lucasfilm has a heavy hand in Star Wars is noting new – Kathleen Kennedy reportedly clashed with J.J. Abrams during Star Wars: The Force Awakens and Gareth Edwards's Rogue One: A Star Wars Story underwent significant reshoots. But Lord and Miller were the reason many people were excited for a Han Solo spin-off. Their reputation as miracle workers preceded them.
After months of silence, the duo behind The LEGO Movie and 21 Jump Street have finally addressed the Max Rebo in the room. Here's more on the Lord and Miller Solo firing, straight from Lord and Miller themselves.
Lord and Miller were in attendance at a panel dedicated to their late, great animated series Clone High at the Vulture Festival in Los Angeles over the weekend. Naturally, the Q&A drifted toward the Han Solo movie, leading the duo to speak publicly on the subject for the first time. While there are surely bitter feelings lurking beneath the surface, Lord took a positive and upbeat approach to the whole thing:
The experience of shooting the movie was wonderful. We had the most incredible cast and crew and collaborators. I think in terms of us leaving the project, I think everybody went in with really good intentions and our approach to making the movie was different than theirs. That was a really big gap to bridge, and it proved to be too big. Sometimes people break up, and it's really sad, and it's really disappointing, but it happens and we learned a lot from our collaborators and we're better filmmakers for it. We're really proud of the work we did on the movie and we wish everybody the best.
Miller also chimed in and was quick to point out that they're not in dire circumstances or anything. They're working on the sequel to The LEGO Movie and they still have that animated Spider-Man movie in the pipeline:
We're super well-adjusted, obviously we're doing great. We're super drunk right now. As Phil said, we had such a great relationship with cast and crew, we were really rooting for them. After we took a much-needed vacation, we got back into it and now we're writing and producing a sequel to The Lego Movie and producing a Miles Morales animated Spider-Man.
Someday, and it may take decades and a tell-all book, we'll know exactly what went down between these undeniably talented filmmakers and Lucasfilm. If you put your ear to the ground in the right places, you'll already hear all kinds of stories, none of which are fit or fair to print at the moment. The silver lining here is that Lucasfilm is probably getting the movie they want courtesy of an experienced director and that Lord and Miller are going to bounce back because they're too talented to not bounce back. It's a crappy situation, but it certainly looks like the healing process has begun. At least in public.