Cool Stuff: Mondo's 'Batman Returns' And 'Ratatouille' Vinyl Soundtracks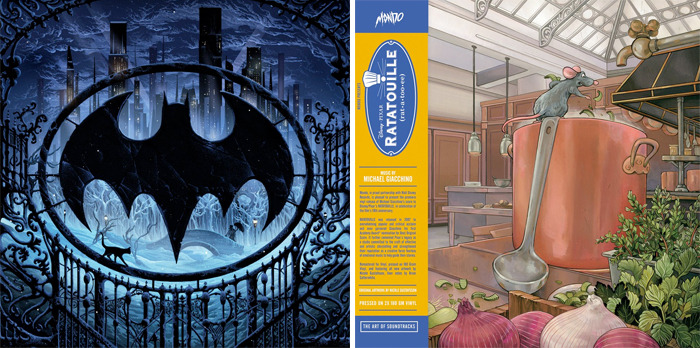 Justice League hits theaters this weekend, and Pixar's Coco arrives just before Thanksgiving next week. So the folks at Mondo are celebrating by honoring the movies that came before them with a couple new vinyl soundtrack releases.
Danny Elfman's theme for Batman makes a small resurgence on the Justice League soundtrack from the composer, and now his outstanding score for Batman Returns is getting a vinyl release at Mondo. On top of that, Pixar's delicious Ratatouille soundtrack is also getting a limited edition vinyl soundtrack. Check out both of the outstanding Mondo releases below.
First up, here's the Batman Returns vinyl soundtrack with artwork by Killian Eng:
It's not quite as cool as the 3XLP that was available exclusively at MondoCon, but this 2XLP vinyl soundtrack will still make a great addition to any record collection. This is the first time the score by Danny Elfman has been available on vinyl in 25 years, so don't miss out on the chance to own this collector's edition soundtrack for just $35. It's available now at the Mondo website.
Next up, here's the limited edition Ratatouille vinyl soundtrack with artwork by Nicole Gustafsson:
Michael Giacchino's masterful score landed an Academy Award nomination for Best Original Score in 2007, and now it's available on a special red, yellow and green splattered clear vinyl. You'll want to act fast to pick this one up, especially if you want it for Christmas, because there are only 2,000 copies available. This one also costs just $35 at Mondo's website and it's expected to ship sometime this month, so you'll likely get it in time for the holidays.