'Hotel Transylvania 3' Trailer: Dracula Goes On A Cruise And Hijinks Ensue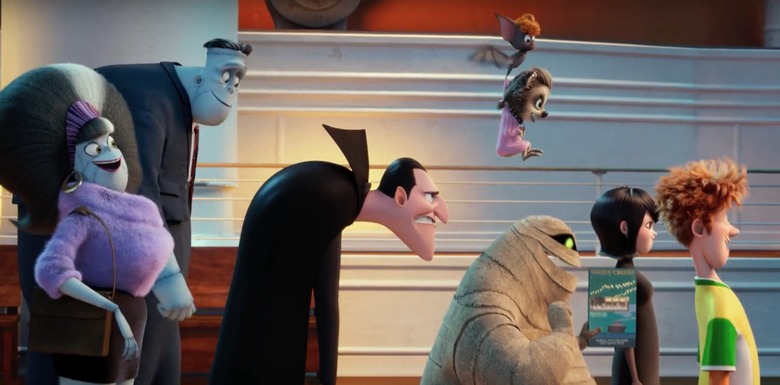 What happens when Dracula needs to get away from it all? If "he goes on a cruise" wasn't the first thing to spring to mind (and it shouldn't have been, because, well, sunlight), then you may be surprised by the Hotel Transylvania 3 trailer, which is all about the world's most famous vampire and his extended clan going on a vacation.
Hotel Transylvania 3 follows 2012's Hotel Transylvania and 2015's Hotel Transylvania 2, which revealed that Count Dracula spends his days running a hotel for monsters and trying to raise a family. I never saw either of them, but they made a lot of money (they broke September box office records and everything at the time) and inspired a Disney Channel show that premiered this year. In part three, Dracula takes a break from giving other other monsters a vacation and sets out on a vacation of his own. Will things go well? Will they encounter a mysterious enemy who threatens monster-kind? Have you ever seen a motion picture before?
Hotel Transylvania 3 Trailer
These movies have completely washed by me, but they seem to have an audience. And honestly, I find it hard to muster much blind snark toward a series of family movies that may convince kids to seek out old school monster movies. If a Dracula voiced by Adam Sandler teaches the next generation about Bela Lugosi, then something is being done right. Plus, this series is keeping director Genndy Tartakovsky employed and surely animation fans are happy to see the creator of Samurai Jack working on big movies for big audiences.
Hotel Transylvania 3 opens on July 13, 2018 and also features the voices of Selena Gomez, Andy Samberg, David Spade, Molly Shannon, Steve Buscemi, Keegan-Michael Key, Asher Blinkoff, Kevin James, Fran Drescher, and Mel Brooks. Here's the official synopsis:
In Sony Pictures Animation's Hotel Transylvania 3: Summer Vacation, join our favorite monster family as they embark on a vacation on a luxury monster cruise ship so Drac can take a summer vacation from providing everyone else's vacation at the hotel. It's smooth sailing for Drac's Pack as the monsters indulge in all of the shipboard fun the cruise has to offer, from monster volleyball to exotic excursions, and catching up on their moon tans. But the dream vacation turns into a nightmare when Mavis realizes Drac has fallen for the mysterious captain of the ship, Ericka, who hides a dangerous secret that could destroy all of monster kind.