'The Strangers: Prey At Night' Trailer: Never Depend On The Kindness Of Masked Killers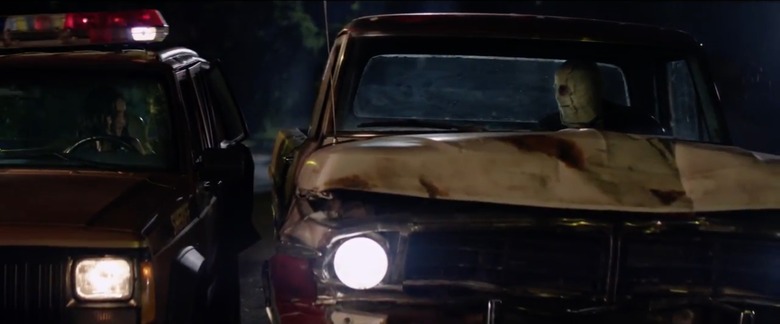 Hey, remember The Strangers? The 2008 home invasion horror movie received mixed reviews from critics, but it was a financial success, grossing $52 million at the domestic box office against a $9 million budget. The rules of the horror genre suggested that a sequel should have followed in 2009 and that we'd be on the direct-to-VOD The Strangers Part 8 by now. That's how this is supposed to work.
Instead, the sequel is finally arriving next year, a decade after the first movie hit theaters. The first The Strangers: Prey at Night trailer is here, but is it too late?
Although co-written by original The Strangers director Bryan Bertino, the sequel is directed by Johannes Roberts, who helmed this year's killer shark movie 47 Meters Down. The change behind the camera is immediately noticeable in the trailer. While the first movie was a subtle, grueling experience that relied on darkness and subtle reveals to deliver scares, this teaser is all about over-the-top song cues, a bigger body count, and a scope that takes us outside of a single country home.
The Strangers: Prey at Night Trailer
Christina Hendricks, Martin Henderson, Bailee Madison, and Lewis Pullman lead the story, which follows a family whose road trip goes awry when they're stalked by masked killers in a trailer park. It's not clear if these murderers are intended to be the same people from the original (although their masks are identical) or if there will be any connection to the first movie at all beyond a quick reference or two. This is most likely a sequel in name only, the latest adventure of this crazy crew of murderous psychopaths who do what they do because everyone needs a hobby.
As someone who enjoyed the first The Strangers, I can't help but be wary of this one. It feels like the window for a sequel passed seven or eight years ago! However, since I'm also someone who feels compelled to stay on top of most horror movies, good and rotten, I know I'll be paying to see this one in theaters just so I can have an opinion on it.
The Strangers: Prey at Night opens on March 9, 2018. Here's the official synopsis:
A family's road trip takes a dangerous turn when they arrive at a secluded mobile home park to stay with some relatives and find it mysteriously deserted. Under the cover of darkness, three masked psychopaths pay them a visit to test the family's every limit as they struggle to survive. Johannes Roberts directs this horror film inspired by the 2008 smash hit THE STRANGERS.