Aquaman Had An Offscreen Meeting With Superman In 'Man Of Steel' According To Jason Momoa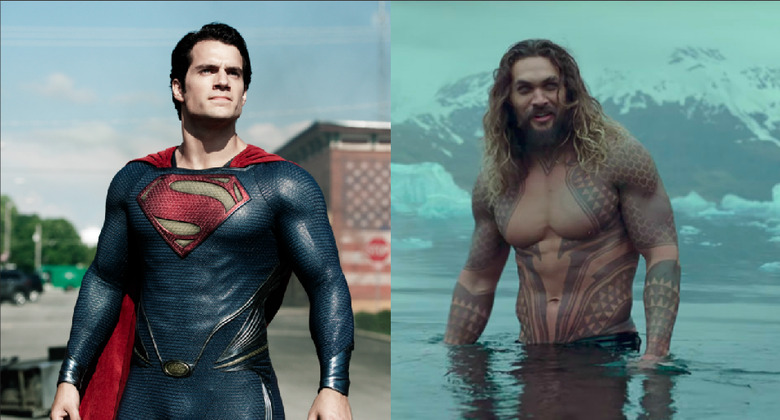 The world (or ocean) of the DC Extended Universe may be a lot smaller than we anticipated. The shared cinematic universe was born fairly recently, launched from Zack Snyder's 2013 Superman origin movie, Man of Steel. But it turns out Snyder was laying the ground for Justice League and beyond, with a secret (so secret you don't even see it!) cameo from none other than Jason Momoa's Aquaman.
The cameo comes in the form of, essentially, a plot hole. In case you haven't seen Man of Steel in a while, let me refresh your memory: it takes more than half the movie for Clark Kent to become Superman. In the meanwhile, he wanders the globe helping the helpless and often losing his shirt in the process.
In one memorable scene, he rescues several workers from a collapsing oil rig, but is thrown into the ocean, where he is knocked unconscious. However, he mysteriously floats to the surface and finds that he has drifted back to shore. It turns out that it wasn't some divine presence that saved him — though the movie's abundant Jesus imagery would have you thinking differently — but Aquaman. At least that's what Jason Momoa says Zack Snyder says.
In an interview with DC All Access, Momoa said that Snyder told him that he intended the scene to hint at Aquaman, which would explain why Arthur Curry is familiar with Superman when Bruce Wayne approaches him in Justice League. Here's more:
In Man of Steel, when Henry [Cavill] is saving the oil rig and he's holding that up, and all of a sudden he kind of floats up on the ocean, he's [Zack] like 'I had Aquaman save him so that they did cross paths at one point.' So then when Bruce goes 'You ever heard of...Superman?' I have met him and we have crossed paths.
While it's nice that Man of Steel didn't go overboard (heh) with exposition and mythology-building — it left that to Batman v Superman: Dawn of Justice — this does kind of seem like a retroactive insertion of mythology courtesy of Snyder. Was this moment really intended to be an Aquaman cameo? Or was it just a plot hole that could conveniently be tied into the upcoming movie whose case is currently making the press rounds? You can decide for yourself.
Justice League is directed by Zack Snyder and stars Ben Affleck, Henry Cavill, Amy Adams, Gal Gadot, Ezra Miller, Jason Momoa, Ray Fisher, Jeremy Irons, Diane Lane, Connie Nielsen, J. K. Simmons, and Ciarán Hinds. It's set to hit theaters on November 17, 2017.