'Get Out' Could Be Nominated As A Comedy At The Golden Globes Because The Golden Globes Are Weird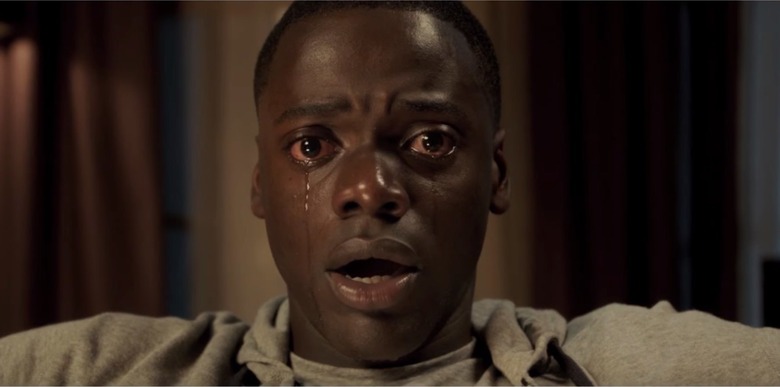 Get Out, the smash hit horror satire that may very well be the best film released in 2017, could be a dark horse awards contender. After all, this is looking like a weak year for prestige pictures and a critically lauded, bold-as-hell vision could sneak in through the cracks. It's possible!
And if it does sneak in through the cracks, the Golden Globes will treat it as a comedy.
Variety Awards Editor Kristopher Tapley (a valuable resource for anyone with an interest in awards season rules, details, and gossip) tweeted that the Hollywood Foreign Press Association, who run the Golden Globes, met and determined that Jordan Peele's explosive horror film will be considered in the "Best Comedy or Musical" category.
If that makes you scratch your head...well, welcome to the Golden Globes. And more specifically, welcome to the Best Comedy or Musical category, which has been baffling people for years. It's strange enough that the awards show equates comedies and musicals, which means that La La Land had to compete against Deadpool and Les Miserables against The Best Exotic Marigold Hotel. But it gets even weirder when some movies slip into the category despite being neither a musical or a comedy.
The most famous example is easily Ridley Scott's The Martian, which won the Best Comedy or Musical trophy in 2016 despite being neither (to be fair, The Martian is very funny, but it's a sci-fi drama first). Everyone saw this for what it was: a gross attempt for the film to win awards rather than compete in a category where it belonged.
The Martian kerfuffle forced the HFPA to change their rules, with dramas with comedic moments being properly corralled into the drama category. Supposedly. Get Out is a tricky one because it is a very funny movie and a pointed, fiery satire. However, the comedy is the relief around the edges of a vicious horror movie, an angry examination of race in America. It doesn't cleanly fit into any genre, but it would probably feel more at home in the drama category. But the HFPA clearly disagrees.
Should Get Out get nominated at the Golden Globes, it will join a long history of head-scratchers in the Comedy or Musical category. This rich history includes Dramas With Jokes, like Charlie Wilson's War, Inside Llewyn Davis, and Her. But don't forget the Dramas Without Jokes that were also nominated, like Gosford Park, My Week With Marilyn, Birdman, Pride and Prejudice, and The Squid and the Whale. Ah, but this category is also home to Musical Biopic Dramas That Aren't Really Musicals But End Up Here Anyway, like Walk the Line and Ray. And then there's the one that stands on its own: The Mask of Zorro, which inexplicably received a Best Comedy or Musical nomination back in 1999.
Anyway, let's not pretend for a second that the Golden Globes are a bastion of good taste. Just look to 2011, when Alice in Wonderland, Burlesque, Red, and The Tourist were all nominated for Best Comedy or Musical. Caring too much about what the HFPA thinks is silly.