'Super Mario Bros.' Animated Movie In The Works From 'Despicable Me' Studio [Updated]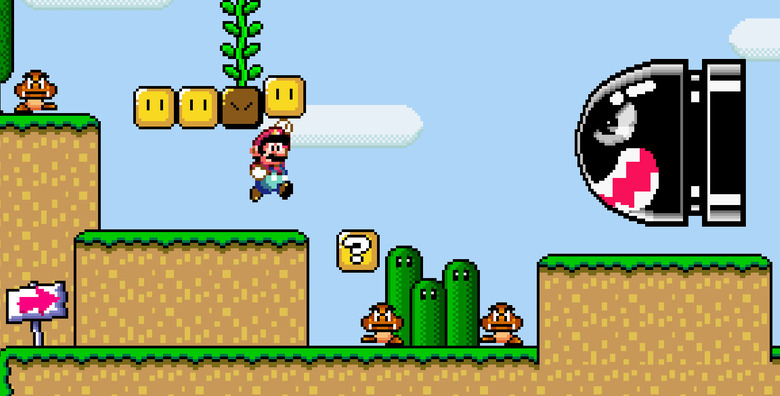 Update 2: Today, Nintendo president Shuntaro Furukawa revealed that this adaptation is targeting a 2022 release date. No other details were given.Update: Tonight, Nintendo confirmed that a Mario movie is indeed in the works:
Nintendo and Illumination are partnering on a movie starring Mario, co-produced by Shigeru Miyamoto and Chris Meledandri! pic.twitter.com/wVRPLIzcGJ

— Nintendo of America (@NintendoAmerica) February 1, 2018
Our original story from November 2017 follows.
The last time Mario and Luigi leapt across the big screen, they were played by Bob Hoskins and John Leguizamo in a 1993 live-action film that set the stage for the many, many bad and misguided video game adaptations to follow. But maybe live-action was just the wrong fit for the famed video game duo. Maybe animation is the right track.
A new Super Mario Bros. movie could come our way via Illumination Entertainment, the company behind Despicable Me and The Secret Life of Pets. All Nintendo needs to do is sign on the dotted line.
The Wall Street Journal, citing "people with knowledge of the discussions," reports that the iconic video game company and Illumination are close to signing an agreement that will return the acrobatic plumber and his taller brother to theaters.
This is big news: Nintendo is home to some of the most famous and beloved video game characters in the history and the company has been (rightfully) wary of letting Hollywood get its hands on them after that debacle back in '93. We've been hearing about Nintendo being interested in animated movies for some time now. The fact that it's taken this long can't help but reflect their caution.
The deal with Illumination doesn't feel like an accident. Other studios have tried to make deals with Nintendo in the past, but they have all failed. But Illumination makes animated movies that are released under the Universal banner and Nintendo recently teamed up with the Universal Studios theme parks to collaborate on new Nintendo-themed lands. If the experience was a positive one, its possible to imagine Nintendo deciding to trust someone they already know rather than a studio cold calling with a big check.
The Wall Street Journal reports that Nintendo will have a hand in crafting the Mario movie, with Shigeru Miyamoto (the creator of Mario and The Legend of Zelda) possibly taking on a producer role:
The most complicated issue in the negotiations between Illumination and Nintendo has been making the Japanese videogame company feel confident it will be involved enough in the creative process, said one person close to the talks. Nintendo's creative guru, Shigeru Miyamoto, who created Mario Bros., has been part of the talks and likely will be a producer on the movie, along with [Illumination chief executive Chris] Meledandri...
Naturally, the deal allows for Illumination to make multiple Super Mario Bros. movies, but only one is currently being planned.
How Do You Make a Mario Movie?
It's no secret that video game movies have generally...well, let's just say "not lit the world on fire." You have to go all the way back to the first Tomb Raider and Mortal Kombat to find films that anyone seems remotely fond of. And it's not like the recent adaptations have inspired much confidence in Hollywood translating these experiences to the big screen. Assassin's Creed, Warcraft, and Hitman: Agent 47 are the norm for video game adaptations – critical and box office duds that often misunderstand what makes the source material so compelling in the first place.
However, Mario is even trickier than those properties. After all, Warcraft and Assassin's Creed are based on games with plots. Super Mario Bros. and its many, many sequels are plot-free affairs about two Italian plumbers (they will always be plumbers, Nintendo) navigating the colorful Mushroom Kingdom on a quest to save Princess Peach from the clutches of the evil Bowser. When it does change up the formula, the basic template remains: run through stages, collect stuff, save the day.
But story was never where Mario was at its strongest. The Mario games have been consistently great because they've been colorful and charming and surreal, experiences that put a smile on your face while tickling your brain and testing your fingers. I've been playing Super Mario Odyssey on the Nintendo Switch for the past week and it's a pure joy: a video game that is unashamedly a video game, free of forced cinematic tropes and happy to exist as its own special thing that no other medium could possibly replicate.
That puts Illumination at an immediate disadvantage. Mario is great because it's so carefree, so unshackled from narrative limitation, and so open to interpretation. My Mario experience is not your Mario experience. This is a character, and a world, that is alive enough and blank enough to be something different for everyone. How do you craft that into a three-act movie without breaking it?
The '93 Super Mario Bros. tried to do it by transforming Nintendo's amazing worlds into a grim sci-fi dystopia. It's a fascinating oddity, a bad movie that feels like a warning for everyone else who wants to make a Mario movie. Animation sounds like a better fit for the vibrant world of Mario, Luigi, Peach, Toad, Bowser, and the rest of the crew, but still doesn't feel quite right. Mario isn't a character. He is an avatar for our fun. He's a pure distillation of the video game experience. How the heck do you adapt that?