How The Future Of 'Star Tours' Could Be Completely Different, First Look At New Ride Scenes Revealed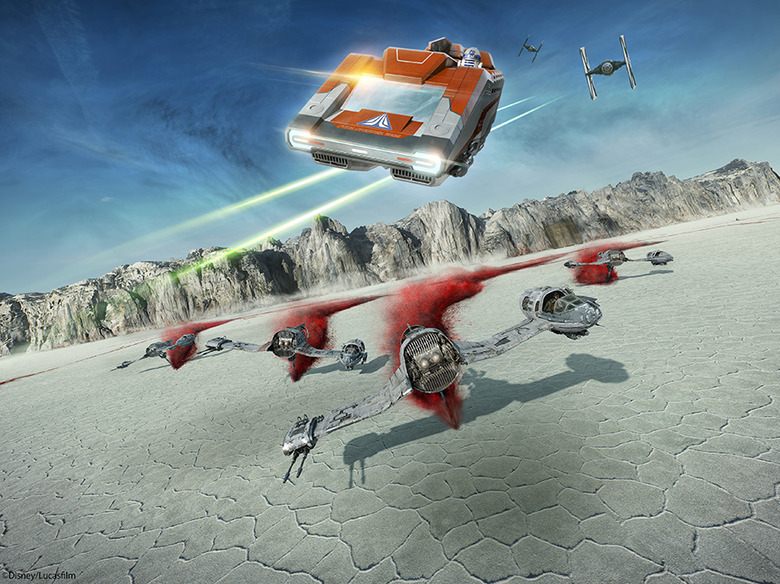 Rumor has it that Disney will be completely changing the Star Tours experience in Disneyland and Walt Disney World's Hollywood Studios. Here's how our theme park trip to a galaxy far far away may change.
Fixing the Canon of Star Tours
When George Lucas teamed up with Walt Disney Imagineering to create Star Tours, it was a singular experience set during the era of the original Star Wars trilogy. In 2011, Lucas reteamed with WDI to reimagine the attraction as Star Tours – The Adventures Continue, set during the era of the Star Wars prequel trilogy. The vehicle that park guests board is the Starspeeder 1000, the predecessor of the Starspeeder 3000 of the previous attraction.
Of course, there are some leaps of logic. For instance, one of the randomized destinations brings us to Hoth, following snowspeeders in an attack run on an AT-AT. This wouldn't make any sense decades before the events of The Empire Strikes Back, but as the story goes, George Lucas explained that the Rebels and the Empire had a skirmish there before and the reason the Rebels went back to establish Echo Base was that they believed the Empire would never suspect them returning there. Of course, whatever he decides became canon.
Leading up to the release of Star Wars: The Force Awakens, a new segment was added that brings us to the planet of Jakku, where Finn is in control of the Millenium Falcon. These events take place more than a half a century after the other events seem in this attraction. It didn't make any sense, no time travel was established, but we just accepted it as fun marketing promotion for the new film.
New Additions To Star Tours, Not Just Crait But Something Else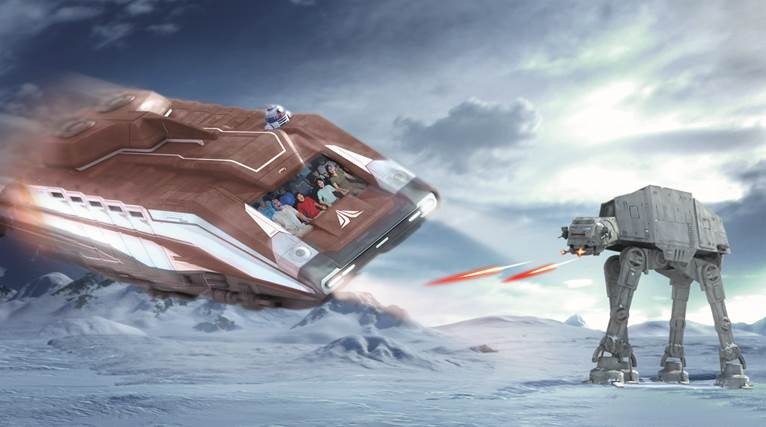 Now, a new segment from the Crait battle from Star Wars: The Last Jedi is being added to the mix to help promote Rian Johnson's new movie, further confusing the timeline logic of the attraction. It seems that with Disney constructing a completely immersive Star Wars land that will exist within canon, the mouse house may be reconsidering how their old ride fits in this galaxy.
And while we're on this subject, Disney just released a first look at the new Crait scenes, which arrive on November 17.
"We've shared all we can for now about the thrilling adventures waiting for you on Crait, but if you're thinking that's the only new Star Tours destination coming this week, all I can say is, "No. There is another.""
This hint leaves us to believe that a second Star Wars: The Last Jedi sequence will be added to the attraction. Perhaps a trip to Canto Bight, the casino world? Or maybe another scene set during the events of Star Wars: The Force Awakens? What could the other destination be? We'll get to that a bit later.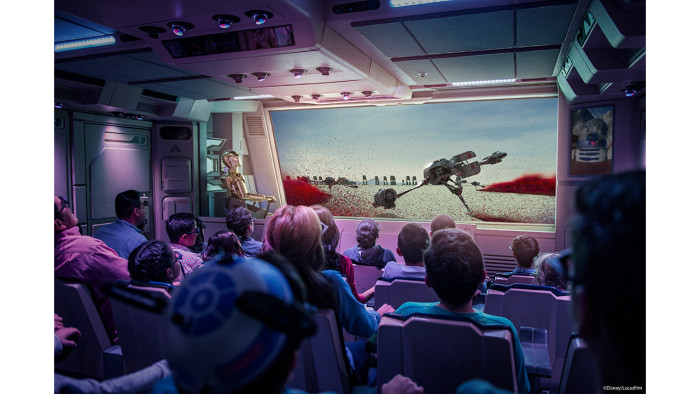 The New Rumor: Diverting Itineraries
According to a new report from WDW News Today (who have a good track record of past Disney parks rumors), Disney is planning to split the Star Tours attraction into two experiences. The site claims it will be handled kind of like how Mission: Space was at Epcot. One path will bring you on a trip through the prequel and original trilogy era locations, while another path will be the new era of Star Wars, including the Jakku and Crait sequences as well as a new transmission from BB-8. According to the report, this change will happen sometime in the next 6-12 months.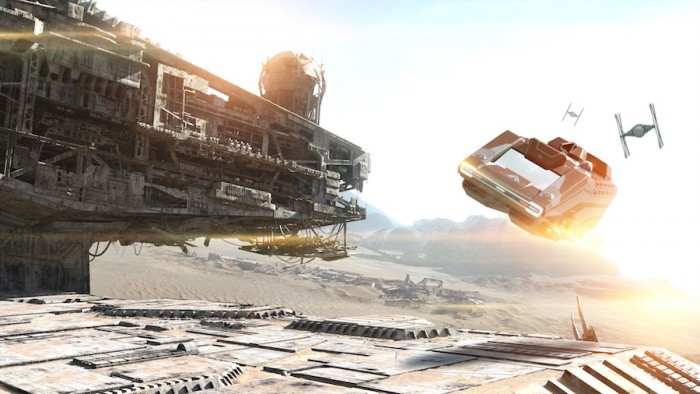 Why This Might Not Happen
This report is strange for a variety of reasons.
First of all, the queue as it is now is set in the prequel era, and I'm not sure how Imagineering would thematically explain the two different timeline options. Some fans may even argue if they even need to explain this thematically. If this report is correct, Disney wants to segment these two Star Wars eras.
Second, with Star Wars Land gearing up to open in 2019, Star Tours might not have much of a future in Disney Parks. While this has not been confirmed anywhere, it has been rumored for some time that Star Tours in Disneyland would be rethemed as another simulator ride (Hong Kong Disneyland uses the exact same vehicle for their Iron Man ride). It seems illogical for Disney to invest time and money in an attraction that might not be here in a couple of years.
Third, while Disney has Star Wars films planned every year for the next decade, they only have two Star Tours scenes from this era of the galaxy. It seems hard to imagine that one of the experiences would be limited to just a couple scenes and not randomized with additional content until future films are released. Would park guests really choose the line for the ride experience that only offers a few scene options over the one which offers a dozen?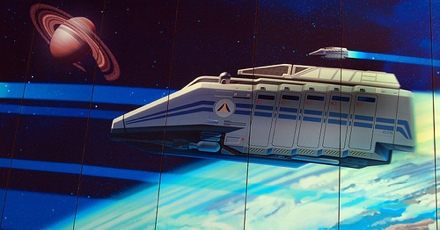 Could The Original Star Tours Return?
But let's imagine for a moment that Star Tours is here to stay at Disneyland and Hollywood Studios in Florida. Remember that commercial for the return of the Main Street Electric Parade, where they went into the Disneyland warehouse to bring back the classic parade? From what I've heard, that was the first in a planned concept where older attractions and shows could somehow return to the park for a limited time.
When I heard of this plan, one of the first possible ideas that came to my mind was the original Star Tours. Disney could either digitize and post convert the old Star Tours film or create a computer-generated version of the classic attraction. Now that it's being rumored that Disney might segment the ride films into different eras, it seems even more possible for them to restore the original Star Tours ride as part of this renovation. But would they?
It should also be mentioned that Disney announced yesterday the first of a new series of nighttime ticketed events called Disney After Dark, and the official Star Wars twitter account sent out this ominous tweet:
Including a trip to the galaxy far, far away.... 😉 https://t.co/eoYgCHbqi0

— Star Wars (@starwars) November 13, 2017
Nothing about Star Tours or Star Wars is mentioned in the Disney article about the new event. The event is about experiencing a retro version of Disneyland, so perhaps the first version of Star Tours will make its return at this event?
What Does The Future of Star Tours Look Like?
And if Disney is planning to keep Star Tours after the opening of their Star Wars-themed lands open, maybe it would be smart to relocate the attraction outside of Tomorrowland (in Disneyland) to right outside of the new lands. How cool would it be to enter the Star Tours attraction and exit the ride on the new planet where you landed – essentially using the ride as a thematic transition point to this new land.
Of course, there isn't really the space for this (at least not in Disneyland). It seems more logical to me that they would repurpose the Star Tours attraction in its current location as a ride based on another Disney property. Porting over the Iron Man attraction from Hong Kong seems likely, but with Disney planning to build a Marvel-themed land in Disney California Adventure, it doesn't seem logical that they would also provide Tony Stark a home in Tomorrowland.