Disney's Live-Action 'Pinocchio' Loses Director Sam Mendes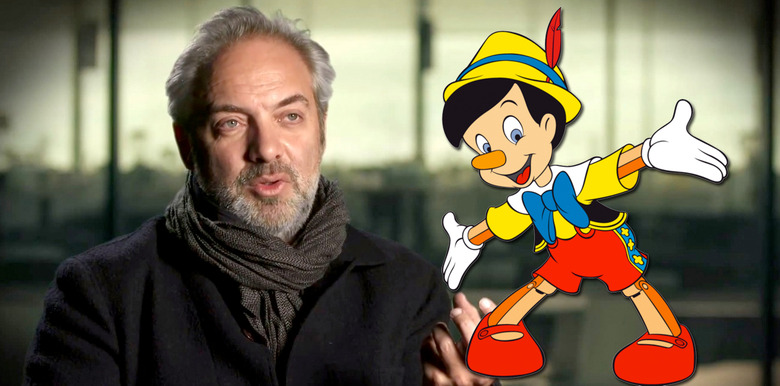 Disney's new mission to remake their entire animated canon in live-action keeps on trucking forward, but one project is moving a little more slowly than others. The live-action take on Pinocchio has lost Academy Award winner Sam Mendes, who was reported to be taking the director's seat earlier this year.
Word comes from The Tracking Board, who reports that Mendes has left the project while he was still in "early talks." The film is still in development with a screenplay by Rogue One: A Star Wars Story writer Chris Weitz (himself an Oscar nominee for About a Boy), who is also producing.
Weep not for Disney, though. It's not like they need your tears. They'll find another live-action Pinocchio director soon enough. In the meantime, Jon Favreau's kind-of, sort-of live-action take on The Lion King is in the pipeline, and the company is still swimming in Scrooge McDuck-style vaults of Beauty and the Beast money from earlier this year.
Mendes made his feature film debut with 1999's American Beauty, which won him the Best Director statuette at the Academy Awards. He followed it up with (the superior!) Road to Perdition, (the underrated!) Jarhead, (the shrug-worthy!) Revolutionary Road, and (the very nice!) Away We Go. However, he reinvented himself as a maker of exceptional studio fare with Skyfall, one of the best Bond films, before stumbling a bit with Spectre, one of the more forgettable Bond films.
In other words, he's the exact kind of talent you see Disney recruiting for their live-action movies these days: dependable, sturdy, respected, and comfortable with large budgets. Expect his replacement to come from a similar background.
Of course, the critical missing detail here is why Mendes stepped away from Pinocchio. Could it be as simple as him not wanting to dedicate several years of his life to the film? Or could we read a little deeper and wonder if he's planning to re-team with Daniel Craig, assume control of the director-less James Bond 25, and atone for the sins of Spectre? That's pure speculation, but it wouldn't surprise me in the least.
In the meantime, another version of Pinocchio is currently in the works at Warner Bros., but it's been awfully silent. At one point, Robert Downey Jr. was going to star, and Paul Thomas Anderson (!) was being courted to direct. And then Ron Howard took over. And then we heard nothing.
In any case, it's clear that Disney is not in a rush to get Pinocchio made. This remake was first announced back in 2015, and it's going to be a few years more at the very least. We'll let you know if anything changes.