'Deadwood' Movie Stares Down A Fall 2018 Start Date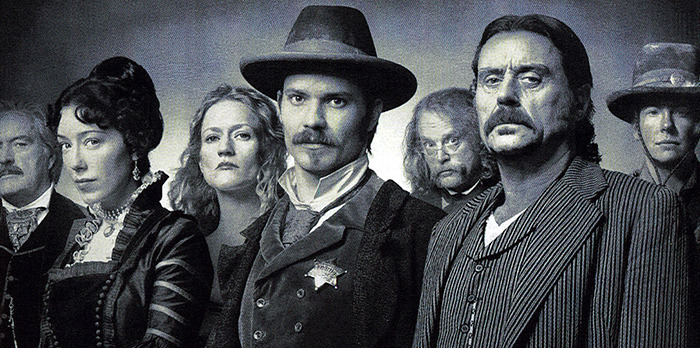 Here's another reason to crawl out of bed in the morning. Or at least, an excuse to to stay in bed and try to hibernate for the next year or so. A new report claims that HBO is finally ready to move forward with the long-planned Deadwood movie, with cameras possibly rolling late next year.
TV Line reports that HBO is hoping cameras will begin rolling on the project in the Fall of 2018, even though the TV movie sequel to the beloved and profane western series has yet to receive an official green light from the network. This news arrives months after series star Ian McShane said series creator David Milch's script was ready and months after HBO's Casey Bloys shared his enthusiasm for what was on the page:
I read the script and the one thing that I was concerned about is I wanted the script that would stand on its own. If you were a Deadwood fan it would make you happy and if you never watched Deadwood you could still enjoy it. David [Milch] delivered on that. If we can do it for a budget that makes sense for us and find a director, we're talking to a few folks, and we can get the cast together which is no easy task, we're inclined to do it. We have to get over those hurdles. The good news is, the script was terrific."
Although under-appreciated when it first aired from 2004 through 2006, Deadwood has since emerged as one of HBO's crown jewels, comfortably sitting alongside The Sopranos and The Wire as one of the masterpieces of the small screen revolution that led to our "Peak TV" era. While the third season ended with a harrowing conclusion whose messiness and ethical quandaries reflected the western series at its best, it left something to be desired as an accidental series finale. HBO quickly promised that the story would be wrapped up with a series of TV movies, but a change in leadership at the network saw all continuations slip through the cracks.
A decade later, Deadwood is considered one of the greatest television shows ever made, a complex, gruesome, and thoughtful exploration of what it takes to carve civilization out of anarchy. However, its massive cast has split up and gone in a hundred different directions and the expensive, immersive sets are long gone. It's little wonder that a Deadwood movie is such a mountain to climb – getting everyone back in the same room and recreating that world is no easy task.
I remain cautious about a film that returns to these characters. Much of the genius of the original show came about from on-set experimentation and last-minute rewrites that kept the cast and crew on their toes. The stories from the set of the show are rightfully legendary and to listen to an actor discuss Deadwood is to listen to them discuss some of the most exciting days of their career. Can a decade-late movie re-capture that alchemy? I'm not sure. But I hope so.