Watch A New 'Justice League' Clip, Featurette & TV Spot Before The Superheroes Hit Theaters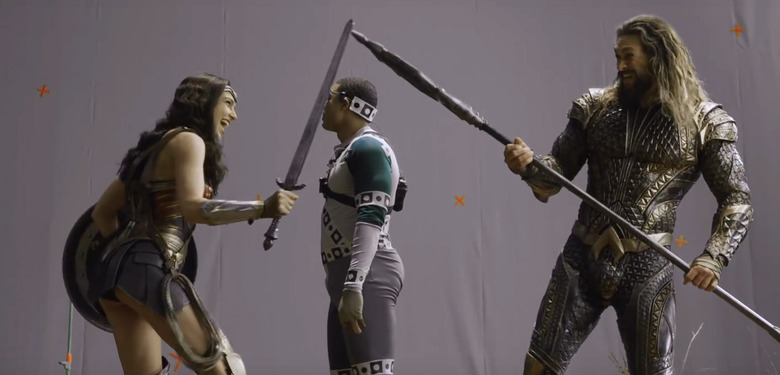 We're just a few days away from Justice League hitting theaters, bringing the DC Comics superhero team altogether on the big screen for the first time ever. We've seen plenty of footage in the trailers that have been released over the past year and a half, and now Warner Bros. Pictures is in the final stretch of their marketing push to show off even more from the blockbuster flick.
A new Justice League featurette goes behind the scenes of the movie showing off Ben Affleck, Gal Gadot, Ezra Miller, Jason Momoa and Ray Fisher having a good time between takes. Plus, there's a new clip showing off more of the conversation that happens between Bruce Wayne and Arthur Curry when the billionaire vigilante goes searching for metahumans to help defend Earth against an impending threat.
Watch the Justice League Featurette
There's clearly a lot of camaraderie on the set of Justice League in between takes. That's exactly the kind of chemistry you want between superheroes. Plus, no matter how you feel about the direction of the DC Extended Universe so far, you have to admit that seeing all of these superheroes together in a single shot at least looks incredibly cool, even when one of them is just wearing motion capture pajamas.
If you're looking for more footage from Justice League, here's another piece of Batman and Aquaman's meeting:
In this sequence, we get a much better vibe for Arthur Curry's attitude about joining up with a team of superheroes. He's not nearly as gung ho about it as he seems in the trailers. Clearly he has to warm up to Batman as time goes on. The kind of swagger Jason Momoa has as Aquaman is definitely on display in this clip, and that's probably why he's one of the standout stars of Justice League in the early buzz from social media.
Finally, here's a new TV spot showing off the comic book action headed out way later this week:
Fueled by his restored faith in humanity and inspired by Superman's selfless act, Bruce Wayne enlists newfound ally Diana Prince to face an even greater threat. Together, Batman and Wonder Woman work quickly to recruit a team to stand against this newly awakened enemy. Despite the formation of an unprecedented league of heroes — Batman, Wonder Woman, Aquaman, Cyborg and the Flash — it may be too late to save the planet from an assault of catastrophic proportions.
Justice League arrives in theaters on November 17, 2017.