You Can Listen To Danny Elfman's 'Justice League' Soundtrack Right Now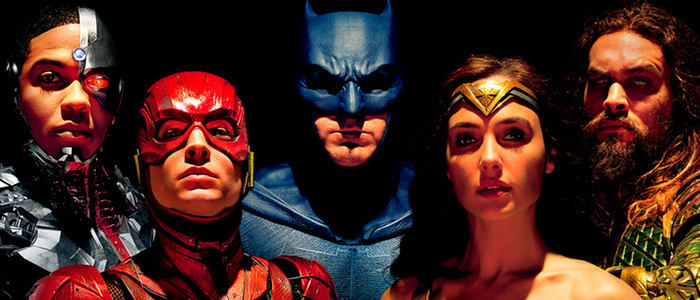 Justice League clobbers its way into theaters until next week, but you can get a jump on the epic superhero team-up film by listening to its score right now. Danny Elfman's musical return to the superhero genre is now streaming. Check it out the Justice League soundtrack below in all its bombastic glory.
Danny Elfman was responsible for one of the most iconic comic book movie soundtracks of all time in Tim Burton's Batman, so it's only fitting that he's returned to the DC universe to score Justice League. One of the coolest things about Elfman's Justice League score is the fact that he returns to his iconic Batman theme. Just hearing it is enough to bring back fond memories of Burton's weird, wild, gothic takes on the character, Batman and Batman Returns. Here's an example of Elfman quoting the old theme for the new film.
And here's the ever-mounting, triumphant "Hero's Theme" from the film.
The entire soundtrack is on YouTube via the WaterTower Music page, but you can also stream it in full on Spotify:
Junkie XL, who scored Batman v Superman: Dawn of Justice along with Hans Zimmer, was originally supposed to score Justice League, but departed the project and was replaced with Elfman. Junkie XL said of the his departure:
"As my mentor Hans Zimmer told me — you haven't made it in Hollywood as a composer until you get replaced on a project. So I guess [I] finally graduated this week. It pains me to leave the project, but a big thanks to Zack for asking me to part of his vision, and I wish Danny, Joss [Whedon] and Warner Bros all the best with Justice League."
I don't know how Justice League will turn out in the end, but I'm excited about Elfman's involvement. In the past, the composer confirmed that in addition to reusing his Batman theme, he'd also be pulling influence from John Williams' original Superman theme:
"There are a few little fan moments. I instated a moment of the Wonder Woman theme that Hans Zimmer did for Batman Vs. Superman, but I also had two minutes where I had the pleasure of saying, "Let's do John Williams' Superman...And that for me was heaven, because now I have a melody to twist, and I'm using it in an actually very dark way, in a dark moment. It's the kind of thing that some fans will notice. Some won't. It's a moment where we're really not sure whose side he's on."
As iconic as Elfman's work can be, I do wish he had kept a bit more of Hans Zimmer's Man of Steel music in place here. While I don't love Man of Steel, Zimmer's score for it is phenomenal – one of the very best superhero scores in recent memory, I'd say. Time will tell how Elfman's musical contributions to the DCEU will hold up.
Justice League opens November 17, 2017.