Cool Stuff: Let Mr. Fusion From 'Back To The Future Part II' Charge Your Phone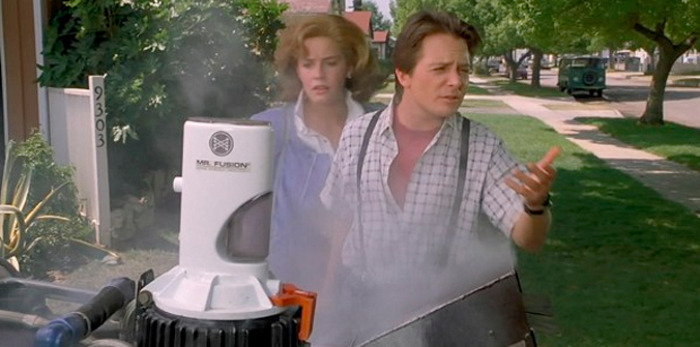 We may receive a commission on purchases made from links.
When Doc Brown barrels into Marty McFly's driveway at the end of Back to the Future, not only does he come with concerns about the future, but he has a new piece of technology.
While the original Back to the Future time machine needed plutonium to create a nuclear reaction to generate the 1.21 gigawatts of electricity necessary to charge the flux capacitor, an upgrade allows Doc Brown to use everyday trash to create the nuclear reaction. That upgrade is called Mr. Fusion, and now you can pick up one of your own to charge your cell phone from your own time machine.
Check out the Back to the Future Mr. Fusion car charger below.
Here's ThinkGeek's exclusive, officially licensed Back to the Future Mr. Fusion car charger:
The car charger fits in a cup holder and plugs int your car's 12V vehicle power adapter. It has two USB ports for charging smart phones, tablets, GPS devices or anything that has a USB power plug. And even though it flips open just like the Mr. Fusion in the movie, it won't turn trash into power.
Unfortunately, you won't be able to travel through time by using the devices, but you could always pair it with the flux capacitor car charger that was released awhile back (at least if you can still find one). It would be even better if you could hook both devices up in that sleek, custom Volkswagen Bus time machine that we highlighted a little while back.