'Early Man' Trailer: The Director Of 'Chicken Run' Takes Us Back In Time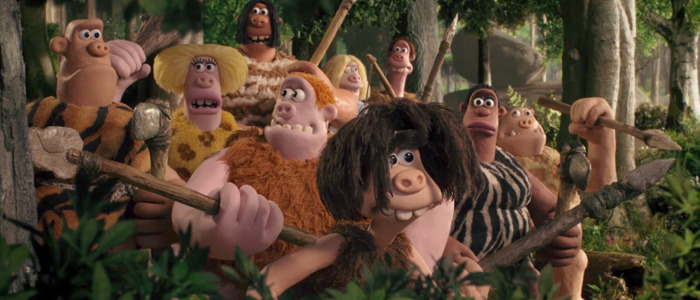 The folks at the British animation studio Aardman are responsible for beloved movies like Chicken Run, Shaun the Sheep, and Wallace and Gromit, and while CG has largely won out as the dominant form of animation for most major movies, Aardman's sticking with claymation for a decidedly old school look. That's especially appropriate for their new film Early Man, which is about as old school as you can get: it's the story of cavemen butting heads with new technology.
Check out a brand new Early Man trailer below.
Early Man trailer
This movie hails from director Nick Park, the creator of Shaun the Sheep and Wallace and Gromit and the co-director of Chicken Run. Park has won four Oscars and five BAFTAs, and he's been working at Aardman for more than 30 years; he's one of the world's preeminent claymation filmmakers, and Early Man looks like a delightful continuation of that long tradition.
The film's plot – it's about a group of cavemen who encounter a band of invaders wielding powerful new bronze technology – seems like a perfect metaphor for Aardman's insistence on working with what many might consider outdated filmmaking techniques, but the results speak for themselves. There's something tactile about their movies that draws you in and gives them a warmth that CG animation simply can't achieve.
There's also a subplot about our protagonist, Dug, yearning to hunt for more than just rabbits, which seems like a nice way to fold in messages about pushing yourself beyond your perceived limits and growing along the way. These are nice movies, you guys, and sometimes nice movies are just what we need.
And is anyone else getting a Lord of the Rings vibe from those bronze age designs? From the armored elephants to the rickety bridges in a mountain range with a volcano erupting in the background, this looks like it owes a tip of the cap to Peter Jackson and his interpretation of Middle Earth. I'm in.
Eddie Redmayne, Tom Hiddleston, Maisie Williams, Timothy Spall, and Richard Ayoade lend their voices to these characters. Here's the official synopsis:
Set at the dawn of time, when prehistoric creatures and woolly mammoths roamed the earth, Early Man tells the story of Dug, along with sidekick Hognob as they unite his tribe against a mighty enemy Lord Nooth and his Bronze Age City to save their home.
Early Man arrives in theaters on February 16, 2018.