'Shazam!' Casting: Asher Angel Will Play Billy Batson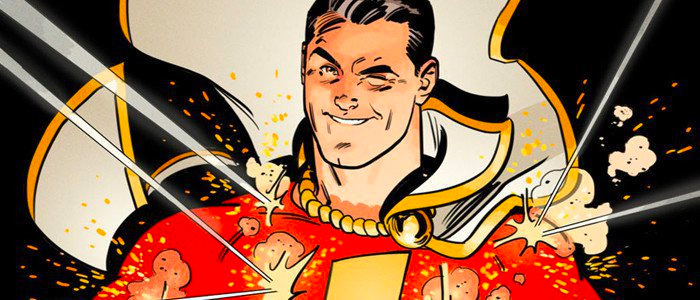 The Shazam! movie continues to move full-steam ahead. Just recently, the film's star and villain were cast, and now comes even more Shazam casting news: Asher Angel, a young actor from the Disney Channel's Andi Mack, will play young Billy Batson, the boy who has the power to transform into the adult superhero known as Shazam by saying "Shazam!"
You may not be familiar with Asher Angel, but he just landed the role of a lifetime. THR reports the young actor, who has appeared on a Disney Channel show called Andi Mack (no idea what that is!), has just been cast as Billy Batson in Shazam! Billy Batson is the normal, non-superhero form of the hero Shazam (originally known as Captain Marvel). Here's a quick interview with Angel, just to give you an idea of who the heck he is.
In the comics, Billy Batson is an orphan who is given superpowers by a wizard. Said powers allow Billy to transform into the adult superhero known as Shazam (an acronym of six "immortal elders": Solomon, Hercules, Atlas, Zeus, Achilles, and Mercury). Technically, Shazam was originally the name of the wizard that gave Billy his powers and Captain Marvel was Billy's superhero name. But to avoid confusion with Marvel's Captain Marvel, the hero's name was eventually updated to Shazam as well. Still confused? Don't be, just go with it.
This latest bit of casting confirms yet again that New Line Cinema is moving at full speed to get Shazam! off the ground. Recently, Chuck star Zachary Levi was announced to play Shazam (after Billy has transformed into him), and Mark Strong is currently in talks to play the film's villain, Doctor Sivana. Meanwhile, there's also Black Adam, a film being developed alongside Shazam! that focuses on Shazam's occasional nemesis, Black Adam, played by Dwayne Johnson.
Annabelle: Creation and Lights Out director David F. Sandberg is helming Shazam!, and the filmmaker spoke to Collider briefly about what makes him perfect for the material, particularly the plot point involving a kid who turns into a superhero: "I've been working with kids in both my movies to my success and there will be kids in Shazam and the main character is this kid who becomes an adult."
Sandberg also revealed some more details about the project, and the character of Billy Batson, to the Toronto Sun:
"The big attraction for me with that character is the fact that every kid dreams of being Superman, right? I mean I certainly did, and (Billy Batson) is a kid that gets that chance," Sandberg tells the Sun. "He gets to become the superhero. So it'll be big with superpowers in a way. In terms of what people can expect, I think this will be one of the more fun or lighthearted movies so far in the DC universe. It certainly will be a departure."
Shazam! will hit theaters in 2019.