'Fifty Shades Freed' Trailer: The Series Climaxes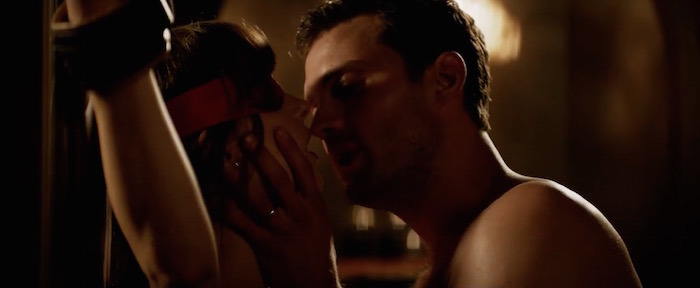 Part of being an adult means acknowledging that some movies just aren't made for you and taking a big step back and letting the intended audience have some fun. But part of being an adult in a permanent state of arrested development means giggling through the final Fifty Shades Freed trailer, which is downright ridiculous. Sexy architects! Car chases! Knife-wielding stalkers! BDSM! Dramatic pronouncements that someone is staying at the office to get more work done! This preview has it all.
Fifty Shades of Grey, both the book and the movie, has inspired enough internet snark to power some kind of snark-powered engine for a few centuries. And yet, the book sold millions of copies and the first film was a giant hit. The sequel, Fifty Shades Darker, wasn't nearly as much of a success, but it still made plenty of cold hard cash. Twilight-inspired erotica packs the theaters, it seems.
I don't think I'll ever get around to watching Fifty Shades Freed, but I do know that my wife will rent it on the Apple TV six months after it leaves theaters and drink an entire bottle of wine while she guffaws through it. She'll share the highlights with me. In the meantime, I'll just appreciate the sheer ludicrousness of this trailer from a distance.
Fifty Shades Freed Trailer
Watching this trailer is like watching a soap opera for the first time or like jumping into Thor: Ragnarok without ever having seen a Marvel movie before. Who are these people? What's going on? Why is there a car chase? It all looks very silly, but I imagine that cheap thrills are part of the point. Enjoy. Have fun. Please spank and choke and whip each other responsibly.
Admittedly, this official synopsis helps just a little bit:
Believing they have left behind shadowy figures from their past, newlyweds Christian and Ana fully embrace an inextricable connection and shared life of luxury.  But just as she steps into her role as Mrs. Grey and he relaxes into an unfamiliar stability, new threats could jeopardize their happy ending before it even begins.
Fifty Shades Freed is directed by James Foley (who also helmed the second movie) and sees the return of Dakota Johnson and Jamie Dornan. The supporting cast includes Eric Johnson, Rita Ora, Luke Grimes, Victor Rasuk, Jennifer Ehle, Eloise Mumford, Max Martini, Callum Keith Rennie, Bruce Altman, Arielle Kebbel, Robinne Lee, Brant Daugherty and Marcia Gay Harden. The film will hit theaters on February 9, 2018.