MondoCon 2017: Unused And Abandoned Art For 'Stranger Things,' 'Doctor Strange,' 'La La Land' And More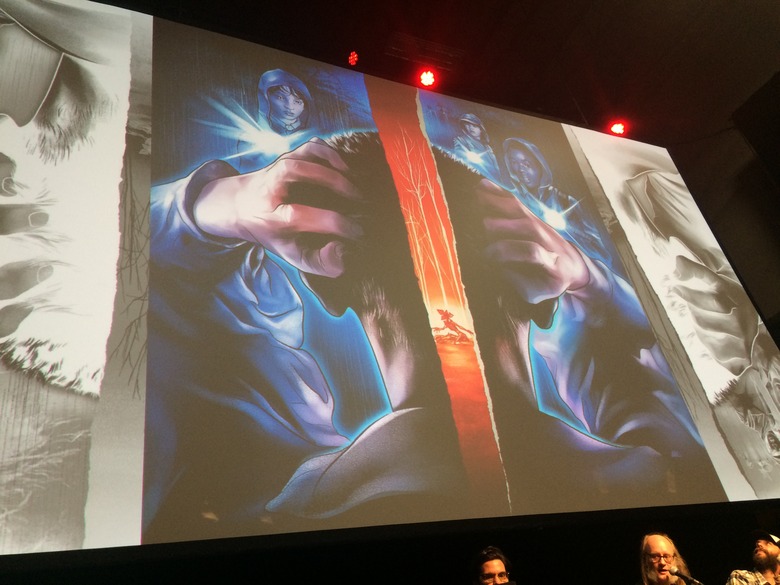 MondoCon is one of the best places on the planet to check out and purchase pop culture art. However, it is also a destination for those interested in pop culture art that never actually made it to the printer.
At the annual Mondo Talk panel, the Mondo brain trust revealed posters and art for movies like Doctor Strange and TV shows like Stranger Things that never came to fruition. Some of the posters stalled because they couldn't come together creatively. Others became tangled in licensing red tape. A few of them never came together because people simply stopped answering emails. But you can check them out, in all of their sometimes unfinished glory, below.
Artist Eric Powell was tasked with designing a pint glass for War for the Planet of the Apes and he took the title literally, depicting an angry Caesar armed with a rifle. When the studio sent back a note saying the image was "too violent," Powell fired off a joke version called "Nonviolent Conflict for the Planet of the Apes." Eventually, the pint glass was completed with different art.
Speaking of pint glasses and studio notes, artist Becky Cloonan worked on a Wonder Woman pint glass that never came to fruition. First, the studio rejected the content of the art (they weren't happy with the classical approach of the first version or the arrows of the second). When the third version prompted a note asking them to make Wonder Woman smile, the decision was made to drop it altogether.
How does an incredible Looney Tunes piece fail to come together despite being completely finished and ready to go? When the estate of one of the names in the credits block never calls you back.
Artist Jason Edmiston has previously made gorgeous depictions of classic Batman villains from the '60s TV series and had every intention to keep it going. Alas, his portrait of The Penguin never made it beyond the planning stages.
Mondo was dead set on making a poster for classic Mario Bava horror film Black Sunday and Randy Ortiz created numerous versions to appease star Barbara Steele, who had to sign off on her likeness. After finally completing the poster to her exact specifications and only needing her final approval, she stopped returning their emails. Mondo hopes that the poster will see the light of day at some point.
Mondo has made a poster for every Marvel Cinematic Universe movie so far...except Doctor Strange. As you can see from the art below, they certainly tried. Marvel rejected the first version because Dormammu looks significantly different in the final film and they rejected the second version because Strange never actually uses the flying lotus position in the film. The third take, a stylized depiction of the Sorcerer Supreme splintered by the mirror dimension, never got beyond this early design and Mondo hopes it can be finished one day.
This Captain Phillips poster never got printed for one reason and one reason only: someone at the studio demanded that they send over several alternate designs. Rather than create art simply so it can be rejected so this one could be approved (which was apparently the process they were facing), they decided to move on.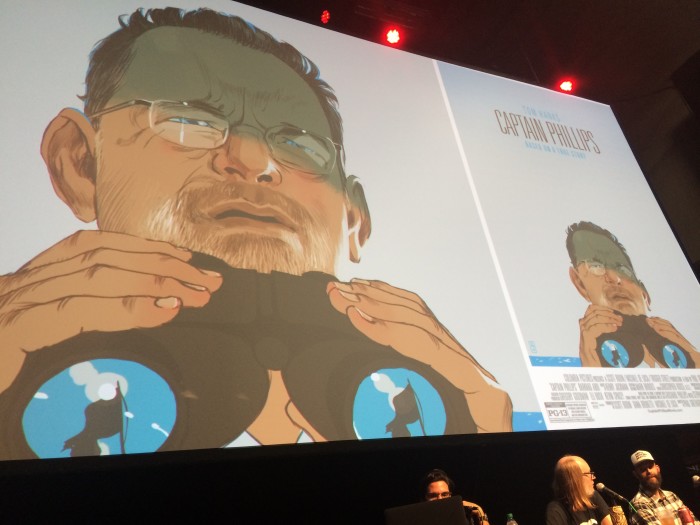 Tomer Hanuka was tasked with creating a Full Metal Jacket poster, but his earliest sketches failed to win the approval of Stanley Kubrick's estate. Kubrick's estate felt that this image did not sum up the entire film. Mondo disagreed. So they parted ways on this project.
Artist Sam Wolfe Connelly is known for his dark and creepy horror art, so he'd be a perfect match for Hannibal, right? You can see the evolution of his poster from bleakly hilarious initial concept to finished product below. However, the studio felt that Mads Mikkelsen should be in the poster and it was dropped.
Matthew Woodson's subtle and brilliant poster for Ferris Bueller's Day Off never got beyond the stages seen below, torpedoed by both likeness rights and...sports jersey rights. Yep.
None of these Drive posters will see the light of day because Mondo no longer holds the Drive license. However, the panel noted that Ryan Gosling himself is a fan of these designs and they hope to get it made at some point.
The panel was split on the variant for Rory Kurtz's The Dark Knight, which featured extensive vandalism from the Joker. Ultimately, they decided to simply not make the variant, as there wasn't enough enthusiasm for it (even from Kurtz himself).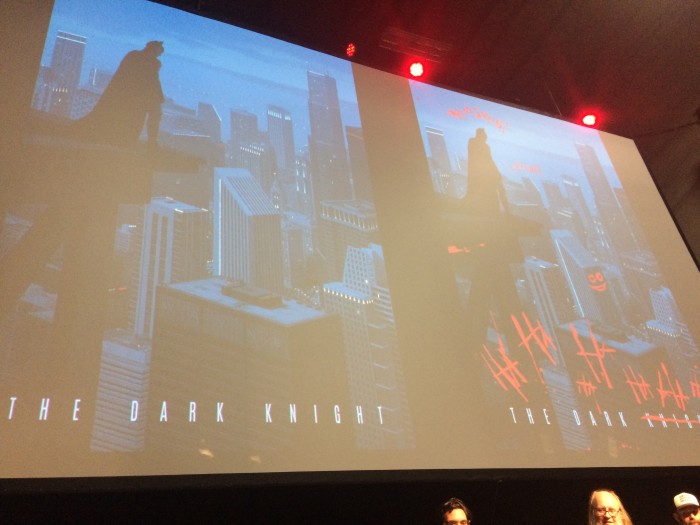 Why were these gorgeous La La Land posters never approved and brought to completion? It's simple, really: they fell out of touch with the right people at the studio to make it happen. And that's how a beautiful poster dies.
At one point, Netflix wanted to release the Stranger Things soundtrack on audio cassette and Mondo was tasked with delivering art on a tight timeframe. Martin Ansin got the gig and chose to embrace the series' John Carpenter side instead of its Steven Spielberg side. The soundtrack was never released in that form and Ansin's art was never used, but it sure is gorgeous.