MondoCon 2017 In Review: New Location, Same Great Experience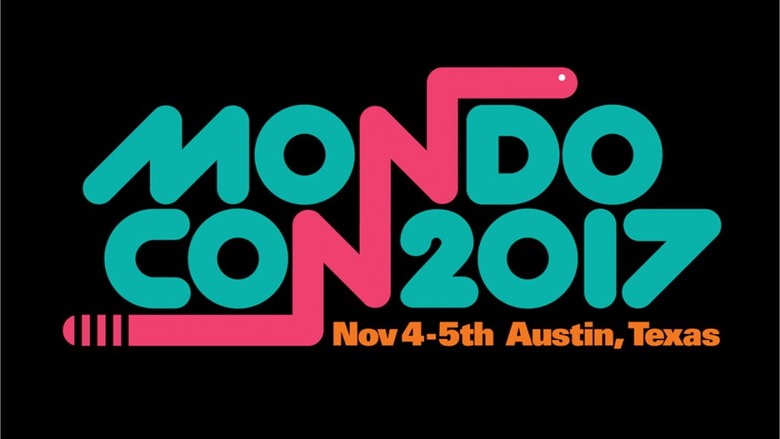 Over the past four years, MondoCon has become one of my favorite places to spend money.
There. It's out in the open. To go to MondoCon with an empty wallet is to have a bad time at MondoCon, the Austin-based celebration of pop culture art and collectibles organized by Mondo, the Austin-based celebrators of pop culture art and collectibles. It's a convention made for movie fans with a little bit of disposable income and a fair amount of wall space. To attend and not spend money would be like going to the beach and not wading into the water.
But here's the thing: I don't feel bad about spending money at MondoCon. It's hard to be in a room surrounded by some of the most talented artists in the world and not want to bring some of it home with you. And with the 2017 edition of the convention being the best one yet, I imagine I'll be making my credit card wince here for the foreseeable future.
All photos before the final gallery come courtesy of Allison Narro.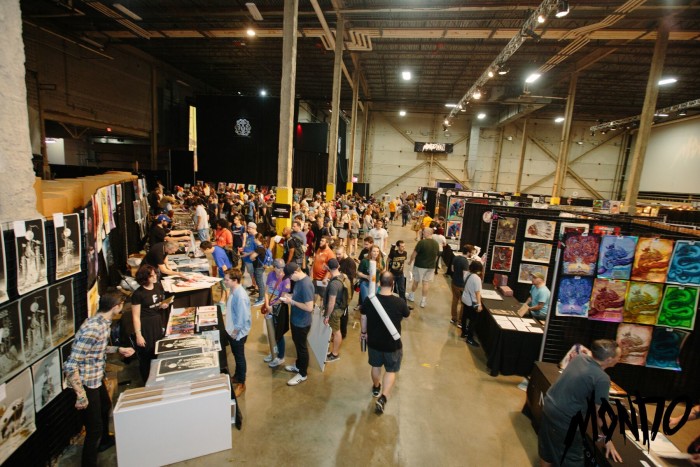 The New Location
In my coverage of last year's convention, I noted that the MondoCon was outgrowing the Marchesa Theater (and the neighboring hotel) and should look into finding a place to call home. There seems to have been a similar sentiment behind the scenes, as the convention relocated to the Austin American-Statesman building in downtown Austin this year.
At first glance, it's an ideal space. At second glance, it's a perfect space. At third glance, you start to develop a few quibbles with it. At fourth glance, you realize that those quibbles really don't overtake what works so well about MondoCon's new digs.
The Austin American-Statesman building allows MondoCon to exist under one roof, which means you no longer need to cross a street and wander around hotel hallways to get to where you need to go. In the new set-up, MondoCon is essentially three spaces: the large hall containing the artist booths, a theater space for panels carved out of a corner of the main room, and the Mondo store itself, separated into its own corridor. Navigation at MondoCon couldn't be easier – you walk in and you know where to go.
A small sliver of me misses the exploration of old MondoCon, of having to wander to find your favorite artists. But I imagine the convenience will trump that for the vast majority of visitors. Now, you can make a quick circle of everything the con offers in 10 minutes before focusing in on the corners you want to explore further. And while there are still a handful of choke points that make navigation difficult, the new layout was rarely too congested – you could get where you wanted to go, and fast.
There are aesthetic complaints to be had – the industrial look of the space isn't as easy on the eyes as the Marchesa and it simply doesn't photograph as well (as you can see in the images we took on site at the bottom of this post – more professional photographers will probably have more luck). Even worse is the new panel space – several rows of uncomfortable folding chairs is a poor replacement for the old theater, especially since the capacity now seems so much smaller.
But then you take into the account the large parking lot nearby. The lounge area. The revamped and well-organized line system. The impressive array of food trucks and the space to enjoy a meal. The Austin American-Statesman building isn't pretty, but it's the kind of space MondoCon needs if it's going to keep growing.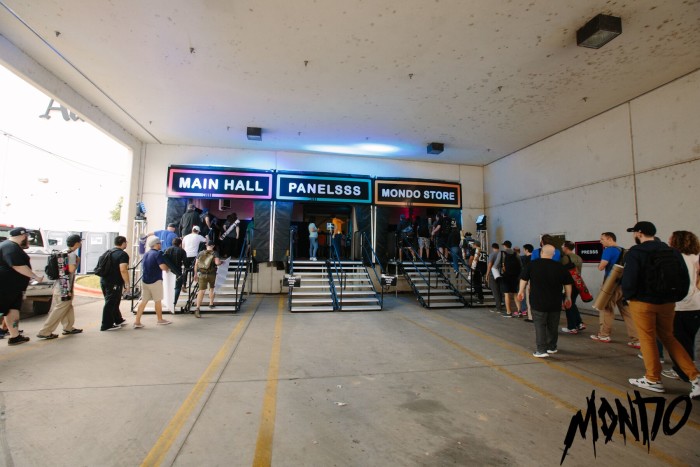 The Same Long Lines
There's no getting around it: you will stand in line at MondoCon. Some convention-goers will be used to this and find the lines here pitiful compared to the epic waits seen elsewhere. But if you want to buy art, if you want to attend a panel, if you want to get a signature, you will wait in line. At its peak on day one, attendees were waiting up to four hours to get into the main Mondo store, which is a long time to wait just so you can get into a room so you can spend a lot of money on posters...some of which may have sold out while you were waiting.
However, the line was better organized this year in the new location. In previous years, the line stretched into a parking lot and had to be broken up, leading to much confusion. In the new location, the three loading docks leading into the building were put to good use – if you line up by the right dock, you're in the right place.
Some individual artist booths also command their own lines. Mike Mitchell's booth was busy all weekend and had the roped off queue to prove it. Other booths required visitors to behave themselves and line up accordingly. In these cases, some people handle themselves better than others (like with any con, you witness the occasional temper tantrum), but the more open space allows for impromptu lines to breathe a little easier.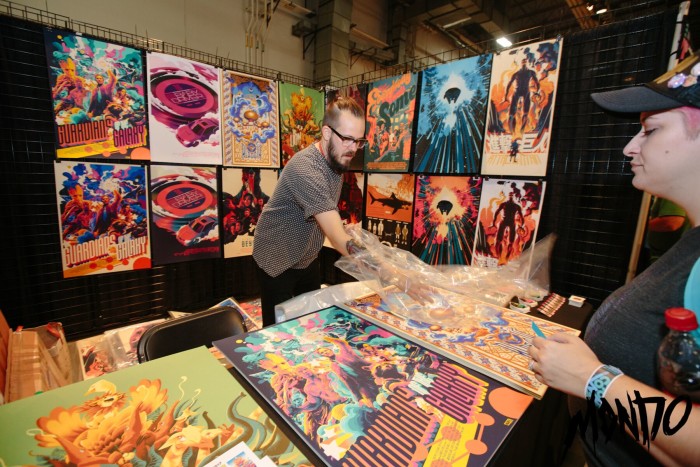 An Amazing Place to Explore
Lines, locations...but what about the art itself? What about the artists? As with years past, MondoCon is still a dream for fans of pop culture and movie art. Whether you're looking for a brand new release or a poster you've been hunting down for years, there's plenty to be found here. I was personally ecstatic to spend a little too much money at J.C. Richard's booth, where I stocked up on his gorgeous landscape prints featuring iconic film and comic book locations. And my experience with Richard was indicative of my larger experience at MondoCon: brilliant artists who are happy to share their work, happy to sign it, happy to chat with you, and happy to make the experience personal and special for you.
There's a communal vibe to MondoCon that larger conventions can't quite capture. It's just small enough, just personal enough, to make every interaction feel special. Part of that is the laid-back Austin atmosphere that leaks in through the front door. Once everyone is over the initial rush of the first two hours (you will rarely see so much scrambling from people carrying poster tubes), this is a fun event. Nearly stress-free, even.
With everything under one roof, MondoCon becomes surprisingly relaxed. You can explore. You can take in the sights. You can have fun. And isn't that the point of cons like this in the first place? To have fun? I leave some cons needing a vacation. I left MondoCon feeling energized.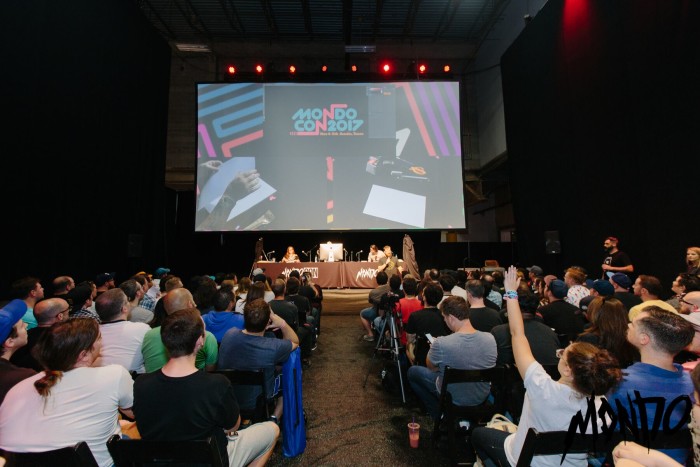 Panels That Are Worth the Effort
If there was one downside to MondoCon 2017, it was that the new panel space is just too damn small. At the old location, the con had an entire movie theater at its disposal. In the new building, they have to make use of a tiny space created by hanging black cloth to create temporary walls. I wasn't able to get a proper headcount, but this space has only a fraction of the seats available in years past. This meant that a lot of people got shut out of panels and those that were there found themselves crammed uncomfortably close to one another. It was not ideal and I hope that this space is utilized better next year.
And that's shame because MondoCon panels are both fun and informative. This year played host to panels on everything from toy design to comic book art and the line-ups for each panel felt just plain smart. The right mixture of personalities can make or break a convention panel and each one I attended nailed a perfect blend of people. I especially enjoyed the Mondo Live panel (where a trio of artists designed a poster live on stage in one hour) and the Mondo Talk panel (where the company brain trust showed off art that never made it to print). Look for full write-ups on both events in the near future.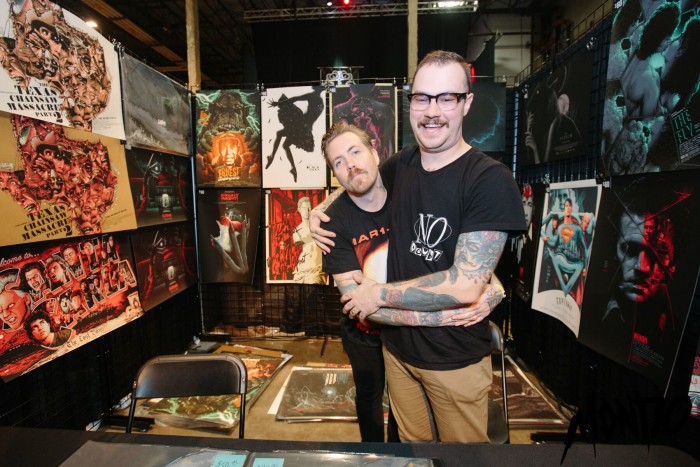 Summing it All Up
So let's address the big question: is MondoCon worth the time, money, and potential travel? If you keep your expectations in check – it is a small con compared to others – and come prepared to drop some money, it's a great weekend. While I saw plenty of locals having a good time just looking (especially the kids who were just happy to be there!), it's hard to recommend the convention for basic sightseeing. The admission cost, while reasonable, is a barrier to entry for casual admirers.
But for collectors, people who know artist names and are a bit more serious about collecting pop culture art and want to seek out the newest work and track down a dream poster? It's a hell of a good time. And it keeps getting better.