The Morning Watch: 'Thor: Ragnarok' Edition - Easter Eggs, Scene Breakdown & More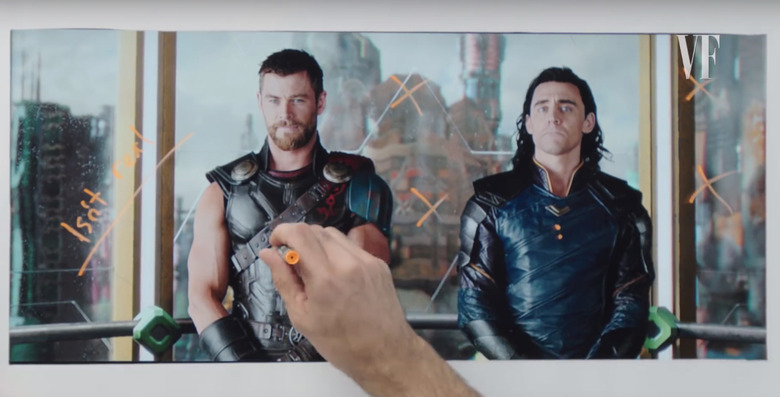 (The Morning Watch is a recurring feature that highlights a handful of noteworthy videos from around the web. They could be video essays, fanmade productions, featurettes, short films, hilarious sketches, or just anything that has to do with our favorite movies and TV shows.)
In this special Thor: Ragnarok edition, check out a rundown of a bunch of Easter eggs and comic references from the latest Marvel Studios sequel. Plus, dig into some of the deleted/alternate scenes and unused concepts, and watch director Taika Waititi break down an action sequence involving Thor and Loki.
First up, director Taika Waititi sat down with Vanity Fair to break down a certain humorous action sequence involving Thor (Chris Hemsworth) and his mischievous, adopted brother Loki (Tom Hiddleston). If you're adverse to minor spoilers, you might not want to watch though since this scene happens more than halfway through the movie.
Next up, ScreenCrush runs through 29 Easter eggs that you might have missed during your first outing with Thor: Ragnarok. For example, when Valkyrie (Tessa Thompson) appears in the movie, she's referred to as "Scrapper #142," which is a reference to her first appearance in Marvel Comics in issue #142 of The Incredible Hulk comics. Check out what other fun details you didn't pick up on by watching the full video.
Finally, if you watched the trailers and TV spots for Thor: Ragnarok or kept up with principal photography while the movie was in production, you might have noticed several scenes that didn't end up in the final cut of the movie. This video from Flicks and the City runs through some of the deleted/alternate scenes and some concepts that didn't quite make it into the movie. It makes us wonder why some of these changes were made behind the scenes.