One Of Carrie Fisher's Final 'Family Guy' Episodes Spoofs Wes Anderson, Quentin Tarantino & Michael Bay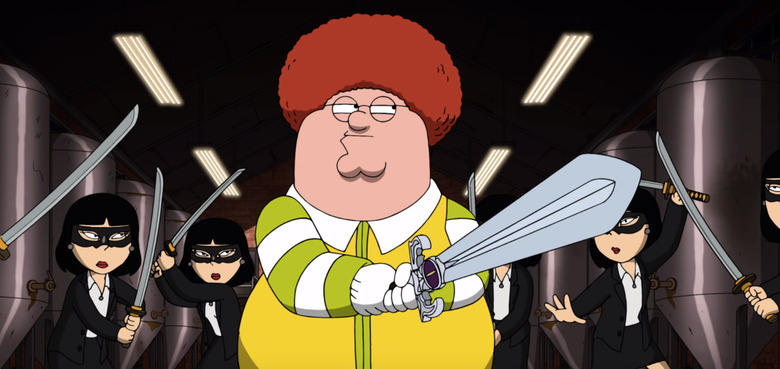 Family Guy is still going strong with their 16th season currently airing on FOX. However, the show lost one of their regular guest stars late last year when screen icon Carrie Fisher passed away. The actress had already recorded dialogue for episodes that had yet to air, and one of those episodes is airing tonight on FOX. This one is particularly special since in addition to featuring some of Fisher's final work, it also serves as a tribute to directors Wes Anderson, Quentin Tarantino and Michael Bay.
The Family Guy episode in question, titled "Three Directors," finds Peter Griffin fired from his job at the Pawtucket Patriot Brewery. Since Carrie Fisher voiced Peter's boss Angela, we'll get to see this scenario played out in three different ways, all in the style of the three aforementioned directors. Watch a couple clips from one of the final Carrie Fisher Family Guy episodes below.
Here's the first clip from the "Three Directors" episode, presented in the style of Quentin Tarantino:
As you can see the extreme violence and soundtrack we've come to expect from Quentin Tarantino movies is there. This clip in particular seems to be taking cues from Reservoir Dogs, including what appears to be a reference to all the colorful character names in the form of different colored cars in the parking lot.
Here's a second clip that ventures into more Reservoir Dogs territory, as well as Pulp Fiction and Kill Bill Vol. 1:
Cleveland Brown works as a stand-in for Samuel L. Jackson's character Jules from Pulp Fiction while Peter is a makeshift Bride from Kill Bill Vol. 1. Peter appears to be out for revenge for getting fired from his job, but Angela (as O-Ren Ishii) calls upon her Tricia Takanawa 88s to dispatch with Peter, who is dressed as Ronald McDonald for some reason.
For those who might be more interested in seeing what the Wes Anderson tribute is like, check this clip out:
In addition to having voiceover provided by Stewie Griffin, there's the obligatory diorama shot of the primary setting: a house inside an army tent inside of a submarine inside of an old airplane hangar. Yeah, that sounds like Wes Anderson to me.
Unfortunately, there's no glimpse at the Michael Bay portion of the episode, though it will likely feature plenty of explosions. Hell, we've basically seen Michael Bay-style sequences whenever Peter fights his chicken nemesis.
Don't worry if you're not particularly fond of these directors, because executive producer Steve Callaghan tells TV Line, "We tried to write it in a way where even a casual movie viewer would still get a lot of the jokes and references. You don't have to be a hardcore aficionado of any of these directors to understand it."
As for Carrie Fisher, she still has some more appearances on Family Guy to come, including the next Christmas episode on December 10. Otherwise, her character's fate is said to be revealed in another episode sometime this fall.
Watch the entire episode tonight, November 5, at 9pm ET/8pm CT on FOX.