'Krypton' Cast Adds Brainiac And Superman's Great-Grandmother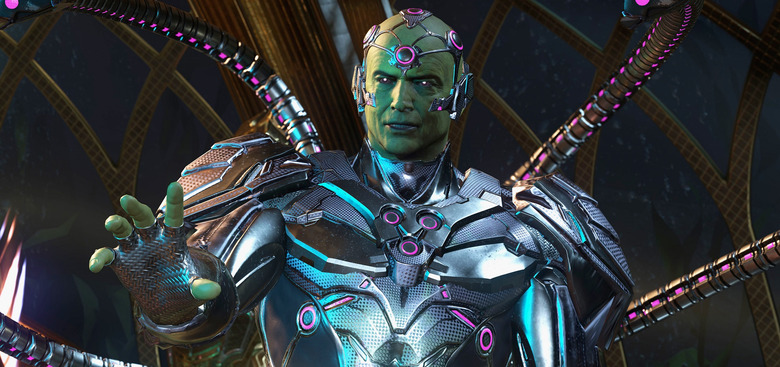 Krypton, the Syfy series that will serve as a prequel to the story of Superman, just announced a new cast member: Blake Ritson will be taking on the part of the villainous Brainiac. Paula Malcomson has also been added to the cast as Superman's great-grandmother. They join a growing cast that includes Cameron Cuffe, Georgina Campbell, Elliot Cowan, and Shaun Sipos.
We're all familiar with the origin story of Superman – an alien sent to earth by his parents as their home planet, Krypton, was in the midst of being destroyed. But what came before that? The Syfy series Krypton will attempt to explore that. The series won't be focused on Superman's birth parents but rather his grandparents, particularly his grandfather Seg-El, played by Cameron Cuffe. Seg-El is in a relationship with Lyta Zod (Georgina Campbell), an ancestor of one of Superman's enemies, General Zod.
Deadline reports that a new addition to the Krypton cast reveals another potentially villainous character: Blake Ritson (Da Vinci's Demons) will be playing Brainiac.  Brainiac is a super-intelligent alien being with advanced mental abilities. He has an army of drones, and he also has the ability to shrink cities down to store them in bottles. In addition to Ritson, Paula Malcomson (Deadwood) has also joined the cast as Charys, Seg-El's mother (which makes her Superman's great-grandmother).
Set two generations before the destruction of the planet, Krypton follows Seg-El as he fights to restore his family's honor in his home of Kandor City, which is undergoing a revolt. Here's the official synopsis:
Set two generations before Superman ever heads to Earth, Kryptonfollows Kal-El's grandfather (played by Cameron Cuffe) — whose House of El was ostracized and shamed — as he fights to redeem his family's honor and save his beloved world from chaos. The series comes from producers David Goyer (the Dark Knight trilogy) and Damian Kindler (Sleepy Hollow). Along with Cuffe, the show stars Georgina Campbell (Broadchurch), Elliot Cowan (Da Vinci's Demons), Ann Ogbomo (World War Z), Rasmus Hardiker (Your Highness), Wallis Day (Will), Aaron Pierre (Tennison) and Ian McElhinney (Game of Thrones).
It's an interesting concept for a series, although one can't help but wonder how much interest can be maintained in a story we already know the outcome of: the planet eventually blows up and all these people are toast. Still, Syfy is hoping for a hit here in their quest to add more and more original series to their ever-growing roster.
David Goyer, who co-wrote Man of Steel and Batman v. Superman, is created as creating Krypton. Goyer says he got the idea for the show after writing the Kryptonian segments of Man of Steel:
"Part of the fun of doing Man of Steel — and I was so insistent on setting that opening on Krypton and really seeing it, was pulling back the curtain. The first draft, the first forty pages were on Krypton, so we compressed that all down to fifteen minutes and there were a lot of ideas that I wanted to use in the film that didn't ultimately make it into the film."
Krypton will debut on Syfy in 2018.