'MSU: Motorcycle Specialty Unit': Finally, The Writer Of 'Fast & Furious' Gives Us The Show We've All Been Waiting For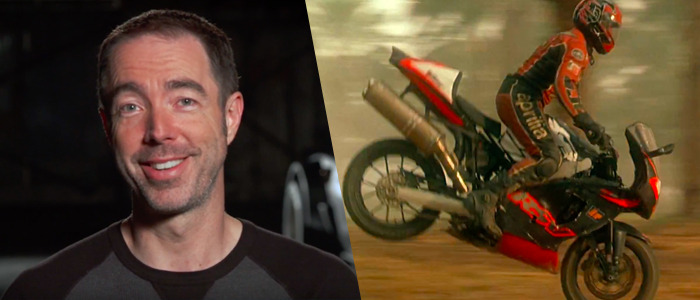 As the writer and producer of a majority of the movies in the Fast and Furious franchise, Chris Morgan knows a thing or two about high-octane thrillers. But his latest TV project feels more like something you might see a quick snippet of in the background of a Fast and Furious scene than a real show that's actually coming to network television. But prepare yourselves, because MSU: Motorcycle Specialty Unit is revving up and racing to the small screen courtesy of NBC.
Deadline reports that Morgan, who's written every Fast film since 2006's Tokyo Drift, has sold three new shows to NBC, and all of them are police dramas. One of them, called Darwin's Blade, "centers on Darwin 'Dar' Minor, a brilliant yet arrogant accident-reconstruction specialist who consults police on the bizarre cases no one else can solve." Another, entitled Walkaways, "revolves around two disgraced NYC police detectives — an overachieving, hard-charging young woman and a brilliant but broken-down veteran — who are paired up and given one last chance to redeem themselves by solving the department's toughest and most radioactive 'walkaway' cases."
But the real reason we're all here – the show that's destined to run 20 seasons and become one of the biggest hits in network television history – is MSU: Motorcycle Specialty Unit. Described as "a high-octane police drama," the show "follows an elite unit of LAPD motor cops on their dangerous assignments. The team navigates their relationships and the city with humor and Fast & Furious-style action." Is there a TV show equivalent to the concept of The Chosen One? Because I think this might be it.
I don't know about you, but I'm imagining something akin to Bodied director Joseph Kahn's totally insane 2004 debut film Torque:
Of course, the reality is that this show couldn't possibly approach that film in terms of stunts, style, or overall insanity – but still, if it has half of Torque's balls and even a quarter of its weirdness, this series could be must-see television for all the right reasons. Morgan has had two shows go to series already, The Troop and Gang Related, but this definitely has the potential to draw in more viewers based on its over-the-top premise.
Power co-executive producer Heather Zuhlke is writing the series, actor Josh Duhamel is listed as an executive producer, and Jude Weng (Girlfriends' Guide to Divorce) will be a director/producer. MSU: Motorcycle Specialty Unit (the full title must be used every time this show is referenced) doesn't have a release date yet, but I'll be keeping a close eye on its development and we'll be sure to update you when this receives its first (inevitably glorious) trailer.