New 'Fast And Furious: Supercharged' Details Tease Ride Story, Returning Cast Members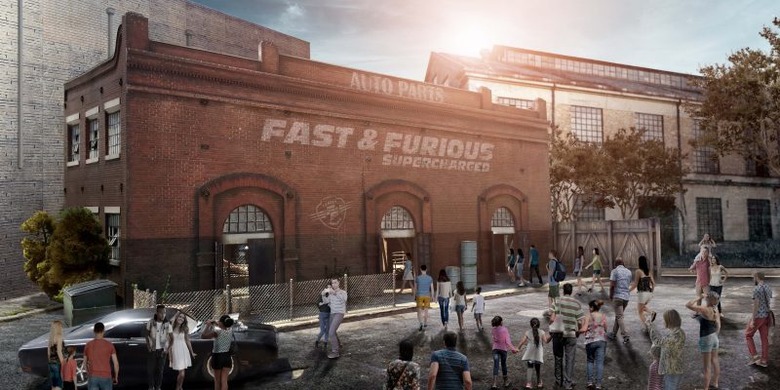 Universal Studios has unveiled new Fast and Furious: Supercharged details, teasing the Spring 2018 arrival of the new theme park ride at their Universal Orlando Resort. Like most Universal attractions, this one seems to take full advantage of the movie series that is based on, bringing popular characters into the fold and immersing guests in a story where they can feel like an active participant in the action.
And you can get a taste of the action in a new making-of featurette, which arrived alongside a full cast list and details on the overall ride experience.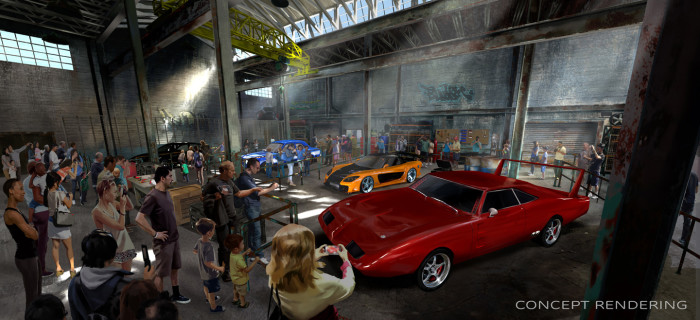 The Ride Experience
The press release for Fast and Furious: Supercharged offers the first details on the story and setting of the new ride. It seems that you're invited to a gathering at the "Fast" family headquarters, where you can walk through familiar locations, pose for pictures with the cars from the movies (15 of them will be on hand, all built by franchise car maestro Dennis McCarthy), and wander through Tej's high-tech "War Room." The press release doesn't mention if Coronas will be available, so maybe you'll have to smuggle your own bottles in (Note: please do not smuggle Coronas into Universal Studios).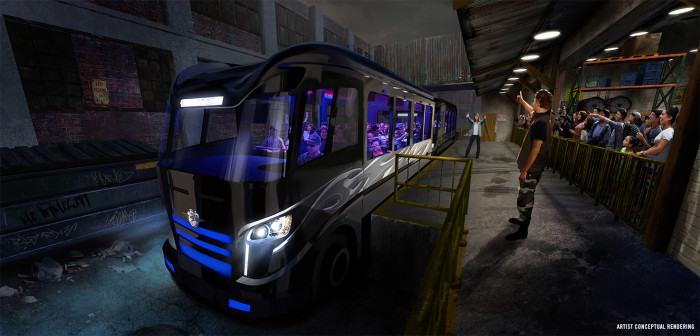 Anyway, you're soon invited to a party, and a custom bus (your ride vehicle) arrives to get you there. And cue Luke Evans' Owen Shaw showing up to ruin your day, forcing you into a high-speed chase. In other words: just a typical day in the Fast and Furious world.
If you like footage of actors pretending to drive hilarious-looking rigs that will be eventually transformed into CGI cars, you will love this behind-the-scenes featurette. Snark aside: there is some pretty nifty tech on display here.
New Characters
The press release also notes that this version of the ride will feature Chris "Ludacris" Bridges' Tej and Jordana Brewster's Mia, a departure from the Hollywood version of the attraction (more on this in a moment). Dom (Vin Diesel), Letty (Michelle Rodriguez), Hobbs (Dwayne Johnson), Roman (Tyrese Gibson) and Owen Shaw (Luke Evans) will appear as well.
Queueless Waiting System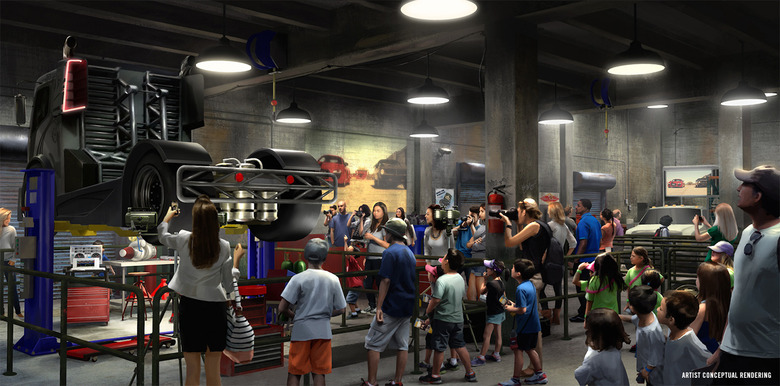 And like the new Race Through New York With Jimmy Fallon attraction, Fast and Furious: Supercharged won't feature a traditional ride queue. Instead, you'll book a time to board the attraction on the Universal mobile app or at an on-site kiosk, letting you explore the waiting area (or the rest of the park) rather than wait in a traditional line. This is a cool idea slightly undone by the fact that line queues help keep people out of the park itself and reduce traffic and crowding, but hey, I'll let Universal Creative figure that problem out.
Oh, and naturally, you'll exit through the "Family Forever" gift shop.
How Much New Ride is There?
As theme park fans may know, Fast and Furious: Supercharged already exists at Universal Studios Hollywood. But it's not a standalone ride there – it's part of the iconic studio tour, where guests ride a tram through the actual studio and sometimes right into the movies themselves. Universal Orlando has a long history of taking segments from the studio tour and building them into standalone attractions. Supercharged joins that of "plussed" (to borrow a Disney theme park term) rides, which also includes Jaws, Earthquake, Kongfrontation, and Skull Island: Reign of Kong.
And some theme parks fans may have noticed that the Orlando version of Fast and Furious: Supercharged sounds an awful lot like the west coast version in its basic structure. A party with the Fast crew becomes a high-speed chase, with the dastardly Owen Shaw popping up to make everyone's lives difficult. You can watch footage from the Hollywood version of the ride below (but note that the experience doesn't really translate to a YouTube embed):
It's not much: just a few quick minutes of simulated chaos, and then it's over. It's perfectly formatted for the studio tour ride, which is all about having bite-sized experiences and moving on to the next thing. However, a standalone ride at Orlando will need to have something more.
We already know that there is something more in the form of Tej and Mia, but how much beyond that? When Skull Island: Reign of Kong opened at Universal's Islands of Adventure in 2016, visitors quickly realized that it was an extended version of the King Kong 360 studio tour segment from Universal Hollywood. Granted, it had been given an extensive makeover: an impressive show building, new vehicles, a rewritten storyline, and detailed opening and closing scenes. However, the middle section, the meat of the attraction, was the same ride from the west coast. I imagine we'll be seeing a similar thing here. The official Universal Studios Blog touts a "new story," but it feels awfully familiar.
So we should probably keep our expectations in check. It looks like the Florida version of Fast and Furious: Supercharged will be a retooled and extended version of what we have already seen. And that's okay. It's Universal tradition. But anyone expecting a brand new ride may end up being disappointed.