'Star Wars: The Last Jedi' TV Spot: Darkness Rises With New Footage And Dialogue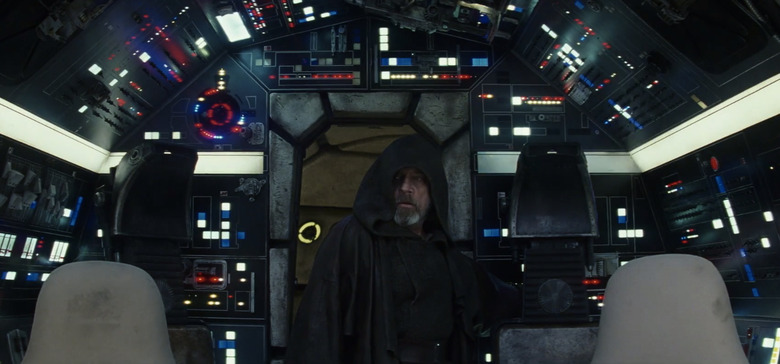 We're just a month and a half away from Star Wars: The Last Jedi hitting theaters. Though the last theatrical trailer gave us plenty of new footage and dialogue to sink our teeth into, we're starting to get more thanks to the TV spot portion of Disney and Lucasfilm's marketing campaign.
A new Star Wars: The Last Jedi TV spot debuted Thursday evening, and while it mostly features footage from the aforementioned trailer, there are a handful of stunning new shots, including that one above of Luke Skywalker (Mark Hamill) back in the cockpit of the Millennium Falcon for the first time in decades. Check out the new Star Wars: The Last Jedi TV spot below.
Watch the Star Wars: The Last Jedi TV Spot
Seeing Luke Skywalker on the Millennium Falcon, looking almost bewildered as he finds himself in the cockpit of Han Solo's ship again, is enough to give me goosebumps. It's a different kind of feeling than when Han Solo and Chewbacca returned to their old home, and it only makes me more giddy to see how Luke Skywalker has changed in the years that he's been in seclusion from the rest of the galaxy.
Beyond that shot of Luke Skywalker on the Millenium Falcon, there are a couple more shots worth noting.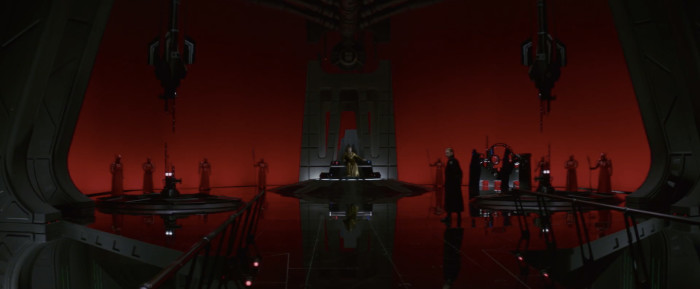 Supreme Leader Snoke's Throne Room
Here's a shot of Supreme Leader Snoke's throne room on the Supremacy, the Mega-class Star Destroyer belonging to the First Order. As you can see, General Hux (Domhnall Gleeson) is in the room with no less than 10 of Snoke's signature Praetorian Guards. The big question is where is Kylo Ren? Could Snoke and Hux be awaiting his arrival after the destruction of Starkiller Base? Or could this come later in the film?
Even more intriguing is the dialogue we heard as this shot goes by. It's the voice of Snoke again, this time saying, "Darkness rises and light to meet it." We see a close-up of Kylo Ren's lightsaber as "darkness" is said and then two shots of Luke and Rey (Daisy Ridley) during the last part about "light." But there seems to be a bit of a contrast with that setup when we see the final shot of the TV spot.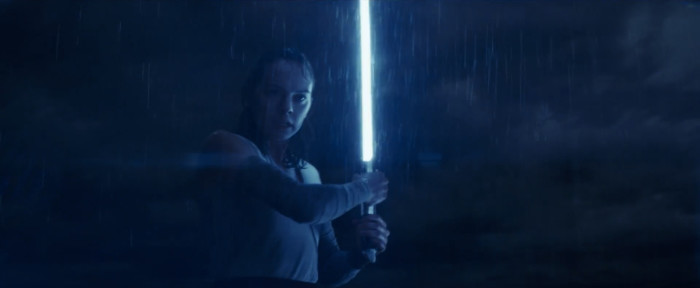 Rey Looking a Little Dark
We'd seen the preceding shot of Luke Skywalker on the ground in the middle of a storm before, and we've heard that line, "This is not going to go the way you think." But this is the first time it's been juxtaposed with Rey wielding Luke's blue lightsaber in the rain (which we hadn't seen before at all). Does Rey have some kind of confrontation with Luke in that scene? Perhaps she's had enough of him refusing to train him and she shows some of her anger. Or maybe she wants to leave to face Kylo Ren and Snoke, but Luke tries to stop her. We're not sure.
All I know is this TV spot is keeping the mystery of Star Wars: The Last Jedi alive, and it's only getting me more excited to see the movie when it arrives on December 15, 2017.