'Fast And The Furious' Feud: Tyrese Gibson Threatens To Quit The Franchise Over Dwayne Johnson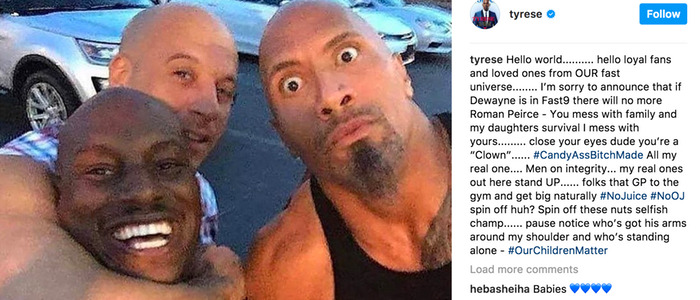 For a series so big on togetherness, there seems to be a lot of bad blood involved behind-the-scenes of the Fast and the Furious franchise. At least where Tyrese Gibson and Dwayne Johnson are concerned. The internet beef between the two stars just got even more intense, with Gibson threatening to quit the franchise entirely if Johnson continues to be involved.
What is going on with Tyrese Gibson and Dwayne Johnson? There's apparently no love lost between Fast and the Furious co-stars, at least as far as Gibson is concerned. In the past, Gibson has revealed his displeasure with Johnson in relation to the series. First, Gibson posted a very lengthy rant urging Johnson to forego making a spin-off film that would jump ahead in production before the next Fast and the Furious film.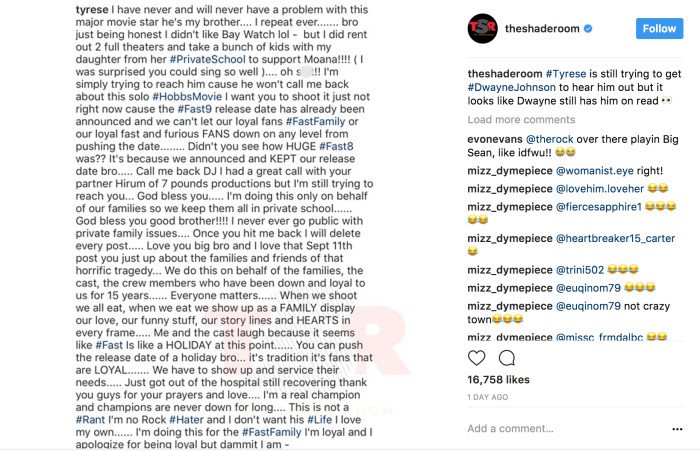 Then, about a month later, Gibson dug-up an old video of Johnson dissing Gibson's 2015 album Black Rose, although based on the video, it really looks as if Johnson is just joking around.
Haters come in many forms...... In my Kanye voice #BlackRose is one of the greatest R&B Soul Albums of all time my single #SHAME was #1 on Billboard for 16 weeks my album came in #1 on the TOP 200!!! Real R&B music lovers know..... This album is in a league of its own #BlackRose Can't believe y'all – I just can't, 2 days left maybe just maybe we can get it to top 20 don't just look at this video lock in............... ... Yeah I'm talkin 2u If 20 people that see this get to the bio... You don't even understand that would make me so so very happy – if you're about to download the album just write I GOT YOU in the comments!
A post shared by TYRESE (@tyrese) on
Well, the weird, dumb plot thickens. EW just brought to light a new rant from Gibson in which he flat-out declares that if Johnson appears in Furious 9, he will quit the franchise entirely and no longer play his character Roman Pearce. "I'm sorry to announce that if Dewayne [sic] is in Fast9 there will no more Roman Peirce [sic] – You mess with family and my daughters survival I mess with yours," Gibson wrote, before ending with the hashtag #OurChildrenMatter.
Hello world.......... hello loyal fans and loved ones from OUR fast universe........ I'm sorry to announce that if Dewayne is in Fast9 there will no more Roman Peirce – You mess with family and my daughters survival I mess with yours......... close your eyes dude you're a "Clown"...... #CandyAssBitchMade All my real one.... Men on integrity... my real ones out here stand UP...... folks that GP to the gym and get big naturally #NoJuice #NoOJ spin off huh? Spin off these nuts selfish champ...... pause notice who's got his arms around my shoulder and who's standing alone – #OurChildrenMatter A post shared by TYRESE (@tyrese) on
While Johnson has not responded directly to Gibson's comments, he has defended his Fast and the Furious spin-off, saying:
"I have a tremendous amount of respect for this franchise that I've enjoyed droppin' blood and sweat in over the years and my vision is to create greater opportunities for not only my fellow FF cast mates, but for other amazing actors as well who want to be a part of something new and cool...I want to use my spinoff platform to create new characters that fans will ultimately love to have fun with in multiple chapters and platforms. Film, TV, Digital, Virtual Reality etc.. the more opportunities we can create the better for the fans. Smart business."
Fast and the Furious star Vin Diesel has also weighed-in in the past, trying to maintain a level-head about the conflict, taking to Instagram (note: this cast sure does love issuing statements on Instagram) to say:
"As we plot the course to expand the Fast & Furious universe, one must be mindful to take stock of the roads we took to get here. The pillars of authenticity, family and most importantly, our loyal fan's perspective, has been instrumental in procuring success."
All due respect to Tyrese Gibson – who is clearly going through some things right now – but he may be grossly exaggerating his star power in regards to the Furious franchise. Johnson clearly has more of an upper-hand here, and if Gibson honestly thinks threatening to quit is going to change things, he might be in for a big surprise.