More MondoCon Posters Revealed: 'Goodfellas,' 'Justice League,' 'Hot Fuzz,' And More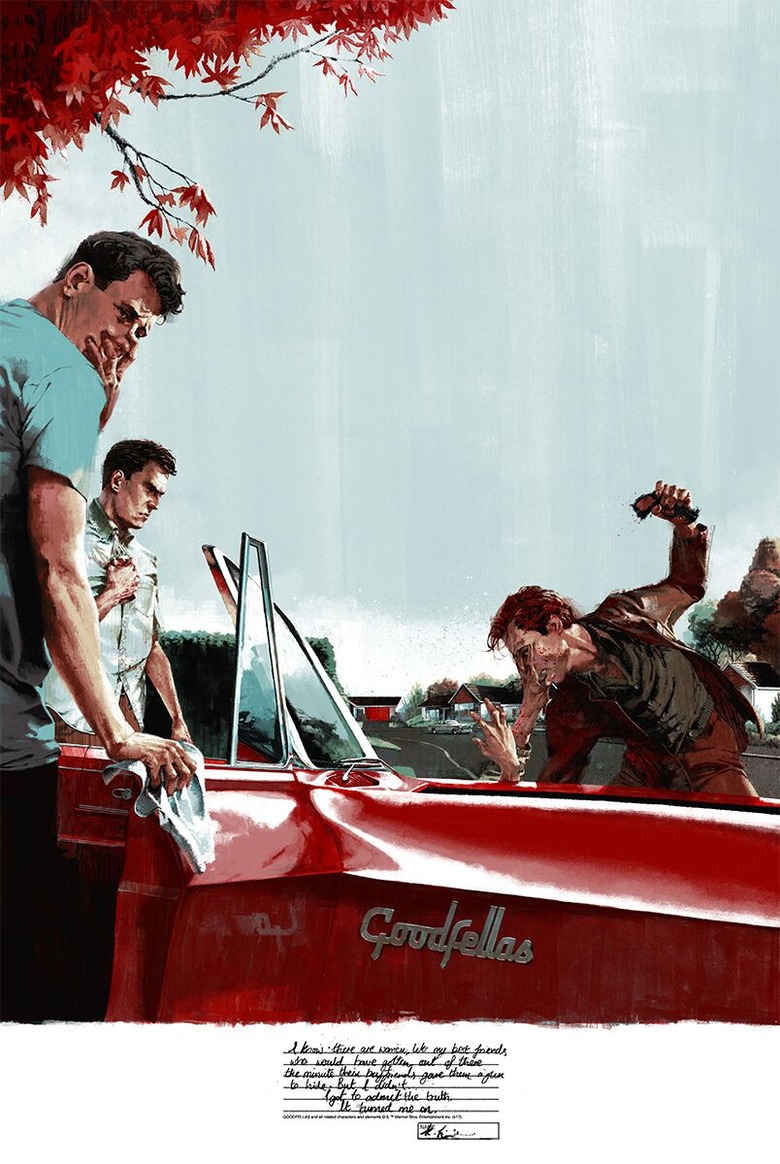 Last week, we were pleased to debut a few posters that will be for sale at this year's MondoCon, Mondo's annual convention dedicated to pop culture art and collectibles. Now, more posters, pins, and soundtracks have been unveiled ahead of the con's start this weekend, including art and more for Goodfellas, Justice League, Snow White and the Seven Dwarfs, Samurai Jack, Hot Fuzz, Ratatouille, and Predator. Check them all out below!
This first batch of posters were unveiled over at Collider and you couldn't find a more disparate group of movies. First up is Tom Whalen's Snow White and the Seven Dwarfs and it's everything you'd want from a Tom Whalen Disney poster (he's done enough of them that I've lost count): it's colorful and vibrant and cute. Rarely has there been a more perfect marriage of artist and studio. Next to it is Justice League by Lee Bermejo and it's awfully slick, depicting the cast of the upcoming movie in a dynamic pose. I'm familiar with Bermejo's comic book work, so I already knew he could draw the hell out of superheroes. This poster further confirms it. However, my favorite of the bunch is Marc Aspinall's Goodfellas, which takes an ugly moment from Martin Scorsese's crime classic and presents it in all of its stark, grisly glory.
For more information on each poster (including pricing), make sure you click the link above.
The next batch was revealed on Birth Movies Death. There's a slick Samurai Jack (and a colored variant) by Methane Studios and a very fun Predator pin, but my heart is won by Rich Kelly's Hot Fuzz. Kelly's exaggerated, cartoonish style is a perfect match for Edgar Wright's outsized filmmaking: bombastic, broad, and gleeful in how it distorts the familiar.
Click that link if you want to know more.
And finally, Film School Rejects has a first look at the new Ratatouille soundtrack on vinyl with cover art by Nicole Gustafsson. I'm not a big vinyl collector, but the art here is gorgeous and worthy of being framed on its own.
MondoCon begins this weekend in Austin, Texas and we'll be in attendance to bring you everything you need to know and see. For a taste of what to expect, make sure you check out our coverage of last year's convention (including our favorite posters of the con) and our recap of the Mondo Live panel, where three artists teamed up to design a poster live on stage in one hour.