'Ash Vs. Evil Dead' Season 3 Trailer: Ash Vs. Evil High School Mascot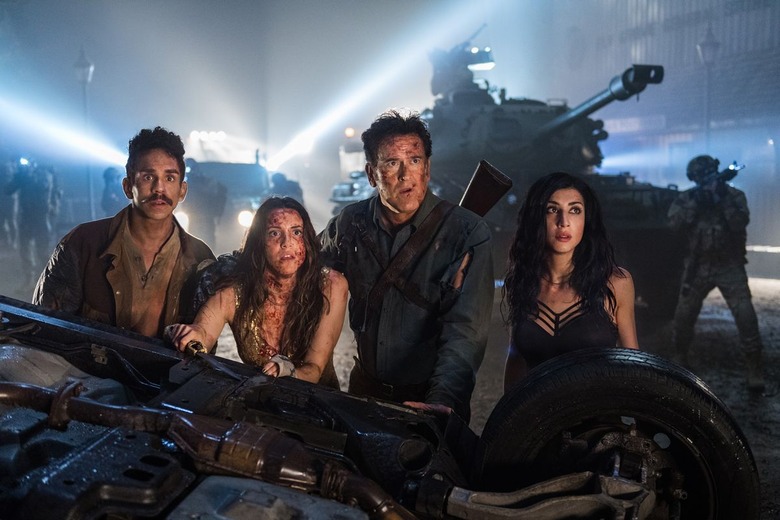 The Evil Dead series has always been about blending grisly horror with tongue-in-cheek comedy. So it makes perfect sense that the new Ash vs. Evil Dead season 3 trailer opens with Bruce Campbell's aging demon hunter squaring off against an evil high school mascot. That's expected. That's just natural. What's not expected and natural in the world of Evil Dead is fatherhood, which seems to be the real horror hanging over this bloody preview.
You can watch the new trailer via the official Twitter embed below, but note that it's cropped to fit the format (a truly monstrous act worthy of a Deadite). We will update as soon as a YouTube version is made available.
Ash vs. Evil Dead Season 3 Trailer
You know the nightmares you have about going back to high school? They're about to get a lot worse. #AshvsEvilDead returns 2/25 on @STARZ. pic.twitter.com/ofAn79zKbt

— Ash vs Evil Dead (@AshvsEvilDead) October 31, 2017
I watched the first season of Ash vs. Evil Dead and found it uneven at first and then slightly more even and then totally even by the final episodes, which were fun and gross and just nostalgic enough to play to the fan service cheap seats. I haven't caught up on season 2 yet (is anyone on the planet caught up on every single TV show they want to watch?), so this new trailer is a reminder that I have some homework to do. It seems like I've missed a lot. Like the arrogant, irresponsible, and often just plain dimwitted Ash being the father of a teenage girl.
It also seems like Starz has been throwing a lot more money at their scrappy little horror comedy series. Is that tank? Yep. That's a tank.
Ash vs. Evil Dead season 3 is set to premiere on Starz on February 25, 2018. Here's the official synopsis:
Ash vs Evil Dead Season 3 finds Ash's status in Elk Grove, Michigan has changed from murderous urban legend to humanity-saving hometown hero. When Kelly witnesses a televised massacre with Ruby's fingerprints all over it, she returns with a new friend to warn Ash and Pablo that evil isn't done with them yet. Blood is thicker than water in the battle of good vs Evil Dead!