'Jumanji: Welcome To The Jungle' Featurette: The Game Will Always Find A Way To Be Played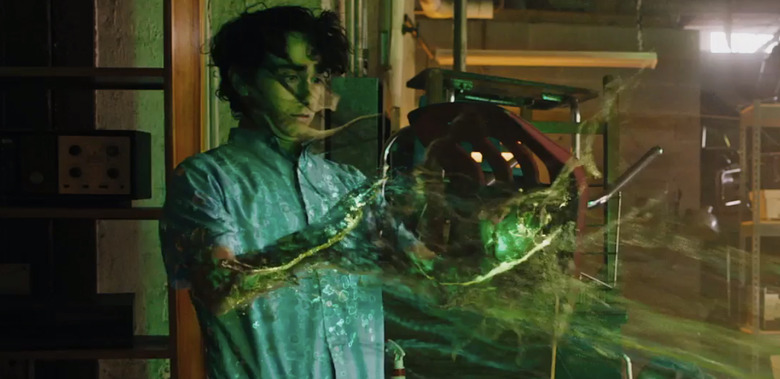 You might not expect a movie like Jumanji: Welcome to the Jungle to fit in with the spirit of other holiday movies that usually get released around Christmas time, but that's exactly what Dwayne Johnson hoped to accomplish.
In a new Jumanji: Welcome to the Jungle featurette, the wrestler turned actor says, "We wanted to make a movie that encapsulates what the holiday spirit really means: the spirit of wonderment [and] discovering who you are." Furthermore, Johnson wanted to sure that the spirit of the movie was in line with the original 1995 adaptation of Chris Van Allsburg's beloved children's book. Go behind the scenes to see how they tried to accomplish that by checking out the featurette below.
Watch the Jumanji: Welcome to the Jungle Featurette
For those who have been curious about how the antique board game of Jumanji becomes a video game, Johnson explains in the featurette, "The game will always find a way to be played." In this case, when someone at the beach finds the game, it appears that upon opening it, there is no longer the classic board, dice and player pieces. Instead, it's turned into a game cartridge for a retro console, which is exactly what a group of high school students stumble upon in their school's basement.
Honestly, if you're going to reboot a franchise that's also a sequel, this is certainly an original way to go about doing so. Instead of retreading the same territory that the first movie did, it literally changes the game. While I'm still not sold on the more slapstick nature of the comedy in this movie, it's one that I'm intrigued to see play out this holiday season. It's not your usual stupid family Christmas movie, but it's one that your whole family can head out to see in theaters. Of course, you could always just go see Star Wars: The Last Jedi again too.
Anyway, Jumanji: Welcome to the Jungle is directed by Jake Kasdan (Sex Tape, Bad Teacher) and written by Scott Rosenberg (Kangaroo Jack), Chris McKenna (Spider-Man: Homecoming), Jeff Pinkner (The Dark Tower), and Erik Sommers (The LEGO Batman Movie).
You can watch the most recent trailer over here, but otherwise, here's the official synopsis:
In a brand new Jumanji adventure, the tables are turned as four teenagers are sucked into Jumanji's world – pitted against rhinos, black mambas and an endless variety of jungle traps and puzzles. To survive, they'll play as characters from the game: meek Spencer becomes a braveexplorer (Dwayne Johnson); hulky jock Fridge becomes a tiny genius (Kevin Hart); It-girl Bethany becomes a bookworm professor (Jack Black); and unathletic Martha becomes an amazonian warrior (Karen Gillan). To beat the game and return to the real world with their lives, they'll have to start seeing things in an entirely different way.
Jumanji: Welcome to the Jungle opens on December 20, 2017.