New 'Thor: Ragnarok' Sneak Peek Video May Show A Little Too Much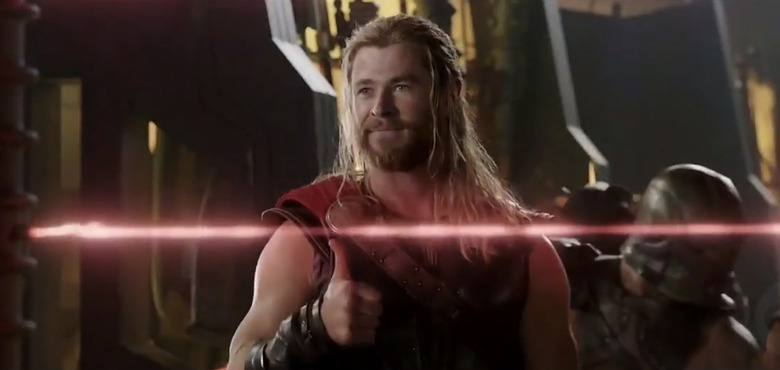 We've already seen plenty from Thor: Ragnarok thanks to the trailers released by Marvel Studios, not to mention the featurette introducing The Revengers, a TV spot highlighting the strongest Avenger, and a clip giving us a taste of The Grandmaster. But now that the movie is under a week away from hitting theaters in the United States, we're getting to the point that too much footage is being shown, and more arrives everyday.
If you're already on board to see Thor: Ragnarok, then we recommend that you stay away from the latest sneak peek video released online. Most of it features extended moments from the TV spots and trailers we've already seen, but there are also plenty of new moments that would be much better left out of sight and mind as we wait for the movie to arrive, including one particular action sequence from towards the end of the movie. Watch the Thor: Ragnarok sneak peek video if you dare, but you've been warned.
Here's the Thor: Ragnarok sneak peek video from ComicBook.com:
There is plenty of new footage of Hela (Cate Blanchett) and Thor (Chris Hemsworth) on display, not to mention some fantastic moments of comedy. But the spoilery bits come towards the end when we see Thor fighting a bunch of Hela's minions when he's all charged up with lightning, his eyes glowing with a literally electric light blue. Plus, there's a kick-ass moment involving Valkyrie (Tessa Thompson) that is probably best saved for the theater as well.
However, even though the footage does show off a bit too much, they're still playing several elements of the movie close to the vest. For example, we've seen and heard very little from both Odin (Anthony Hopkins) and Heimdall (Idris Elba). Is that because their role in the movie would require too much plot to be revealed, or are they just not in the movie very much? The same can be said for Karl Urban's new villain character Skurge. We may just have to wait for the movie to see more from them.
The earliest buzz on Thor: Ragnarok remarked about the hilarity that comes from director Taika Waititi taking over the franchise. But the full reviews dived into matters like whether the movie is actually a good blockbuster sequel and if the comedy overshadows the franchise's action and place in the Marvel Cinematic Universe.
Imprisoned on the other side of the universe, the mighty Thor finds himself in a deadly gladiatorial contest that pits him against the Hulk, his former ally and fellow Avenger. Thor's quest for survival leads him in a race against time to prevent the all-powerful Hela from destroying his home world and the Asgardian civilization.
Thor: Ragnarok is set to premiere in theaters on November 3, 2017.