Is Dave Filoni Working On A 'Star Wars' Live-Action TV Show After 'Rebels' Ends?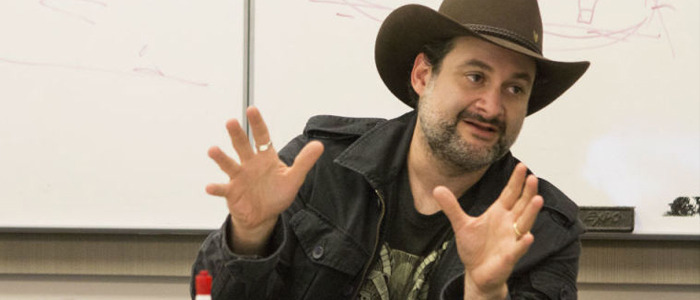 Lucasfilm has been flirting with the idea of making a live-action Star Wars TV show since the mid-2000s. Fifty hours worth of scripts were rumored to have been completed, and Disney acquired those unproduced scripts when they purchased Lucasfilm. We know the show had a working title of Star Wars: Underworld, and it would have taken place between Revenge of the Sith and A New Hope, telling stories of an unseen side of the galaxy before eventually looping back around to reveal how Han Solo met Chewbacca, how Lando Calrissian lost the Millennium Falcon, and more. The show was basically scrapped, and at least some of those stories will be told in Solo: A Star Wars Story.
But the idea of a live-action Star Wars show remains intriguing, and it's only a matter of time before one is given a green light. Might Dave Filoni, the executive producer of Star Wars Rebels, be leading the charge? Let's look at some comments from a new interview with Filoni and see if we can read between the lines.
When io9 asked Filoni what he'd be doing after Star Wars Rebels comes to an end after this final season, here's how he responded:
"I have an incredibly talented group of people working here [at Lucasfilm]. They've worked for me all 12 years that I've been here. So I feel indebted to them and want to keep creating work for them so they can use their abilities and tell great stories. I also want to keep pushing myself into areas that are challenging and new. I've had a lot of experience now interacting with live-action directors like Rian Johnson who's been really wonderful to me and showing me what their production is like.
I want to celebrate stories, and it doesn't matter what medium its in. I don't care — big screen, small screen — I just need space to tell a story. And do it as best I can. That's my goal in the end. So we'll have to see what form that takes in the future. ...But let's just put it this way. I learned from the best."
To be clear, io9 didn't mention anything about live-action Star Wars content in their question: Filoni brought that up all on his own, which seems to tease the direction he might like to go.
So Filoni – who helmed The Clone Wars movie and subsequent TV show, served as a supervising director of Rebels, and eventually was promoted to overseeing all of Lucasfilm Animation – has been spending time with live-action directors like Star Wars: The Last Jedi director Rian Johnson and learning from them. Interesting. And that comment about not caring what medium his storytelling is in? Also interesting.
We know Filoni is interested in directing live-action Star Wars content; he told us himself back in 2014 that he'd love to direct one of the spin-off films if the opportunity presented itself. And Filoni is one of the best storytellers in the entire Star Wars universe, so if Lucasfilm were interested in moving forward with a show like this, I can't think of a better person to lead it.
We also know Disney is about to launch its own subscription service, and CEO Bob Iger has promised that they'll be creating their own original series specifically for that platform. As soon as the streaming service was announced, our own Ethan Anderton suggested it might be the eventual home of this long-rumored live-action Star Wars show, because that's the perfect way for Disney to drive subscriptions for that platform. Star Trek: Discovery is the centerpiece of CBS All-Access, that network's proprietary streaming service; imagine how many more people would subscribe to the Disney service if a new Star Wars show was announced that could only be viewed there?
Admittedly, the idea of Filoni working on a live-action Star Wars show is a mixture of reacting to that interview quote, speculation, and wishful thinking on our part. And with Filoni overseeing animation, there's always the chance he's hinting at a brand new animated series. But him shifting into live-action would definitely make sense, and as one of Lucasfilm's most valuable assets, we'd love to see him get a shot at telling stories in an exciting new way.