'What We Do In The Shadows' TV Show In Development, Says Taika Waititi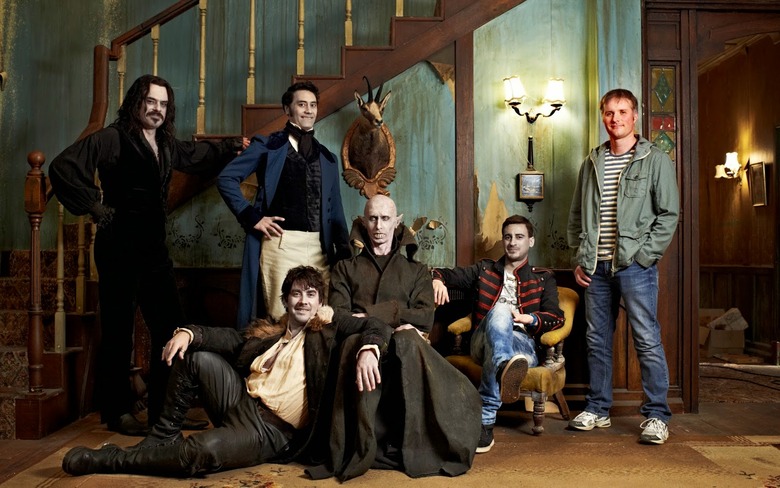 Before he somehow tricked Marvel Studios into handing him a couple hundred million dollars to make Thor: Ragnarok, Taika Waititi co-directed the vampire comedy What We Do in the Shadows. If you haven't seen that movie, you should change that – it may very well be one of the funniest movies of the past decade. Or maybe all time. It certainly feels like it.
But now that he has some of of that sweet, sweet Marvel Cinematic Universe in his veins, Waititi is thinking bigger. Why not just make that much-talked-about spin-off movie when you can also produce a What We Do in the Shadows TV show?
Speaking with Fandango, Waititi revealed that he's currently developing a version of the film for American television:
"We're trying to develop a U.S. version of What We Do in the Shadows. You know, set here in the states, but a TV show."
That's where the details end, but it's easy to imagine the film making the leap without much issue. After all, What We Do in the Shadows is a faux documentary series about vampires sharing a home together in New Zealand, arguing about chores when they're not awkwardly hitting the club or bringing victims home to murder. While the film's unapologetic (and hilarious!) ultra-violence makes it seem like a great fit for HBO, Showtime, or Starz, it's a core concept that could very easily play on NBC.
Of course, the vampires from the original movie don't exist in a vacuum. They are part of a much larger (and charmingly mundane) supernatural world full of werewolves and other entities. Waititi has spoken before about a werewolf-centric spin-off film called We're Wolves and he told Fandango that it's still in the works:
"We're still trying to write that. We're doing those [other shows] as well as trying to come up with ideas for this werewolf movie. It will happen!"
Also in the works: a second spin-off movie about the two cops from the first film as they investigate paranormal activity. Waititi describes it as a "mockumentary X-Files" and says production is set to begin soon.
Part of the charm of What We Do in the Shadows stems from how it acts as a small window to a crazier world with a rich and bizarre history. Will two spin-off movies dilute that? Would an American TV adaptation take this endearing concept and run it in to the ground? My brain says "Yes," but my heart says "Trust Taika Waititi, one of the funniest and cleverest filmmakers working at the moment."
So I'll listen to my heart...and hope that the What We Do in the Shadows TV show is less of a remake and more of a companion piece, set in the same universe but half a world away. In the meantime, it certainly sounds like the bonkers and comedy-driven Thor: Ragnarok will suffice in supplying our Waititi fix.