'Justice League' Box Office Tracking Flies High Toward A $110-$120 Million Opening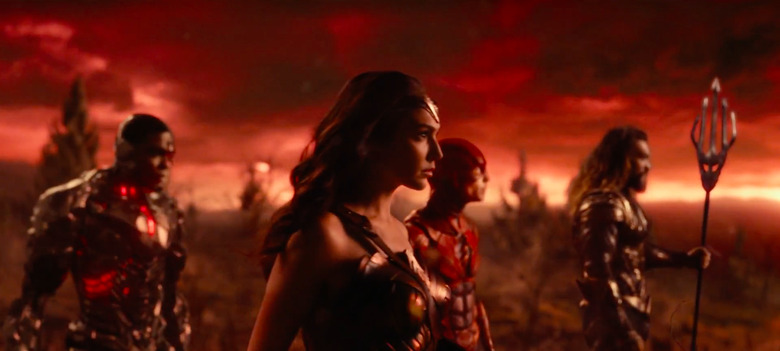 Could these super friends overcome the super hurdles of an embattled production and rake in a respectable amount of money at the box office? Early tracking says yes.
Three weeks before the Warner Bros. comic book movie hits theaters, Justice League box office tracking predicts that the superhero ensemble will open to $110-$120 million in the U.S. and Canada. These industry estimates fall around the same numbers that Man of Steel and Wonder Woman drew in for their opening weekends, the latter of which went on to become the highest grossing DC Extended Universe movie.
Industry estimates for Justice League box office tracking shows a $110-$120 million opening weekend in the U.S. and Canada, according to Deadline. These estimates don't come from Warner Bros., but are partially based on the early ticket sales for the superhero movie, which just went on sale Wednesday night.
This would put Justice League squarely in the middle of the DC Films' opening numbers spectrum, with Batman v Superman: Dawn of Justice opening the highest at $166 million, followed by Suicide Squad at $133 million, Man of Steel at $116 million, and Wonder Woman at $103 million. Overall, however, Wonder Woman outpaced them all, breaking records as the highest grossing DC Film.
Justice League will be battling Thor: Ragnarok to rule the roost in November, with the Marvel Cinematic Universe movie projected to open to $100 million-plus on November 3. But a revised estimate from Deadline has upped the Thor: Ragnarok projection to $125 million.
It's unclear whether the swirl of news surrounding a troubled production and significant reshoots by Joss Whedon after director Zack Snyder left due to family issues will impact audience expectations for the movie, or make people more curious to see it. Gal Gadot's Diana of Themyscira is a huge draw for casual audiences, with a Fandango poll reporting that 86% of movie-goers are interested because of her role as Wonder Woman — which makes the Wonder Woman-centric reshoots a wise move. For many (and for me) it may be a combination of both morbid curiosity and loyalty to DC Comics characters.
Here's the official synopsis for Justice League:
Fueled by his restored faith in humanity and inspired by Superman's (Henry Cavill) selfless act, Bruce Wayne (Ben Affleck) enlists newfound ally Diana Prince to face an even greater threat. Together, Batman and Wonder Woman work quickly to recruit a team to stand against this newly awakened enemy. Despite the formation of an unprecedented league of heroes — Batman, Wonder Woman, Aquaman, Cyborg and the Flash — it may be too late to save the planet from an assault of catastrophic proportions.
Justice League is set to hit theaters on November 17, 2017.