'Fast And Furious 9': Director Justin Lin And Jordana Brewster Will Return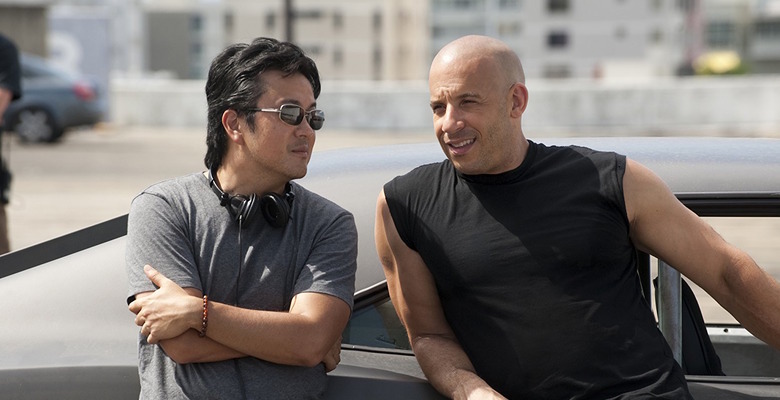 There may have been some behind-the-scenes conflicts within the Fast and Furious franchise lately, but Vin Diesel is eager to recapture what initially made that family tick.
That means bringing back Justin Lin, the director who revitalized the Fast and Furious series and transformed it into the high-octane heist series it is today. Also along for the ride: original cast member Jordana Brewster, who disappeared from the series after 2015's Furious 7.
Vin Diesel started a "top secret" Facebook livestream from a film set, where he revealed the news by putting both Lin and Brewster on camera next to him.
Diesel teased the announcement by saying, "Think forefathers of Fast, the architects of the Fast saga. The ones responsible for resurrecting this beautiful saga. Anybody know who it is?" He then turns his phone to reveal Justin Lin — the director of the third, fourth, fifth, and sixth Fast and Furious films  — on the set from which Diesel is streaming. It confirms reports that Lin was in talks to direct the ninth Fast and Furious film, after handing the reins over to James Wan for Furious 7 and F. Gary Gray for The Fate of the Furious.
Diesel then introduced Jordana Brewster, who he said Lin had insisted on bringing back to the series. Brewster played Dominic Toretto's sister, Mia, who was married to Paul Walker's Brian O'Conner. After Walker's death during the filming of Furious 7, Mia was given an open-ended departure from the series along with the send-off to Brian. However, Mia's role had been gradually decreased since her appearance in the first Fast and Furious movie, which will hopefully be remedied by her return — and by co-star Michelle Rodriguez's call for better female roles.
Watch Diesel's Facebook video below:
But amid clashes with co-stars and news of spin-off films, Diesel declared that they will return to the heart of the "saga and where it needs to be to arrive to its final chapters." Fast and Furious producer Neal Moritz has confirmed that the series will end after its 10th installment.
Now, can he bring back Han too?