'It' Opening Scene: Watch The Creepy Introduction Of Pennywise The Dancing Clown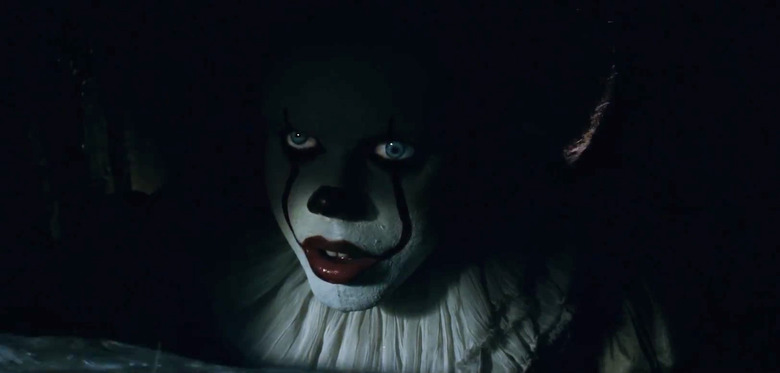 It's been a month and a half since the new adaptation of Stephen King's horror classic It shattered September box office records. But the movie is still alive and kicking in theaters as Halloween is just around the corner.
In order to keep the hype going strong, Warner Bros. Pictures and New Line Cinema have released the opening scene from It to entice those who haven't seen the movie to finally check it out. Or maybe it will get those of you who have seen it back into the theaters for one more Halloween fright. Either way, watch the It opening scene below.
This opening scene played in theaters with Annabelle: Creation for just one week, but it's never been released online in this full form before. Unfortunately, it cuts off before things get really gruesome and Georgie finds out what a monster Pennywise the Dancing Clown really is.
This adaptation of Stephen King's It stars Bill Skarsgård (Allegiant) as the horrifying Pennywise the Dancing Clown, and his introduction in this scene is truly unnerving. From his fluctuating vocal timbre to his slobbery lips (which was a happy accident, thanks to the fake teeth Skarsgård wore for the role) and his wonky blue eyes that turn a menacing gold, Pennywise is one terrifying monstes.
In addition to Bill Skarsgård, It also features Jaeden Lieberher, Finn Wolfhard, Wyatt Olef, Jeremy Ray Taylor, Chosen Jacobs and Sophia Lillis as the Losers' Club. They're a tight knit group of misfits, and they're a huge part of why the movie works so well. It'll be interesting to see how their characters have evolved when we meet the adult versions of them in It: Chapter 2, coming in 2019. You can find out everything we know about the sequel over here, and see who we'd cast as the adult versions of the kids right here.
Mama director Andy Muschietti was at the helm of the feature produced by Roy Lee, Dan Lin, Seth Grahame-Smith, David Katzenberg and Barbara Muschietti with a screenplay from Chase Palmer & Cary Fukunaga and Gary Dauberman.
New Line Cinema's horror thriller "IT," is based on the hugely popular Stephen King novel of the same name, which has been terrifying readers for decades.
When children begin to disappear in the town of Derry, Maine, a group of young kids are faced with their biggest fears when they square off against an evil clown named Pennywise, whose history of murder and violence dates back for centuries.
You can catch It in theaters everywhere right now, so make sure you see it if you haven't already.