'Thor: Ragnarok' Featurette: Meet The Revengers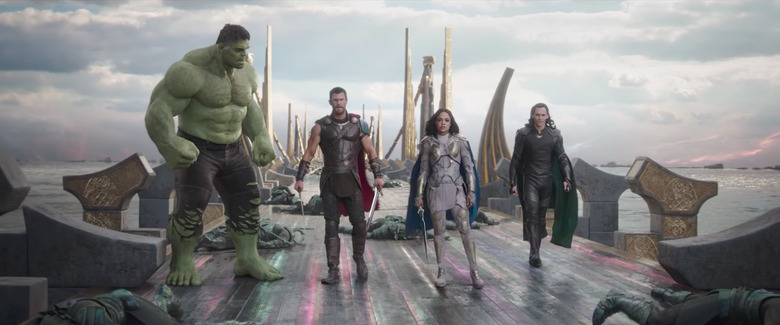 The Avengers? Over. Guardians of the Galaxy. So last season. This fall, it's all about the Revengers, the ace team that Thor definitely did not pull together at the last minute in a desperate attempt to reclaim Asgard from the conquering Goddess of Death, Hela.
A new Thor: Ragnarok featurette gracefully introduces us to each of the members of the so-called Revengers (they're not changing their name), who team up when Thor finds himself exiled on the other side of the universe after his home dimension is destroyed. And it's just as tongue-in-cheek as the rest of the promotional teasers for the third Thor film have been, complete with brand new footage of the cosmic warriors in action.
Watch the Thor Ragnarok Featurette
Thor (Chris Hemsworth) is the kind of hero who can make the best of a dire situation, and the Revengers are a prime example of that. Thor had just emerged from captivity in Sakaar, where he had been forced to fight his friend and fellow Avenger, the Hulk. But Thor and Bruce Banner (Mark Ruffalo, playing double duty as Hulk in motion-capture) manage to rally, enlisting into their team Thor's former captor Valkyrie (Tessa Thompson) and Thor's treacherous brother Loki (Tom Hiddleston) to go into battle with Cate Blanchett's Hela.
So why do they call themselves the Revengers? (Other than the name being obviously culled from Thor's unimaginative nod to the Avengers.)
"Because I'm getting revenge...you're getting revenge," Thor says, pointing to Valkyrie who shrugs in agreement, before turning to Bruce. "And you're getting—"
"Uh, I'm undecided," Bruce says.
Despite the inauspicious way that the team gets together, they're still united in their fight, judging by the triumphant battle scenes sprinkled throughout this featurette. And we can look forward to their rapport as well — Hemsworth calls the team members, "like roommates who agree and disagree and have all sorts of arguments." So, basically a reenactment of the Team Thor mockumentary?
Here's the official synopsis for Thor: Ragnarok:
Imprisoned on the other side of the universe, the mighty Thor finds himself in a deadly gladiatorial contest that pits him against the Hulk, his former ally and fellow Avenger. Thor's quest for survival leads him in a race against time to prevent the all-powerful Hela from destroying his home world and the Asgardian civilization.
Thor: Ragnarok is directed by Taika Waititi and is set to open in theaters on November 3, 2017.