'Star Wars: The Last Jedi' Behind-The-Scenes Footage Reveals New Aliens And A Surprising Character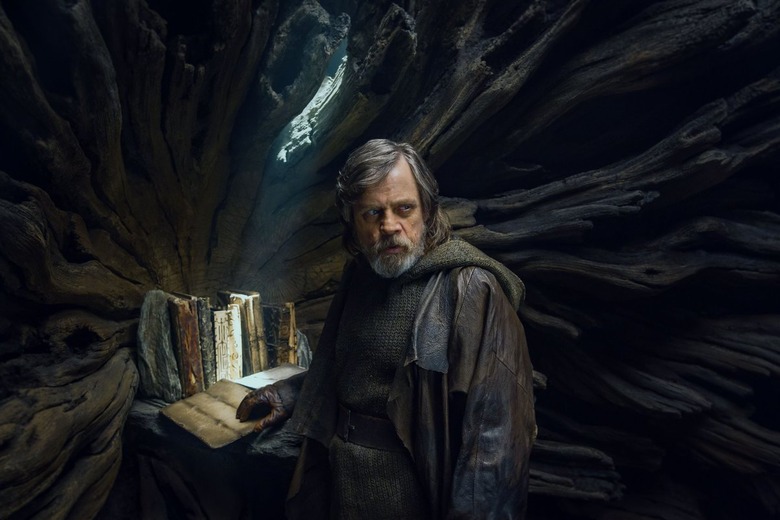 Star Wars has become such an institution that the mere thought of being on a Star Wars set seems to rattle some filmmakers and actors. That's the highlight of a new Star Wars: The Last Jedi behind-the-scenes video, which takes us to the set of writer/director Rian Johnson's upcoming sequel and offers a tantalizing glimpse at a huge, complex production run by people who seem equally excited and terrified.
In addition to the video, Johnson also spoke about his film in a new interview (where he promises that he punishes your favorite characters) and a new still from the film featuring a certain long-lost Jedi Knight has been revealed.
Let's get started with the video, which was unveiled over at USA Today. And it's lovely. Totally lovely. Part of that loveliness stems from the beautiful John Williams music scoring the whole thing, but the rest comes from Johnson's giddy excitement and the kind words his actors have to say about him. However, the late, great Carrie Fisher steals the whole thing with a wry backhanded compliment that is typical of her incredible (and greatly missed) wit.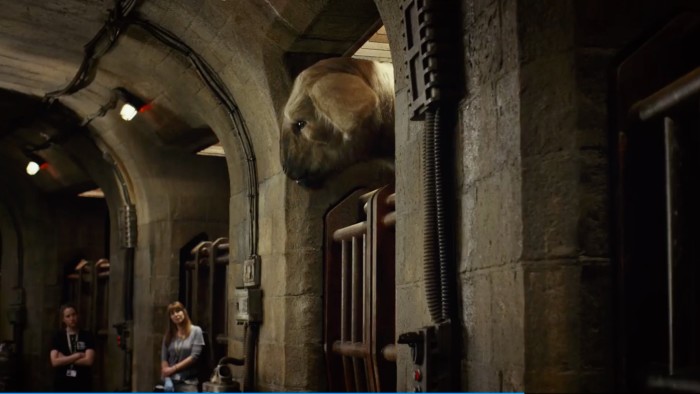 A Space Horse Stable
However, if you choose to parse through the footage, you'll find all kinds of other goodies worth exploring. Like this wonderful shot of a giant (but oh-so-cuddly!) beast peering over what looks like a holding pen. This creature is called a Fathier it's definitely one of the cuter Star Wars creatures we've seen in a bit. Sorry, Porgs. Giant Golden Retriever Horse Cat is here to battle you for the cuteness throne! This is the creature that many have been calling a space horse, which we saw Finn and Rose riding in early set photos.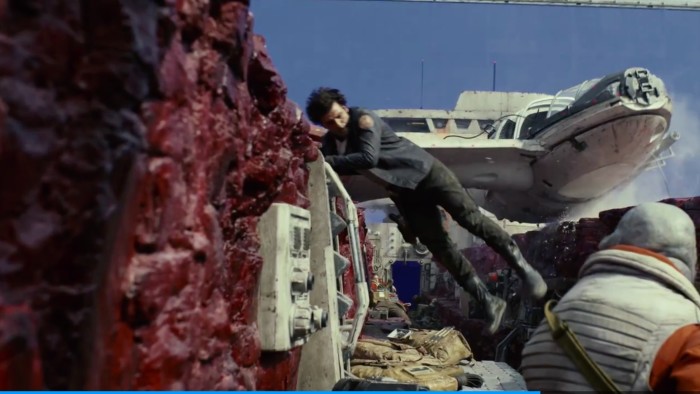 Poe Goes Sliding
Here's an interesting shot. That appears to be Resistance pilot Poe Dameron on the ground on Crait, the desert planet with the eerie red soil we saw in the trailers. We know that there's a big battle between the Resistance and the First Order on this planet, but now we see that some characters will be on foot, literally battling in the trenches. Note the familiar uniform of the Resistance pilot in the lower right corner.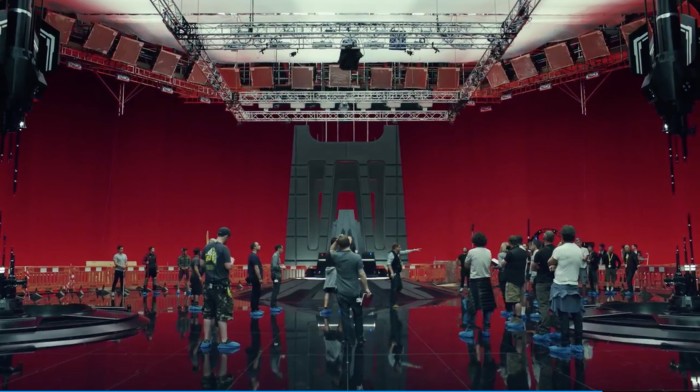 Supreme Leader Snoke's Grand Throne Room
An imposing red room with a giant black chair? This has to be the throne room belonging to Supreme Leader Snoke, the mysterious leader of the First Order who we only saw in hologram form in The Force Awakens. Since the last movie ended with him recalling Kylo Ren for additional training, we will probably get to know this room quite well.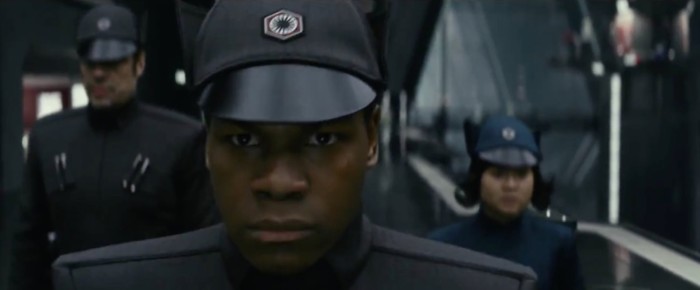 DJ Joins Finn and Rose On Their Resistance Infultration Mission
Previous trainers and sizzle reels have suggested that John Boyega's Finn and Kelly Marie Tran's Rose Tico will have to go on a dangerous undercover mission deep within the First Order. Here's another image further confirming that this goes down. But look to the left: that definitely looks like Benicio del Toro's "DJ," the mysterious "splicer" (hacker) they apparently recruit at some point in the movie. So it looks like his involvement goes deeper than expected – he actually joins them on their mission!
Luke Skywalker And Rian Johnson In A Dark Ach-To Cave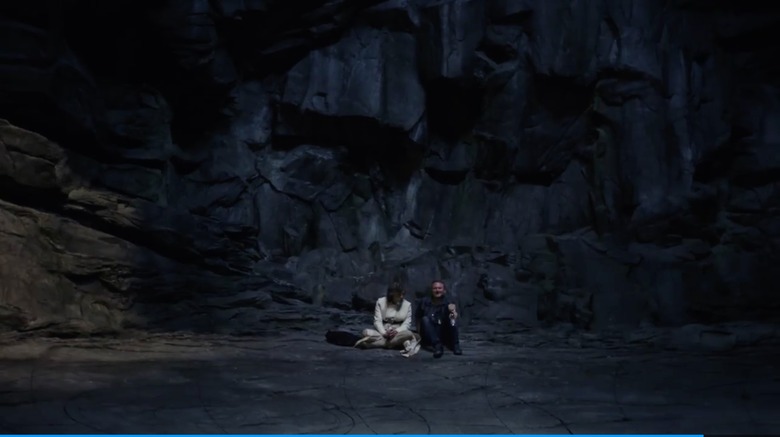 And then there's this lovely shot of Johnson and Mark Hamill chilling out on set, leaning against the wall of a mysterious cave. We actually caught glimpses of this cave in the most recent trailer – it's here that Rey submerges underwater for inexplicable reasons and gets scolded by Luke, who warns here that things won't go as she thinks they will.
If you want more (and of course you do), Johnson also spoke to USA Today for a new interview, where he made it clear that his number one priority was taking these new characters that everyone has fallen in love with and subjecting them to challenges that will test every fiber of their being:
When I first read the script of The Force Awakens, I was like, "I feel like I know these characters instantly." And now we get to kind of put them through a meat grinder. And for me, part of that meant that we had to make things as hard on each of them as possible: At least part of the movie, they don't have their friends around. They've got to figure things out for themselves. They've got to be faced with whatever the toughest thing each of them can be faced with, and they're not going to have their buddy there next to them to get them out of it necessarily.
And finally, USA Today revealed a new image from the film via their holiday movie preview, featuring a sullen Luke and his small bookcase of ancient Jedi tomes. You can check that out for yourself at the top of this article.
Star Wars: The Last Jedi opens on December 15, 2017.