'Winchester: The House That Ghosts Built' Trailer: Helen Mirren Vs. 500 Ghosts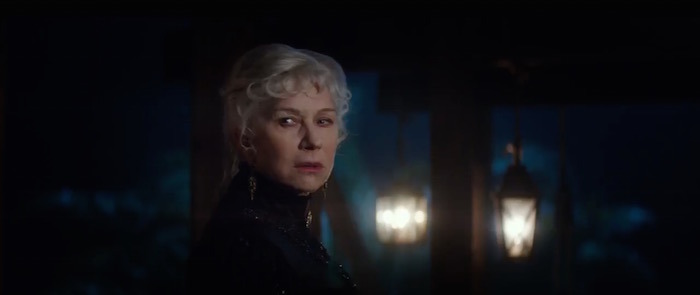 As someone with an unhealthy addiction to Travel Channel specials on America's most famous haunted houses, I've been wondering for ages when someone would get around to making a movie based on the legend of the Winchester mansion. And here we are.
Winchester: The House That Ghosts Built takes one of the more intriguing ghost stories of the past century or so and builds it into a movie. It certainly helps that the great Helen Mirren, who seems to be discovering a Liam Neeson-esque love for genre fare at this stage of her career, is front-and-center as Sarah Winchester, the eccentric owner of a very famous "haunted" residence.Winchester: The House That Ghosts Built is written and directed by Michael and Peter Spierig, the directors of the scrappy 2003 zombie Undead, the very clever 2009 vampire movie Daybreakers, and the very good and wildly under-appreciated 2014 sci-fi mind-bender Predestination. They've also been tasked with reviving the Saw series with Jigsaw, which hits theaters this Friday. That's two horror movies hitting theaters in the span of just a few months – these guys are keeping busy.
Winchester Trailer
And...it looks like a fairly standard haunted house movie, albeit a standard haunted house movie with a great location and some killer actors.
Located in San Jose, California, the "Winchester Mystery House" (as it has been called) has served as the inspiration for numerous horror stories. The mansion was built from the ground-up to be deliberately confusing, with doors opening to nothing and stairs going nowhere and other bizarre architectural choices. According to legends, this was because Sarah Winchester, the heiress to the Winchester firearm fortune, believed she was being haunted by the ghosts of everyone killed by the guns bearing her family name. Naturally, this meant building a house that would confuse the angry spirits and keep her safe.
This has since been debunked as an exaggeration (Sarah Winchester was an eccentric, not a woman at constant war with ghosts via remodeling), but it's still one hell of a story and could make for one hell of a movie. The presence of Mirren as Winchester is a great start, but she's backed up by the reliably great Jason Clarke and the frequently underutilized Sarah Snook (who is so incredible in the Spierig Brothers' Predestination), making this one very strong ensemble for a haunted house movie.
Winchester: The House That Ghosts Built is set to arrive on February 2, 2018. Here's the official synopsis:
Inspired by true events. On an isolated stretch of land 50 miles outside of San Francisco sits the most haunted house in the world. Built by Sarah Winchester, heiress to the Winchester fortune, it is a house that knows no end. Constructed in an incessant twenty-four hour a day, seven day a week mania for decades, it stands seven stories tall and contains hundreds of rooms. To the outsider it looks like a monstrous monument to a disturbed woman's madness. But Sarah is not building for herself, for her niece, or for the brilliant Doctor Eric Price whom she has summoned to the house. She is building a prison, an asylum for hundreds of vengeful ghosts, and the most terrifying among them have a score to settle with the Winchesters...