'The Commuter' Trailer: Liam Neeson Runs Into Train Trouble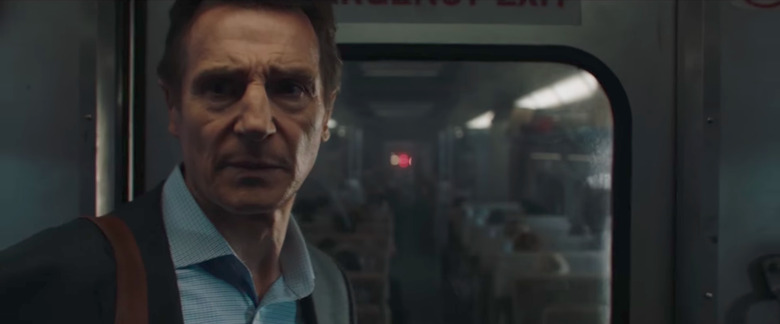 You don't know the train commute from hell until you've been blackmailed into identifying a hidden passenger who is being targeted by an elaborate criminal conspiracy. So, thank goodness that it's Liam Neeson at the center of The Commuter trailer, and not you. Because you can always count on Liam Neeson to do what he does best, while you would likely send a strongly worded tweet at the MTA.
Watch The Commuter Trailer
The Commuter follows a reliable, old action thriller formula that we've seen in everything from The Phone Booth, to Speed, to Red Eye: an ordinary person is stuck on an ordinary mode of transit — or a phone booth — and given life or death choices that could save or kill hundreds. (It's also a great ethical thought experiment that was recently highlighted on The Good Place, but that's not here nor there.)
Sometimes that ordinary person stays ordinary, but in most cases they are revealed to have some extraordinary talent or ability — in The Commuter's case, Liam Neeson benefits from simply being Liam Neeson. While he plays a run-of-the-mill insurance salesman who is caught in a tight spot when a stranger threatens other peoples' lives if he doesn't find a hidden passenger, there are clear scenes in the trailer where Neeson is punching people out or handling a gun — more than what an insurance salesman is likely capable of. Then again, I may simply be underestimating insurance salesmen.
The Commuter is Jaume Collet-Serra's follow-up to The Shallows, an unexpectedly entertaining horror-thriller in which Blake Lively fights a shark. So Collet-Serra has a talent for taking a rote narrative and turning it into something wholly enjoyable, which The Commuter could very well be, especially with its semi-reunion between The Conjuring co-stars Patrick Wilson and Vera Farmiga. Not to mention it will be one of Neeson's last (or maybe not) forays into the action genre.
Here's the official synopsis for The Commuter:
In this action-packed thriller, Liam Neeson plays an insurance salesman, Michael, on his daily commute home, which quickly becomes anything but routine. After being contacted by a mysterious stranger, Michael is forced to uncover the identity of a hidden passenger on his train before the last stop. As he works against the clock to solve the puzzle, he realizes a deadly plan is unfolding and is unwittingly caught up in a criminal conspiracy. One that carries life and death stakes, for himself and his fellow passengers.
The Commuter stars Liam Neeson, Vera Farmiga, Patrick Wilson, Sam Neill, and Elizabeth McGovern. It's directed by Jaume Collet-Serra with a screenplay by Byron Willinger and Philip de Blasi.
The Commuter is set to open in theaters on January 12, 2018.