Here's Why Marvel Won't Make A Solo 'Hulk' Movie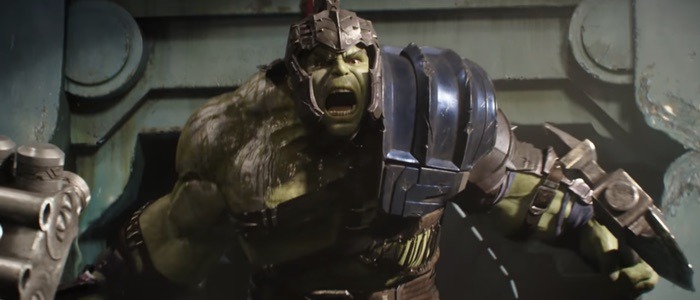 Stop trying to ask Kevin Feige when a solo Hulk movie is going to happen. It's not going to happen.
But it's for reasons beyond the fact that the green-skinned monster's last solo outing, The Incredible Hulk, did lackluster numbers at the box office, that the Marvel Cinematic Universe's slate is packed for the next 15 years, or that Feige is probably just annoyed people keep pestering him about it. It's a deeper issue that has to do with the Hulk's confusing movie rights between Marvel Studios and Universal.
What Kevin Feige Has to Say
Thor: Ragnarok is the closest Marvel fans will come to getting a new Hulk solo movie, nine years after The Incredible Hulk hit theaters. The third Thor movie adapts a portion of the Planet Hulk comic book run, which finds the green giant isolated on a harsh planet ruled by a tyrant. But that's probably the most you'll see of Hulk outside of the Avengers, Marvel Studios president Kevin Feige said.
Feige told Indiewire that while he's pleased that fans are clamoring for a new Hulk solo movie, it's not in the cards.
"I think that back and forth continues, and I don't know if it will ever happen. But I will tell you, it makes me very, very happy going from a world, ten years ago, when people were questioning the viability of Hulk in a standalone film, to getting asked every other interview, 'When will there be another standalone Hulk?'"
It's another polished non-answer from Feige, but it doubles down on Ruffalo's earlier insistence that "A standalone 'Hulk' movie will never happen." But it's not for lack of trying.
Universal vs. Marvel on 'First Refusal'
You may be asking: Why was the The Incredible Hulk folded into the Marvel Cinematic Universe if it was distributed by Universal, the one studio that is now standing in the way of another MCU Hulk movie? It's because of something called "first refusal rights," ScreenRant says in its breakdown of the confusing Hulk journey from comic book to TV screen to movie screen.
Universal bought the movie rights to the Hulk in the 1990s, which first spawned Ang Lee's sluggish Hulk in 2003 and Louis Leterrier's The Incredible Hulk in 2008. While the dream of a Marvel movie studio was still a twinkle in Feige's eye when the first Hulk hit theaters, it was fast becoming a reality in 2008. At the time, Marvel Entertainment was an independent company, with Marvel Studios working solely on production and working with outside distributors to get their films in theaters. Paramount distributed all the Marvel films — except The Incredible Hulk, which was distributed by Universal — up until 2012's Avengers. This all changed when the Walt Disney Company bought Marvel.
With Disney overseeing Marvel, the Hulk fell into a grey financial area. If Marvel were to make a Hulk movie, Universal would have to be approached first for distribution — meaning Disney would essentially be loaning out an IP for a rival company to make money off of it. This is not dissimilar to the deal that Marvel and Sony struck for Spider-Man — Marvel gets marketing revenue, Sony gets distribution revenue — but no such deal can apparently be made with Universal.
If we're to believe Ruffalo, who seems quite eager to headline his own tentpole, the blame falls squarely in Universal's camp. So you can stop asking Feige about a Hulk movie.
Thor: Ragnarok hits theaters on November 3, 2017.