'Phantom Thread' Trailer: Paul Thomas Anderson And Daniel Day-Lewis Team Up Again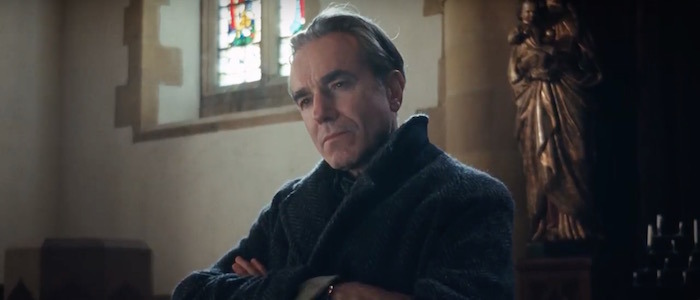 Ten years ago, writer/director Paul Thomas Anderson and actor Daniel Day-Lewis collaborated on There Will Be Blood, an instant masterpiece that may be the single best movie of the 21st century so far. And now, they're back.
The first Phantom Thread trailer is here, offering a look at the reunion between one of the great living filmmakers and quite possibly the finest actor to ever appear in the movies. Consider this your number one cinematic priority for the final stretch of 2017.
Anderson's past films have showcased a fascination with the processes that power industries that lurk on the fringes of our daily lives. Pornography in Boogie Nights, the early days of oil in There Will Be Blood, and cult-like organizations in The Master. In Phantom Thread, he turns his lens on the world of fashion, telling the tale of Reynolds Woodcock, a dressmaker working in post-World War II London. The Phantom Thread trailer, gorgeous and evocative and just a little eerie, also showcases another Anderson trademark: men whose quest for perfection and dominance, either in their field of expertise or in their personal lives, coming apart. Or in this case, coming unraveled.
Day-Lewis, a three-time Oscar winner and the closest thing the human race has to an actual chameleon, is placed front-and-center in this trailer and for good reason. He looks extraordinary, bearing no resemblance to Daniel Plainview or Bill the Butcher or Abraham Lincoln or any of the other unforgettable characters he has created over the years. In fact, Reynolds Woodcock looks like a big left turn from the powerful, forceful men he has garnered so much acclaim for playing – he looks sensitive and unhinged, like a stiff breeze would send him tumbling over.
Like Anderson's past two movies, The Master and Inherent Vice, it's easy to imagine Phantom Thread being the kind of film that demands multiple viewings to unpack and appreciate. And we'll see if that's the case. But consider this appointment viewing when it hits limited release on December 25, 2017. If it's like Anderson's previous collaboration with Day-Lewis, you'll be seeing it for a second time not long after the first.
Here's the official synopsis:
Set in the glamour of 1950's post-war London, renowned dressmaker Reynolds Woodcock (Daniel Day-Lewis) and his sister Cyril (Lesley Manville) are at the center of British fashion, dressing royalty, movie stars, heiresses, socialites, debutants and dames with the distinct style of The House of Woodcock. Women come and go through Woodcock's life, providing the confirmed bachelor with inspiration and companionship, until he comes across a young, strong-willed woman, Alma (Vicky Krieps), who soon becomes a fixture in his life as his muse and lover. Once controlled and planned, he finds his carefully tailored life disrupted by love. With his latest film, Paul Thomas Anderson paints an illuminating portrait both of an artist on a creative journey, and the women who keep his world running. Phantom Thread is Paul Thomas Anderson's eighth movie, and his second collaboration with Daniel Day-Lewis.