Matt Damon And Jimmy Kimmel Feud Again For Jon Stewart's 'Night Of Too Many Stars' Autism Benefit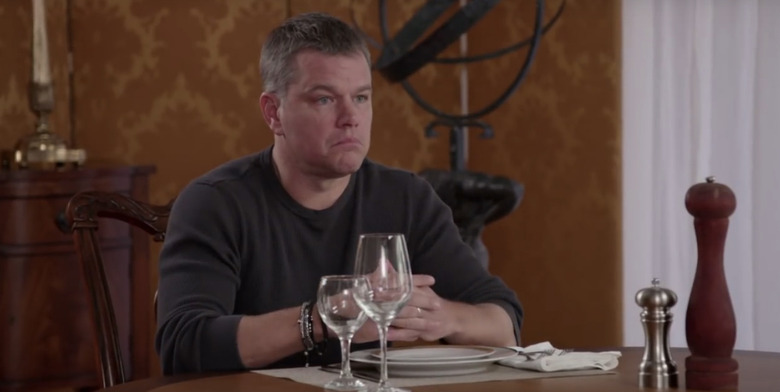 Though our focus at /Film is primarily focused on the movies and TV shows you want to know about the most, there's a crossover between entertainment and charity that we love highlighting whenever we can. That's especially true when talking about the outstanding annual event that Jon Stewart puts on every year to benefit autism awareness.
Jon Stewart may not be hosting The Daily Show anymore, but he's still supporting causes that are close to his heart in his pseudo-retirement from the entertainment world. That includes hosting Night of Too Many Stars, a benefit program featuring a star-studded line-up coming together to raise some serious cash for autism awareness. This year, that includes Jimmy Kimmel and Matt Damon continuing their longtime feud for a special charity auction that's part of the big event. Find out more below.
Jon Stewart made a "surprise" late night appearance on Jimmy Kimmel Live with a whole crew of breakdancers, operating under the name Pop and Lox. But Jimmy Kimmel didn't want to have a dance off with Jon Stewart and opted to promote the upcoming Night of Too Many Stars benefit show coming to HBO in November. That included a video featuring Jimmy Kimmel reunited with his longtime nemesis Matt Damon, who are both offering a special dinner with the two of them as one of the auction items.
Here's the trailer for the upcoming benefit show coming to HBO on November 18 at 8pm ET/PT:
For those of you who don't know about Night of Too Many Stars, here's the rundown of what they do:
Night of Too Many Stars benefits a variety of autism programs across the country that support the overabundance of individuals currently living with autism. While many great organizations focus primarily on research, Night of Too Many Stars and New York Collaborates for Autism raise funds to support autism schools, programs and services. The focus is to help those living with autism right now. Since 2006, Night of Too Many Stars has raised over $18 million, giving children and adults with autism the opportunities they deserve to learn, contribute and live the fullest lives possible.
Not only is this program one of my favorite charities, but the show Jon Stewart puts on his both hilarious and moving. Here's one of the previous segments (when the special aired on Comedy Central) featuring autistic young man Owen Suskind, the subject of the documentary Life Animated, performing scenes from Aladdin with Gilbert Gottfried:
For more about Night of Too Many Stars, including how you can donate, check out HBO's official site for the benefit.