New 'Thor: Ragnarok' TV Spot & Clip: Critical Acclaim And The Grandmaster Take The Spotlight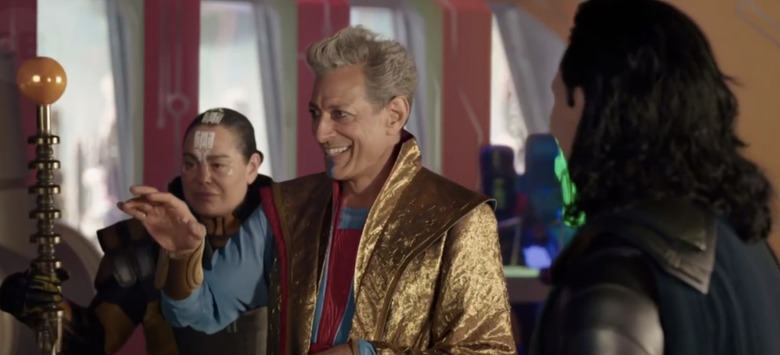 In under two weeks, fans will get to see what director Taika Waititi has done with Thor: Ragnarok, his first collaboration with Marvel Studios. The early buzz has been high for the movie with a lot of compliments calling it the funniest movie in the Marvel Cinematic Universe, as well as the best film in the Thor franchise, and some of that critical acclaim has invaded the film's marketing campaign.
A new Thor: Ragnarok TV spot highlights some of the more complimentary reviews for the movie while also showing off some new footage from the film, including the first glimpse we've seen of Anthony Hopkins as Odin in the movie.
First up, here's the new Thor Ragnarok TV spot, featuring some critical acclaim from early reviews:
There's also some new footage of Hela featured in this TV spot, showing that Cate Blanchett might be the most stylish and entertaining villain since Loki. That's not hard to achieve since Marvel hasn't had a great run when it comes to having satisfactory villains, but it's still worth praising.
However, that new TV spot paints Thor: Ragnarok in a much more epic light rather than focusing on the comedy, of which there has been said to be a lot. Thankfully, a new clip has arrived where Thor (Chris Hemsworth) has been brought to the planet Sakaar against his will, and he's meeting the man in control, known as The Grandmaster, played by Jeff Goldblum. Meanwhile, Loki (Tom Hiddleston) is trying to distance himself as much as possible from his adopted brother.
It's all quite hilarious and it gives us a good indication as to how this sequel will stand out from the rest of the franchise. Clearly Taika Waititi's comedic sensibilities have permeated the style of the Marvel Cinematic Universe while also bringing the comic book action that fans have come to expect from Marvel Studios. It'll be interesting to see how fans feel about the higher amount of comedy injected into the franchise this time.
Tickets for Thor: Ragnarok are already on sale, and you can buy them right here.
In Marvel Studios' "Thor: Ragnarok", Thor is imprisoned on the other side of the universe without his mighty hammer and finds himself in a race against time to get back to Asgard to stop Ragnarok- the destruction of his homeworld and the end of Asgardian civilization- the hands of an all-powerful new threat, the ruthless Hela. But first he must survive a deadly gladiatorial contest that pits him against his former ally and fellow Avenger- the Incredible Hulk!
Thor: Ragnarok hits theaters on November 3, 2017.