Final 'Stranger Things' Season 2 Poster: The New Monster Looms Large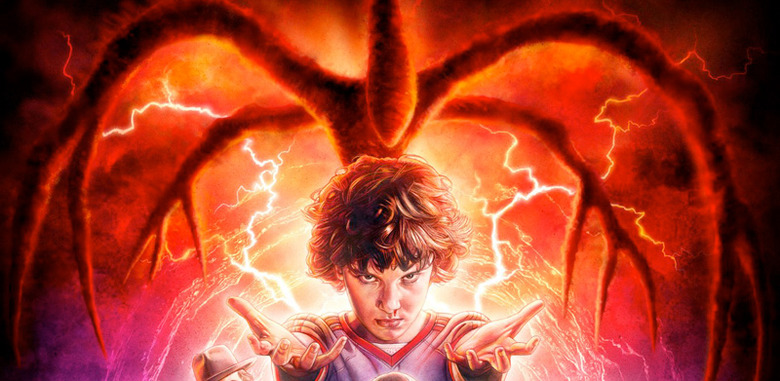 We're less than a week away from seeing new episodes of Stranger Things hit Netflix for the show's second season, and as part of the final marketing push for the series, one  more poster has hit the web, this time in the signature illustrated style as the first poster for the series.
The final Stranger Things season 2 poster has the new monster, who has come to be referred to as the thessalhydra for the time being, looming large over images of the citizens of Hawkins, Indiana. It's quite the beautiful poster. Check it out below.
Here's the official Stranger Things season 2 poster straight from Netflix: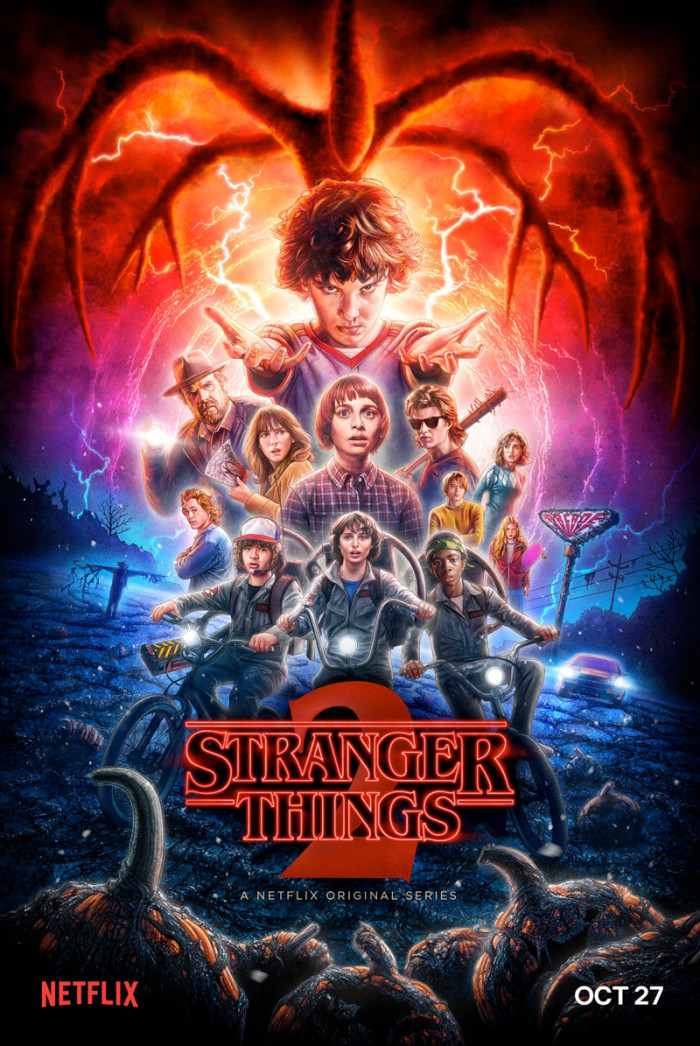 As you can see, Eleven (Millie Bobby Brown) looks pissed as she unleashes her powers on something unseen. Will Byers (Noah Schnapp) looks absolutely terrified while his friends Mike (Finn Wolfhard), Lucas (Caleb McLaughlin) and Dustin (Gaten Matarazzo) are suited up as Ghostbusters on their bikes. Joyce Byers (Winona Ryder) looks worried as she holds a drawing of the looming monster, presumably drawn by her son. Meanwhile, all the other characters are in various states of worry and concern, including the new characters played by Sadie Sink and Dacre Montgomery.
Finally, at the very bottom, a pumpkin patch is totally rotted, perhaps being destroyed by The Upside Down. But what's up with that scarecrow and car in the middle of the field? Something mysterious is certainly happening in that field, and we'll just have to wait and see how it plays out.
If you're anxious for more from Stranger Things season 2, watch a batch of clips from the show right here. Plus, you can already listen to the soundtrack from the new season over here. Otherwise, check out our breakdown of the most recent trailer (which you can see right here) for some insight into this season's secrets, and read up on a popular fan theory that has been gaining traction recently.
Stranger Things Season 2 is set a year after Will's return, and everything seems back to normal... but a darkness lurks just beneath the surface, threatening all of Hawkins. It's 1984 and the citizens of Hawkins, Indiana are still reeling from the horrors of the demagorgon and the secrets of Hawkins Lab. Will Byers has been rescued from the Upside Down but a bigger, sinister entity still threatens those who survived.
Stranger Things season 2 debuts on October 27, 2017, so get ready to binge watch next weekend.