The Avengers Assemble For Puerto Rico Hurricane Relief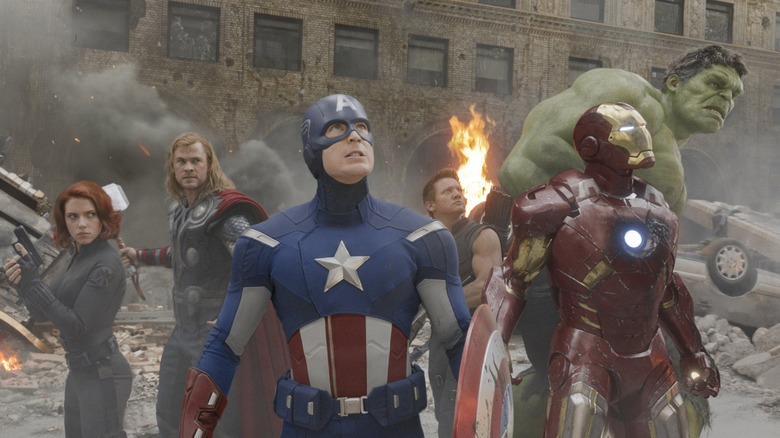 Real-life heroes do exist. And they look a lot like our fictional ones.
Scarlett Johansson has rallied her fellow Avengers (you might even say assembled) to participate in an event from which the proceeds would go toward relief efforts in Puerto Rico. The U.S. territory is still reeling from the destruction inflicted by Hurricane Maria, which hit Puerto Rico a month ago.
Puerto Rico's power and infrastructure systems were devastated by Hurricane Maria leaving the local government helpless to come to the aid of all of its residents. Amid more than 40 deaths after the hurricane, and a tepid response from the U.S. government, many celebrities are taking matters into their own hands.
Johansson and her Avengers teammates, Robert Downey Jr., Chris Evans, and Mark Ruffalo, are among them, organizing a one-night reading of the Thornton Wilder classic, Our Town, the John Gore Organization announced. The reading will take place on November 6 at the Fox Theatre in Atlanta, directed by Tony Award-winning A Raisin in the Sun director Kenny Leon. While the aforementioned superheroes are the only ones announced so far, Johansson promises more surprise celebrity appearances.
In a statement announcing the event, Johansson said (via EW):
"The struggle faced by Puerto Rican residents since their island was ravaged by Hurricane Maria is terribly heartbreaking and has left many feeling hopeless and helpless. It is a great privilege to be able to participate in whatever way I can, to provide some relief to those that are struggling to access even the most basic of human needs in the aftermath of this disastrous event. Please help me and my costars in coming together for an extraordinary, one-time-only evening to raise lifesaving funds for a devastated island and to help celebrate the true meaning of community with this unique reading of a great American classic."
John Gore from the John Gore Organization said that Johansson suggested the idea, since she and her cast members were all in Atlanta shooting Avengers 4.  "We immediately asked how we could help," Gore said. "We couldn't be happier to support our friend, Scarlett, and her costars in producing this evening for such a worthy cause."
Tickets will be sold here starting October 23 at 10 a.m. ET. All proceeds will go to the Hurricane Maria Community Relief & Recovery Fund.
Texas, Florida, Puerto Rico, and the Virgin Islands were all hit hard by historic hurricanes this summer. But the disaster response from Donald Trump's White House has been criticized, especially pertaining to Puerto Rico — causing many celebrities, journalists, and figures of authority like San Juan Mayor Carmen Yulin Cruz to criticize the administration's lukewarm response to U.S. citizens in need.