'Star Wars: The Last Jedi' Planet Is Coming To Disney's 'Star Tours' Ride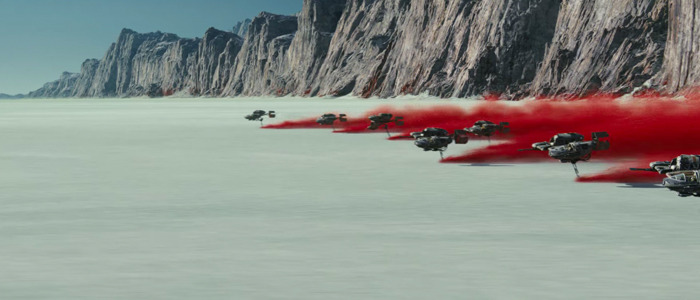 When the Disneyland and Walt Disney World versions of Star Tours were refurbished and transformed into Star Tours: The Adventures Continue in 2010, the classic motion simulator ride became one of the most re-rideable attractions in the world. Instead of the same journey every time, you embarked on a randomly generated trip, with the ride stringing together a number of different locations and events. You never knew what you were going to get.
And since this is a ride where all of the details exist on a single screen and not giant sets, this also makes it easy to update. Case in point: the planet Crait, seen in the trailers for Star Wars: The Last Jedi, will be added to the ride next month.
Disneyland and Disney Hollywood Studios visitors will get to experience the new Crait scene starting on November 17. Meanwhile, Disneyland Paris will get the update on November 22 and Tokyo Disneyland on December 22.
We don't know much about Crait at this point, but we do know that it is home to Resistance base. And we also know that it will be home to giant battle between Resistance and First Order forces, with scrappy little ships going up against a line of powerful walkers. The red sand that gets kicked up via vehicle movement (as seen in the trailer) is an immediately impressive visual and something that we will definitely see translated to the ride. If previous Star Tours scenes are any indication, the new addition will probably see us dropped right into that big battle, tourists accidentally getting involved in a monumental moment from the saga.
For those of you who have never had the chance to ride it, Star Tours is a slightly cheeky attraction where visitors board a spacecraft and get pulled into a series of chaotic adventures where everything that can go wrong does go wrong. In just a few minutes, you fly through a greatest hits collection of famous Star Wars planets and locations, often bumping into some familiar faces along the way.
While the tech that powers the ride is impressive, theme park aficionados will soon detect a pattern – even though the scenes you do get are determined randomly by the ride, they are following a rather strict template that maintains the pace of the experience, including a "breather" moment before the grand finale. In 2015, a new series of scenes were added to the rotation, bringing locations and characters from Star Wars: The Force Awakens into the mix. You can watch a video of these below, but be warned: the impact is lost when you're not in the bumpy ride vehicle and not wearing your 3D glasses.
While it's great to see Disney continuing to support Star Tours, this addition does make me wonder what will happen to the ride in the near future. With Star Wars: Galaxy's Edge set to open at both Disneyland and Disney Hollywood Studios, this ride is going to feel redundant next to an entire land based on these movies. And not only that, its slightly goofy, nonsensical approach to the Star Wars universe will clash with the hyper-detailed, canon-specific world being built right now. In other words, you may want to experience Star Tours one more time. It's probably not going to be around in this form much longer.