New 'Star Wars: The Last Jedi' Image Finally Gives Us The Laura Dern We've Been Craving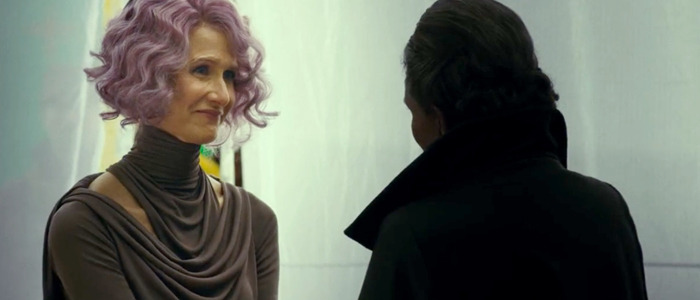 Laura Dern's Vice Admiral Amilyn Holdo was nowhere to be found in the latest trailer for Star Wars: The Last Jedi. But before the Dern fanatics out there (and let's face it – everyone should be a Dern fanatic) get too upset, it's important to note the Kelly Marie Tran's Rose Tico and Benicio del Toro's DJ were also nowhere to be seen in the new footage. When it comes to new characters, the latest chapter of the Skywalker saga is keeping its cards tucked close to its vest.
But if your Laura Dern sense just tingled, it's because of a new image of the actress as the pink-haired Resistance leader has arrived online and you can check it out below.
The origin of the image is slightly murky, but John Hoey of Star Wars News Net says that it was unveiled on The Ellen Show, where Dern was a guest. You can watch her full appearance in the embed at the bottom of the post, should that interest you.
This is technically our second look at Holdo, who first popped up in that Star Wars Celebration reel that debuted over the summer. However, this image places her in the proper context: briefing a room full of soldiers, pilots, technicians, and droids (check out that BB-unit!) and looking nothing short of fabulous while doing so. There's definitely a "Leia in the first Star Wars movie" vibe about her – while everyone else is dressed for war, she's dressed like a politician, someone whose pristine appearance is a vital weapon in her arsenal. That makes her military title of "Vice Admiral" all the more interesting.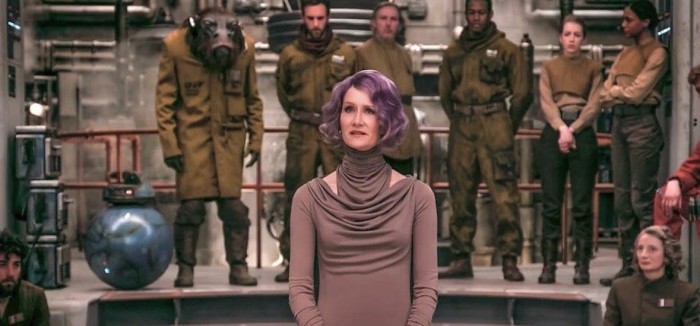 We still don't know much about Holdo beyond her being a bigwig in the Resistance. However, we do know from a recently released Star Wars novel that she has known Leia Organa for a long time, was an ally of the rebels during the Galactic Civil War, and that she is one of a handful of LGBTQ characters in Star Wars canon...a detail that will probably be left off the big screen because big Hollywood movies like to have their cake and eat it too when it comes to stuff like this. Other online buzz has suggested that she doesn't get along too well with Leia or Poe Dameron these days, but those are just rumors for now. Dern has talked about handling a blaster on set, so we at least know that Holdo is willing to get her hands dirty.
Star Wars: The Last Jedi is set to open on December 15, 2017.